The Eldridge Hotel Lawrence KS Reviews & Information
By

Marina Yoveva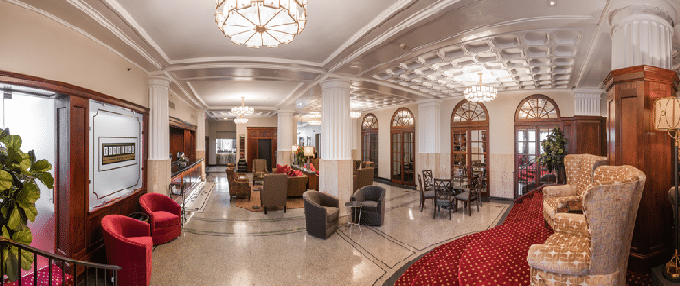 Phone:  +1 785-749-5011
Address:  701 Massachusetts St, Lawrence, KS 66044, United States
Website:  www.eldridgehotel.com
Check-in Times
Room Rates
Directions
Check-in time: 4:00 pm
Check-out time: 11:00 am
Rates at the Eldridge Hotel Lawrence, Ks, are from 172 USD.
The fastest route to the Eldridge Hotel Lawrence, Ks, from downtown Lawrence is via Massachusetts St, a distance of 0.2 mi. Head north on Massachusetts St toward  8th St and your destination will be on the left. Search on Google Maps for directions from a different location in Lawrence, Ks. The hotel supplies valet parking in the building for an additional fee.
Experience a truly luxurious and comfortable stay at the Eldridge Hotel Lawrence, Ks, this year, with delicious cuisine and great service.
Eldridge Hotel Lawrence Description
The Eldridge Hotel Lawrence was rated the Best Hotel in Kansas by the Travel+Leisure magazine for its excellent service and a true downtown vibe. First built in 1925 and newly renovated, the historic, all-suite hotel is a place of luxury, comfort and great service. The hotel is perfectly located in downtown Lawrence, close to all the attractions, unique shopping, galleries, and restaurants.
Delicious dining can be enjoyed every day of the week at the Eldridge House Grille Restaurant, while breakfast and lunch are served at the hotel's Jayhawker Bar, along with a delicious dessert menu. The bar also features a Sunday brunch menu, as well as a selection of wine, spirits, cocktails and craft beers. The Jayhawker Bar also offers a happy hour from 3 pm to 6 pm from Monday to Friday. Room service is available at the hotel. Live entertainment is provided at the hotel regularly.
Complimentary morning coffee is served in the lobby along with complimentary newspapers and free Wi-Fi is available throughout the property. Guests can also relax with an on-site massage at Kaw Valley. The hotel features a business center, concierge service, and valet parking.
The hotel is a member of the prestigious Historic Hotels of America and features 48 luxurious rooms, suites and extended-stay studios. Each room features direct-dial multi-line phones with voicemail, free Wi-Fi, TVs with cable channels and in-room refrigerators. Bathrooms feature a hairdryer and complimentary toiletries.
Reviews
The 3-star hotel has been rated on Google at 4.4/5 very good from 567 reviews. The Eldridge Hotel Lawrence has been called a great boutique hotel, with an excellent restaurant and bar. One guest was thrilled to be offered an upgraded room when checking in and said the staff is very polite.
Another former guest commented that while the hotel is historic, it is also very modern. Front desk staff reportedly explain the history of the hotel to guests. That reviewer complimented the hotel on its great customer service, a wonderful room, and excellent amenities.
Many reviewers said that the Eldridge Hotel Lawrence is perfectly placed downtown, close to everything. Another guest was treated to live jazz after dinner in the lobby of the hotel while they were enjoying cocktails.
While most guests applauded the restaurant's service and food, a couple of reviewers complained about the food and service.
Eldridge Hotel Lawrence
Average rating:
0 reviews
SEE MORE POSTS