20 BEST Things to do in New Orleans [2022 UPDATED]
By

Marina Yoveva
New Orleans is a magical city, full of charming architecture, a thriving art and music scene, and lush greenery. Though this Southern gem has weathered its share of difficulty, most notably during the 2005 Hurricane Katrina storm, the resilient spirit of the people shines through. This spirit is seen in extravagant parades, ongoing music, mouth-watering cuisine, and an all-around welcoming vibe that makes every visitor feel part of the city.
More than just Mardi Gras on Bourbon Street, there are things to do in New Orleans year-round. With a deep wealth of history to draw from, immerse yourself in the unique melting pot of French, African, and American cultures. If you're headed to The Big Easy, read on to discover all the things to do in New Orleans, and be prepared to step into the fantastic world of New Orleans!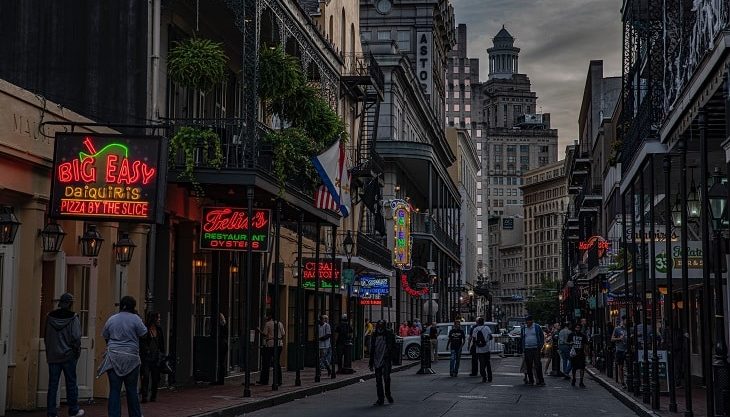 1) The Garden District
The Garden District part of the Uptown neighborhood is a historic part of the city, best known for its gorgeous, antiquated homes and shady expansive oaks. Here you'll find the St. Charles Avenue streetcar (a must to ride at least once while in New Orleans), world-class restaurants for every budget, antique and boutique stores, as well as the delicious smell of jasmine in the air.
A wonderful place to start your tour in New Orleans, you'll feel the essence of the upscale side of New Orleans life when you walk down the streets of the Garden District and throughout Uptown. Be sure to check out Audobon Park, the Commander's Palace, and Lafayette Cemetery No. 1.
2) Frenchmen Street
If Bourbon Street is the Vegas of New Orleans, over-commercialized, touristy, and for frat boys, Frenchmen Street is the authentic underbelly of New Orleans where you'll find the locals. One of the best places in New Orleans to see live jazz and blues, Frenchmen Street gets rolling around 8 or 9 pm any night of the week.
Part of the Marigny (Mar-in-nee) District, some of Frenchmen Street's most famous music venues are Snug Harbor, the Spotted Cat, and the Blue Nile. There's also several late-night eats open on Frenchmen Street after you're good and tired from all that dancing, including Dat Dog, Alfodo's, and Marigny Brasserie.
3) New Orleans City Park 
New Orleans City Park is one of the largest city parks in the country and includes a golf course, tennis, horseback riding, and beautiful trees simply to meander or sit under. Orient yourself by starting with a visit to The Oscar J. Tolmas Visitors' Center to grab a map and learn about all the park offers.
At the Visitors' Center, you can enter the New Orleans Botanic Garden and get any tickets needed for park events. With so much to do in the New Orleans City Park, you literally could spend an entire day whiling away the hours, a tribute to the beauty of this city.
4) Jackson Square
The heart of the French Quarter, Jackson Square is an iconic part of New Orleans. Sitting just in front of the St. Louis Cathedral, Jackson Square pulses with the city's energy. Immerse yourself in the historic architecture surrounding Jackson Square, including Lower and Upper Pontalba Apartments, the oldest apartment buildings in the United States. Catch a street bustler perform music, shop for trinkets at local artisans' stands, or just take a seat at a bench and do some people watching. It's all here at Jackson Square.
5) The French Quarter
Perhaps the most famous section of New Orleans, The French Quarter, deserves all the fame it receives. Picture-perfect, when you stroll down the streets of the French Quarter, you will feel as if you've been transported from the usual time and space. Home to music, sensational restaurants, lively nightclubs, and friendly locals, The French Quarter is a must when visiting New Orleans. Heads up that parking can be tricky in this area, so be advised to Uber or taxi in, then hoof it around to really see this area.
6) Preservation Hall 
Preservation Hall was created in 1961 to memorialize New Orleans jazz, a formative contribution to the music of America. With concerts running 350 nights a year, Preservation Hall continues to honor this art form. When you attend a concert or event at Preservation Hall, you can feel good about supporting local musicians through the Preservation Hall Foundation, which has been especially important during this crisis. Though the hall is currently closed due to Covid, as soon as able, music is sure to return to this historic and important landmark.
Phone: (504) 522-2841
Address: 726 St. Peter Street, New Orleans, LA 70116-3182
Website: preservationhall.com
[/su_note]
7) Audubon Zoo 
The Audubon Zoo is home to some 2,000 animals and covers 58 acres in the Uptown neighborhood. Visit the Lousiana Swamp to learn more about local animals, or jump to the Jaguar Jungle to get animal close-ups. Home to the Audubon Aquarium of the Americas, a nature center and planetarium, there is so much to do at the Audubon Zoo. All tickets must be reserved ahead of time, and entrance to the zoo and aquarium are two separate tickets.
8) Blaine Kern's Mardi Gras World
Mardi Gras is undoubtedly a unique and joyous part of New Orleans culture, and a trip to the 3o0,000 square foot working warehouse where floats are made at Blaine Kern's Mardi Gras World is so much fun.
Open seven days a week, even during these times, Blaine Kern's Mardi Gras World invites you to step into the magic of Mardi Gras with behind-the-scenes looks into costume making, float design, and an all-around larger-than-life perspective on the world. The history of the studio dates back to the Depression-era in the United States, whose founder Blaine Kern supported himself by making floats to survive financially.
9) St. Louis Cemetery No. 1
New Orleans' cemeteries are world-renowned for their creepy yet beautiful quality they bring to the city. Because New Orleans is essentially built on swampland, the graves are all above-ground vaults. St. Louis Cemetery No. 1 is home to famous figures such as Voodoo Queen Marie Laveau, as well as the future grave of actor Nicholas Cage (there's a white nine-foot pyramid as a forward-thinking memorial to himself).
Do note, the only way to tour St. Louis Cemetery No. 1 is with a tour group, and tickets are $20 at Basin St. Station or $15 when you purchase a Hop-On Hop-Off three-day pass.
10) RTA Streetcars
Riding a streetcar through New Orleans is an essential experience to have while in The Big Easy. Though the streetcars do not go fast (you probably could outrun them!), their slow and steady pace seems to be reeling you into a time past.
Streetcars run on four lines: the St. Charles line in Uptown, the Canal Street line, the Riverfront line, and the Rampart line. A one-way fare is $1.25, and no change is given on the streetcar. Everyone's got their favorite streetcar. However, the St. Charles line is a no-fail beauty of a ride, traversing from the edge of the French Quarter and ends at tree-lined South Carrollton Avenue.
11) St. Louis Cathedral 
The iconic St. Louis Cathedral sits on formative Jackson Square, in the French Quarter. Even if you never go inside of the cathedral, you need to see this beauty of a building that often stands as the poster child of the city. The second oldest working cathedral in the United States, the cathedral sits as the seat of the Roman Catholic Archdiocese of New Orleans. Attend a mass, or take a cathedral tour with a self-guided brochure for a mere $1.
12) Jean Lafitte National Historical Park and Preserve
To really be part of the Mississippi River Delta ecosystem, head to the Jean Lafitte National Historical Park and Preserve. The preserve is comprised of several sections of land and points of interest, including the Barataria Preserve, where you can experience bayou life.
Other important sections of the preserve are the Chalmette Battlefield, the French Quarter Visitor's Center (currently closed due to Covid), and the fascinating Prarie Acadian Cultural Center. Getting out of the city to learn more about the flora, fauna, and people of the New Orleans area is a worthwhile trip.
13) Royal Street 
Another gem of the French Quarter, Royal Street is a shopping and dining destination located off of the busy Bourbon Street. Whether you're in search of an antique or want to try some jambalaya, Royal Street has you covered. Stretching through the Marigny and Bywater neighborhoods, amble through the beautiful architecture, art galleries, and cozy, locally owned stores. Also, a great place to see music (though less so than Frenchman Street), Royal Street should be on everyone's list, even if you're just window shopping.
14) Lafayette Cemetery No.1
Each cemetery in New Orleans has its own personality, and Lafayette Cemetery No. 1 is known for being home to the dead of the wealthy homeowners of the Uptown  Garden neighborhood. Lafayette once acted as an annexed part of New Orleans, and visiting the cemetery helps shed light on this historic stage of the city's past. Settlers tended to be predominately from Germany and Ireland, and the cemetery is home to approximately 7,000 people.
15) Celebration Distillation  
The oldest rum distillery in the United States, the Old New Orleans Rum Distillery, also known as Celebration Distillation, has been operating since 1995. Founded by artist James Michalopoulos, Celebration Distillation prides itself on producing rum from Louisana sugar cane. With two convenient shuttle pick-up locations from the French Quarter, it's easy to get to the distillery easily. Tours can be booked online and are available seven days a week.
16) New Orleans Pharmacy Museum
Dating back to 1823, the New Orleans Pharmacy Museum is home to curios of cures and superstitions. A two-story building in the French Quarter, the New Orleans Pharmacy Museum is full of strange objects such as medical instruments, wheelchairs, apothecary jars with ingredients, and even some voodoo potions. If that sounds a little creepy, it's because it is. The museum is on the list of stops for the Ghost City Tours.
17) Audubon Park
If you picture mossy Spanish Oaks when you think of New Orleans, then Audobon Park is the place to head to hang out under these arboreal friends. A favorite spot for recreation, Audubon Park has ample amenities, including tennis courts, a 1.8-mile jogging path, a lagoon, and playgrounds, just to name a few. Hugging the Mississippi River, Audubon Park is a natural refuge in an urban environment and is located in the Uptown neighborhood. The park is open from sunrise to sunset daily.
18) Old River Road Plantation Adventure
To get the experience of antebellum New Orleans homes, join a tour with the Old River Road Plantation Adventure. Visit former indigo and sugar case plantations, including notable mansions such as Evergreen, Oak Alley, Laura, and Whitney. With three levels of tours available through the company, choose to see a single plantation, multiple plantations, or add on a swamp tour as well. Single plantation tours run at $65/person and last six hours.
Phone: (866) 671-8687
Address: 2041 Canal St, New Orleans, LA 70112
Website: plantationadventure.com
[/su_note]
19) New Orleans Museum of Art 
The oldest fine art institution in the city of New Orleans, the New Orleans Museum of Art or NOMA, is home to some 40,000 objects of art spanning 5,000 years. Included in the museum grounds are the Besthoff Sculpture Garden, an 11.5 acre landscaped area behind the main building with contemporary sculptures.
Highlights of the museum include an extensive collection of American furniture, notable European painters like Picasso and Monet, as well as a nice collection of local <ahref="https://www.exploreist.com/usa/louisiana/places-to-stay-on-toledo-bend/">Louisiana artists.
20) St. Roch Market 
A food hall dating back to 1875, St. Roch Market has had a revival of culinary excellence with local cooking and beverage talent. New Orleans is a city that knows how to eat, and a trip to St. Roch Market is a great idea if you're interested in tasting local food done at a high level. Multiple vendors operated out of St. Roch Market, including Elysian Seafood (with an emphasis on fresh oysters), Fritai that is known for Haitian street food, and The Mayhaw, serving craft cocktails.
Conclusion
New Orleans is like no other place in the United States, or for that, the world. Rich in history, quick to jubilee, and blessed in beautiful architecture and flora, New Orleans has so much to love. Though this list is far from extensive, it does cover some serious ground of things to do in New Orleans. Get ready to embark on a vacation of a lifetime when you choose New Orleans as your next destination.
SEE MORE POSTS