8 BEST Hotels in San Antonio, Texas [2022 UPDATED]
By

Marina Yoveva
San Antonio, Texas brings many options to the discerning traveler. Whether you're on a family vacation and keen to enjoy the attractions of the area or travel for business, you'll find quality accommodation in the city. Ideally, the best way to visit attractions like Brackenridge Park and SeaWorld would be by car. And, the best hotels in San Antonio come with secure parking.
Some of the best hotels are ideally situated to explore the downtown areas on foot. Others bring the convenience of close-by public transport. If you're a night owl, possibly, you won't need to go far from your room to find some excellent entertainment and restaurants. The historic city's known for excellent cuisine and nightlife
Of course, if it's a business trip, the free WiFi's useful and many of the hotels supply access to a business center. A laptop workspace in temperature-controlled rooms makes for a pleasant environment to get the job done before taking in some relaxing time. Meanwhile, if you're not working and just enjoying vacation time, some places offer nice swimming pools and entertainment for the kids.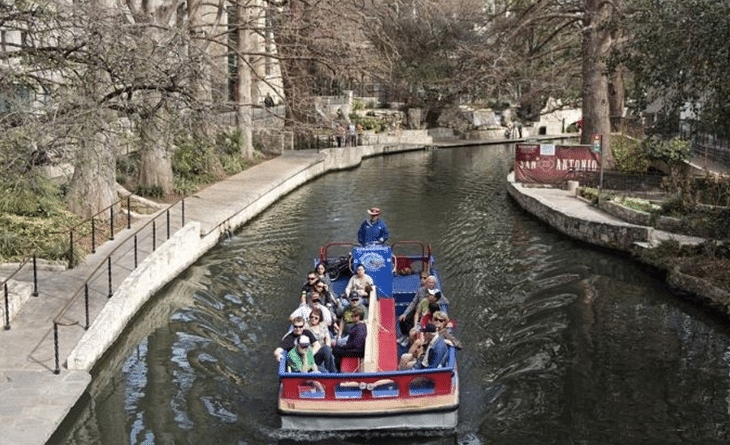 1. Hotel Emma deserves its five-star rating
Ideal for foodies and business travelers, the best things about Hotel Emma go beyond fine linen and the usual South Texas luxury. This comfortable accommodation's perfect if you enjoy tapping into the feel of authentic San Antonio. For starters, the decor and building bring the right fit, as it used to be a 19th-century Brewhouse. Situated on the riverfront, it comes with a gym, valet parking, a business center, a swimming pool, air-conditioned rooms, and fine dining to compare to any of the other best hotels in town. This one makes the list number 1 for best hotels in San Antonio.
2. Mokara Hotel and Spa brings four-star luxury
Health, wellness and a taste for fine dining in a quiet retreat just steps away from this vibrant city, makes this the best hotel choice for discerning guests. Overlooking the San Antonio RiverWalk, you can spoil yourself with four-star luxury, enjoy their fine dining in the Ostra restaurant, or workout in the fitness center 24 hours a day. Enjoy the complimentary coffee, the huge event center, and the heated rooftop pool. 
3. Hotel Valencia Riverwalk brings fine Argentinian dining
Guest reviews reveal this as one of the best hotels in San Antonio. With an excellent rating of 4.4 out of five by more than 4,000 guests, the hotel's racked up a great reputation. Within a one-minute walk of the river frontage, it's convenient to the San Antonio Majestic Theater. Other attractions in the local area include San Antonio Zoo and Aquarium and Splashtown. Plus, it's located in a perfect place to experience good shopping. Enjoy dining on fine Argentinian cuisine in Dorrego's restaurant or relax and enjoy the in-room spa services. 
4. Drury Plaza Hotel San Antonio Riverwalk steeped in history
Drury Inn & Suites Riverwalk hotel's in a beautifully renovated building from the 1920s. When you stay here, you're literally in the best hotel for immediate access to Paseo del Rio. The area's considered the best for nightlife, dining, and excellent shopping. There are retail therapy and superb restaurants within the building. Guests enjoy the rooftop pool and relaxing on the observation deck with a view over the river. The hotel best suits business group events and guests enjoying leisure travel. Still one of the best hotels in San Antonio, TX.
5. Residence Inn San Antonio Downtown, pet, and kid-friendly
If you're on vacation with the kids and love your furry friend, then Residence Inn situated in downtown San Antonio's probably one of the best hotels for you. The all-suite rooms cater to families and it's close to the Alamo. The suites offer a kitchenette and a complimentary breakfast comes with the booking. There are a swimming pool and a nightclub. The free WiFi and flatscreen TV provides entertainment. And, you might enjoy the BBQ – picnic area. For your convenience, the rooms come with air-conditioning, room service, and housekeeping.
6. Hampton Inn & Suites San Antonio Lackland AFB SeaWorld  
This new hotel's ideal for family fun at the nearby SeaWorld Park, the waterpark and the iconic River Walk. Designed for comfort rather than luxury, families enjoy the clean facilities, the heated indoor pool, and the scrumptious breakfast buffet. Guest rooms bring HDTVs for entertainment, along with wifi. There's a mini-fridge and a microwave provided. Request a shower or a tub. Stay comfortable with your air-conditioner, and the knowledge you're in a safe environment. 
7. Comfort Suites Alamo/Riverwalk, underrated value
Guests who stay at this hotel rate it as one of the best because they feel it's underrated. Convenient to shopping and entertainment by foot, there are also loads of great restaurants close by. But, the complimentary breakfast and even complimentary happy hour drinks are appreciated as well. Within walking distance, you'll find the San Antonio Fire Museum and the IMAX theater. A pool, mini-golf, television, and a fitness center provide entertainment and fun. 
8. Omni La Mansion del Rio – 4-star convenience
Find four-star class and convenience that this beautiful hotel on the RiverWalk in San Antonio. This hotel was very convenient to many local attractions. Easily walk to places like Alamo, El Mercado, La Villita Arts District, the Spanish Governor's Palace, and more. Rooms come with housekeeping, room service, and a private balcony. There are a mini-bar and a flatscreen TV for your entertainment. The breakfast buffet's sure to spark your zest for adventure. The well-cared-for historic hotel caters to kids with movies, a pool, and a scavenger hunt. Business travelers have access to a business center. It's also a pet-friendly establishment. 
Conclusion
San Antonio brings plenty of rich cultural history. The city delivers the famous Alamo with the 18th-century Spanish Mission to fun-filled days at the waterparks. Many of the best hotels sit either on the waterfront or adjacent to the beautiful RiverWalk. Others, located in the downtown area mean you can walk instead of drive to many attractions. Public transport options help you navigate your way to the main areas of interest. Plus, lively nightlife and fantastic shopping facilities make for a great vacation. Now you know at least eight of the best value hotels in Antonio. Hopefully, your family trip or business venture requirements help you decide on the best accommodation options for you.
SEE MORE POSTS