20 Best Things to do in Salt Lake City [2022 UPDATED]
By

Marina Yoveva
Salt Lake City is not only the capital of Utah but also the cultural hub of this southwestern state. Though the city itself has a small population of around 200,000 inhabitants, the metropolitan area stretches to over 1 million people. At the foothills of the Wasatch Mountains, Salt Lake City is picturesque and contemporary.
With activities like hiking, biking, and skiing, as well as great restaurants, interesting cultural attractions, and modern museums, you'll never run out of things to do in Salt Lake City. Whatever your reason for visiting Salt Lake City, get inspired by this round-up of things to do. Read on to discover our top list of things to do in Salt Lake City, and start planning your itinerary today!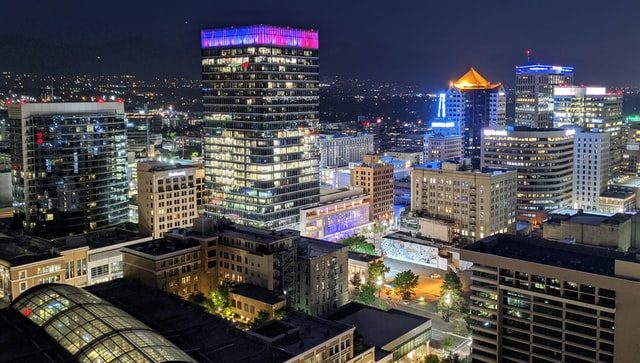 1) Temple Square
The headquarters for the Church of Latter-day Saints, Temple Square is an iconic symbol of Salt Lake City. Beautifully landscaped grounds house multiple buildings for the church, including the Joseph Smith Memorial Building, the Salt Lake Temple, as well as the chance to see the Tabernacle Choir perform for free. Clearly, a tourist attraction, the Church of Latter-day Saints has done a spectacular job marketing their sprawling complex, which is a must-see when visiting Salt Lake City.
2) Big Cottonwood Canyon
Immerse yourself in the natural beauty that surrounds Salt Lake City with a day or weekend in Big Cottonwood Canyon, a 15-mile long canyon. During the summer months, Big Cottonwood is best suited for hiking, biking, and rock climbing; in winter months, the canyon's two major ski resorts are the place to head for fun. Stunning in beauty, even if you only want to take a drive through the canyon to check it out, you should.
3) Great Salt Lake
Clearly, you've got to see the lake that inspired Salt Lake City's namesake. The largest saltwater lake in the Western hemisphere, Great Salt Lake truly is a natural wonder. Summertime means fishing, picnic opportunities, and hiking trails around the area. It is also possible to swim in the lake, and a trip to the lake—about a twenty-minute drive from the city—makes a great day trip.
4) Natural History Museum of Utah
Learn more about Utah's unique natural history at the Natural History Museum of Utah. From paleontology to geology, the Natural History Museum of Utah packs a lot of information into its engaging exhibits. With some 5,000 artifacts and accessible exhibits for all ages, it's an all-around winner for the whole family.
5) Red Butte Garden
Comprised of a botanical garden, arboretum, and amphitheater, a visit to Red Butte Garden is a lovely way to spend an afternoon. Open year-round, Red Butte Garden is run by the University of Utah and has been growing and showing plants for 35 years. The gardens include magnificent exhibits such as the Medicinal Garden, Floral Walk, and Children's Garden.
6) City Creek Center
City Creek Center offers an upscale, open-air shopping experience. A great place to grab a bite to eat, do some shopping, or simply people-watch, City Creek Center is located in downtown Salt Lake City, making it easy to access. Delicious eats like Tibet Bowls & Sushi or Boscata Deli are a great break from shopping at stores such as Coach, Bonobo, and Paper Source.
7) Tracy Aviary & Botanical Gardens
Tracy Aviary offers the unique opportunity to learn about and feed birds up close. One of the largest and oldest of only two free-standing aviaries in the United States, check out owls, eagles, sandhill cranes, and peacocks, to name just a few. The Bird Feeder Cafe is a fun way to round out your experience at the Tracy Aviary. Be sure to check out the daily events at Tracy Aviary, like the history of flamingos or waterfowls at Pelican Pond.
8) Ensign Peak Park
Ensign Peak Park is a perfect way to view the city. HIke to the peak of the park and envision how Brigham Young and seven other pioneer leaders must have felt when they first mapped out the city. The trail begins just above the capitol building, and round-trip, the trail is about a mile long.
9) Salt Lake City Public Library
Though we think public libraries should always be on your to-do list when visiting new cities, the Salt Lake City Public Library is a real standout. Architecturally remarkable, this contemporary library was opened in 2003 and sits in the downtown area. In addition to having some 500,000 books, the library has a cafe on-site and a friendly staff willing to lend a hand.
10) Utah's Hogle Zoo
Utah's Hogle Zoo is another animal-lover attraction, covering 42 acres with 800 animals to see. The relatively recent addition of an African Savannah exhibit is a highlight of the zoo, with giraffes, zebras, and nyalas. Hop aboard the Zoofari Express to zip around the African Savannah. An additional child-pleasing attraction is the Conservation Carousel.
11) Smith's Ballpark
Though Smith's Ballpark is a minor-league baseball park, the beauty of the park is major. With a backdrop of the Wasatch Mountains, Smith's Ballpark offers athletic entertainment as well as stunning views. Multiple restaurants surround Smith's Ballpark, making it an easy choice for dinner and game night out.
12) Wheeler Historic Farm
Step back in time with a visit to the Wheeler Historic Farm, one of Salt Lake City's last-standing farmsteads from the 1900s. Open from dawn to dusk every day, come to Wheeler Historic Farm for a chance to walk the farm grounds, view animals, let the kids loose on the playground, or take a special farmhouse tour. Extra special experiences on the farm include a chance to milk a cow, take a wagon ride, or pick up a souvenir at Rosebud Country Store.
13) Eccles Theater
A new addition to SLC, the Eccles Theater opened its doors in 2016 and hosted Broadway plays, live music, and other entertainment. This beautiful theater boasts 2,500 seats, sparkling architecture, and a must-see outdoor terrace. Though events are currently online due to Covid, there are still a number of great chances to experience art through Eccles Theater, such as the Banff Mountain Film Festival or online flamenco classes.
14) Church History Museum
If you're fascinated with the history of the Church of Jesus Christ of Latter-day Saints, the Church History Museum will educate you to new levels. Learn more about Joseph Smith's First Vision of God, learn the history of feminism in the church, or track the Mormon trail. Unique insight to this often misunderstood faith, you'll come away with a better understanding of Mormonism after a visit here.
15) Discovery Gateway Children's Museum
When you want the kids to burn some energy while doing some learning, head to the Discovery Gateway Children's Museum, the museum has 60,000 square feet of fun, with interactive exhibits geared at getting children to move and think. Have the littles engage in water play, climb through a giant honeycomb, or have a block party with oversized foam blocks. Tickets must be bought online ahead of time.
16) Bonneville Salt Flats
One of the most densely packed salt flats in the United States, the Bonneville Salt Flats are a wonder to behold. Other-worldly, the Bonneville Salt Flats are so salty that it is difficult for flora to grow. The Bonneville Speedway is part of the Bonneville Salt Flats and has been the shooting grounds for numerous car commercials. The best views of the salt flats are along I-80, about ten miles from Wendover, NV.
17) Antelope Island State Park
The largest of ten islands within the Great Salt Lake, Antelope Island State Park is the place to go if you want to see wildlife. Mule deer, bighorn sheep, antelope, and bison can frequently be spotted in the park. An ideal place to hike, bike, or horseback ride, Antelope Island also has camping for the avid outdoorsman.
18) Salt Lake Gallery Stroll
Held on the third Friday of every month, the Salt Lake Gallery Stroll is a fun and free way to catch the arts of Salt Lake City. During this time, galleries are open after hours for visitors to stroll and appreciate art. Live music, snacks, and inspiring conversation can be expected at the Salt Lake Gallery Stroll, where art lovers unite. You can grab a Gallery Stroll map at one of the participating galleries.
19) Social Axe Throwing
Yes, the name is just what it sounds. Gather a group of friends to throw axes for fun. Whatever you think about this idea, it's a great way to burn off some extra steam and to try your luck at this back-to-basics sport. Each session comes with a tutorial by an instructor, so even if you haven't practiced axe throwing in your backyard, you've got a chance.
20) Timpanogos Cave Tour
The Timpanogos Cave Tour is a thrilling way to check out life underground. Cave tours are offered daily in the summer months and provide insight into this unique cavern, complete with helictites, stalactites, stalagmites, and anthodites. Cave tours run for about an hour-long, and accessing the cave includes a steep and strenuous mile and a half path; hence, strollers and other wheeled vehicles are not allowed.
Conclusion
Salt Lake City is a contemporary, vibrant place with so much to offer. From historical sights like Temple Square to innovative museums, there is something for everyone in this Western gem. With this list of things to do in Salt Lake City, you're well on your way to an unforgettable experience.