New Jersey is set against the Atlantic Coastline, and with historic small towns, glitzy resorts, and a mountainous interior, it makes a wonderful east coast destination. Easy to get to from New York City and other east coast cities, the Garden State is small but mighty, packing a wide range of landscapes and activities.
Year-round, New Jersey beckons with shopping, outdoor activities, arts, and culture, as well as dining and entertainment. Whatever your interests and whatever your budget, there's something for every visitor in New Jersey. Read on to discover a list of things to do in New Jersey to get inspired for your vacation in the Garden State!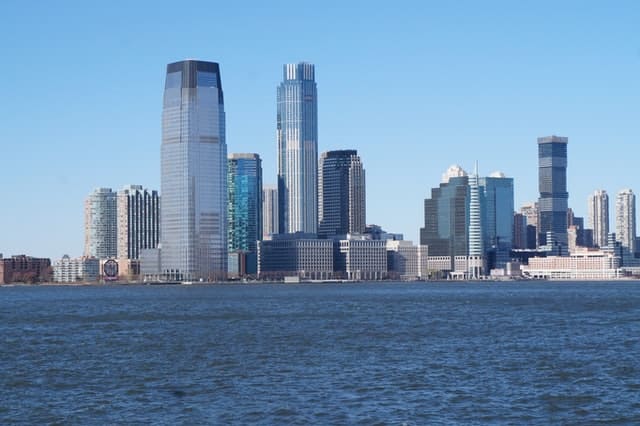 1) Island Beach State Park 
Island Beach State Park is located on 10 miles of glorious sandy beaches and is one of the last significant remnants of a barrier island ecosystem. An incredible place to visit if you're interested in learning more about native plants such as beach heather, Island Beach State Park can be enjoyed in all months. It is also a perfect destination for bird watching, like peregrine falcons, shorebirds, and migrating songbirds fly through the area. Partially accessible for those in wheelchairs, the park attracts a wide variety of people.
2) Atlantic City Boardwalk
This iconic boardwalk has been part of New Jersey tourism since 1870. Spanning six miles of beach, the Boardwalk is also known for the nightlife and casinos that parallel the side of the Boardwalk. Dotted with restaurants and shops, the Boardwalk makes a great experience for families who want to spend the day at the beach or anyone looking for a relaxed, enjoyable place to walk and people watch.
At the beach, enjoy surfing, kayaking, swimming, and fishing. With something to love for everyone, if you're headed to New Jersey, you cannot miss the Atlantic City Boardwalk.
3) Cape May Lighthouse
Cape May Lighthouse offers some of the best views of the New Jersey shoreline, as well as a tranquil refuge. Built in 1859, the lighthouse has been ascended by some 2.5 million visitors! Even if you're not game to make this climb, there's plenty to do at Cape May Lighthouse, like Family Fun Days that happen in the summer months and include craft vendors and food. Or check out the fully accessible Visitor's Orientation Center, Museum Shop, and Oil House, none of which require stairs. The grounds themselves are beautiful for exploring and offers great birding.
4) Borgata Casino
Yes, we cannot make a list of things to do in New Jersey without including at least one spot to gamble. Atlantic City has long been a mecca for those seeking to play tables, slots, and games, and Borgata Casino is the place to go.
A rapid-paying ticket system at Borgata Casino means gamblers don't have to cart around heavy coins, and this expansive hotel includes a spa, five heated indoor and outdoor pools, boutique shopping, and onsite restaurants. Whether you come to stay or just to play, Borgata Casino is where you'll find fast nightlife in New Jersey.
5) Liberty State Park
New Jersey is separated from Lower Manhattan by the Hudson River, and beautiful skyline views of the New York neighborhood are best seen at Liberty State Park. Opposite to Liberty Island as well as Ellis Island, Liberty State Park covers an impressive 1,212-acres! The former home of the Central Railroad of New Jersey Terminal, Liberty State Park, now welcomes four million visitors a year. Take a stroll on the two-mile Liberty Walk to get some exercise or ferry over to see the Statue of Liberty from the park.
6) Jersey Shore Alpacas
Not your average tourist attraction, Jersey Shore Alpacas is a cool and quirky way to get close to these unique animals. A small, couple-owned farm, Jersey Shore Alpacas will appeal to anyone who loves animals and nature. Because of Covid, all visits are by appointment only, so it's essential to check the website and make plans ahead of time.
Tour the grounds and meet the herd of 18 alpacas, then peruse the Farm Store for some warm socks or a scarf made from alpaca wool. Private tours vary from public tours in that they allow visitors to get closer to the animals and feed them.
7) Six Flags Great Adventure 
An amusement park for the whole family, enjoy over 100 rides at Six Flags Great Adventure. About 20 miles southeast of Trenton, NJ, Six Flags Great Adventure is the biggest amusement park in New Jersey. From thrill rides to family rides, Six Flags Great Adventure also has a 350-acre Safari Adventure with live animals and dining, live entertainment, and shopping. All visitors currently need a reservation, which can be made through the park's website.
8) Princeton University 
Come to Princeton University to visit one of the country's most prestigious universities, as well as to tour the beautiful campus. A classic Ivy-League campus, Princeton University, is unique because it is surrounded by green trails for walking and rivers. On-campus you'll find a plethora of restaurants like Yankee Doodle Tap Room and Efes Mediterranean Grill. The campus is also home to Morven Museum & Garden, a historic 18th-century home where Declaration of Independence signer Richard Stockton once lived.
9) The Mills at Jersey Gardens
Time to do some retail therapy at The Mills at Jersey Gardens, home to 200 outlet stores! This two-story mall has big names like Sephora, kate spade new york, Levis, and Coach. Open daily, The Mills at Jersey Gardens also has quick bites such as Sbarro Pizza, Kelly's Cajun Grill, and Johnny Rockets for hamburgers. You'll always score a deal at The Mills at Jersey Garden, and even more so if you keep your eye on their website for any additional deals.
10) Great Swamp National Wildlife Refuge 
To get off the beaten path and into the outdoors, head to the Great Swamp National Wildlife Refuge, nearly 7,800 acres. Both a migratory area and permanent resting area for some 244 species of birds, activities at the Great Swamp National Wildlife Refuge include bird watching, hunting, educational programs, and a 1/8 mile interpretive trail. The Helen C Fenske Visitor Center is open daily from 10 am-4 pm and is the best way to orient oneself when you reach the refuge.
11) Battleship New Jersey
An Iowa-class battleship, Battleship New Jersey was the only US battleship providing gunfire support during the Vietnam War. If this military history appeals to you, then a visit to Battleship New Jersey should be on your agenda.
Celebrated as America's Most Decorated Battleship, the Battleship New Jersey operates as a museum and memorial. Though currently closed through March 2021, the battleship plans to reopen for visitors to learn more about its historical past.
12) Silverball Pinball Museum 
Silverball Pinball Museum is a specialty museum that will appeal to the inner-child in all. Though it calls itself a museum, it really is a retro arcade where you can plan up to 600 different vintage games like Skee Ball, Mata Hari, Super Mario Brothers, and Ms. Pac Man. After you've played your heart out, dine at the Silverball Cafe, where they are said to have the best pizza in all of Ashbury.
13) Hoboken Waterfront Walkway
Part of the Hudson River Waterfront Walkway, the Hoboken Waterfront Walkway is a charming way to spend an afternoon or evening while in Hoboken. Gaze at the Hudson River as you stroll alongside the water, taking in views of the New York skyline. Stop at multiple parks along the way, including Pier A Park, Eric Lackawanna Park, and Pier C Park. There are multiple restaurants within walking distance, so this makes a great before-or-after dinner activity.
14) The Frelinghuysen Arboretum
The Frelinghuysen Arboretum is a quaint 127-acre preserve that includes a historic Colonial-Revival mansion as well as gardens. A beautiful spot to catch spring blooms or fall colors, The Frelinghuysen Arboretum is open daily from 8 am to dusk and is by donation. The arboretum also has several ongoing events around the holidays and throughout the year, such as botanical drawing classes and bread baking demonstrations.
15) Barclay Farmstead
A living history museum, Barclay Farmstead reimagines what life on an 1800s settlement would have been like. Founded by Quaker farmer Joseph Thorn in 1815, Barclay Farmstead offers farm tours, trails to walk, and ongoing events.
The grounds include not just the farmhouse but also a restored herb garden, a playground, and a shaded picnic area, as well as the Museum Shop. Owned by the Cherry Hill township, a visit to Barclay Farmstead is free to Cherry Hill residents and an affordable $5 for most others.
16) Ocean City Boardwalk 
Ocean City is a great place for a family vacation, with one of the main draws being the beach and the Boardwalk. The Ocean City Boardwalk is a fun mix of shopping, restaurants, and the opportunity to engage in outdoor activities.
Rent a bike and cruise down the boardwalk, stop in a small candy store for saltwater taffy, or do a little shopping that spans from artisanal to novelty. Ocean City Boardwalk is open year-round, although individual shop hours may vary based on the season.
17) Aviation Hall of Fame & Museum of New Jersey
Dedicated to preserving New Jersey's unique history of aviation, the Aviation Hall of Fame & Museum of New Jersey is a wealth of aviation information. Get a chance to get up close to historic aircraft, space equipment, and engines, as well as photographs and other artifacts. A special research library has more than 2500 volumes of archives. Currently, open Tuesday – Saturday by reservation only, the Aviation Hall of Fame & Museum should appeal to anyone interested in aviation or space exploration.
18) Breakfast in the Sky
The Boardwalk at Wildwood, NJ, takes breakfast to a new level serving up the day's first meal on a Ferris wheel. Sip on your coffee 156-feet high in the sky as you look over the Atlantic. Reservations are required, and each car can hold up to four passengers at a time. A dream of the boardwalk's founder, Will Morey Sr., this unique opportunity was actualized by his sons following Morey's death.
19) Thomas Edison National Historical Park
Thomas Edison's former home and laboratory, the Thomas Edison National Historical Park, is part of the National Park System. Take a step back in time to explore how Edison's inventions were created, as well as learning a little about how his mind ticked.
Most of the homes and laboratories are in their original state, so it's easy to imagine what life must have been like during Edison's time. The park is currently only open during daylight hours during the weekends, and the entrance fee is $15/person.
20) Wildwood Crest Beach 
There's a lot of great beaches in New Jersey, but Wildwood Crest Beach tops the list for being a family-friendly destination. About two miles long, Wildwood Crest Beach is lifeguarded during the summer months and attracts surfers as well as beachgoers.
The Wildwood Crest Beach is a great option for those looking for an ADA handicap-accessible beach; the beach rents wheelchairs for no fee. Clean and spacious, there are enough spots for everyone to find their place at Wildwood Crest Beach.
Conclusion
New Jersey may not be the biggest state in the union, but it's got a lot of personality packed into its territory. Beaches are the biggest draw to this east coast getaway.
Still, the fun of amusement parks, historical landmarks, natural beauty, as well as opportunities to do some shopping keeps bringing visitors back to New Jersey. With so many things to do in New Jersey, you'll adore this easily accessible state that is ready to welcome you to play.