20 Things to do in New Jersey this Weekend for Couples
By

Marina Yoveva
Fall is upon us, and with so many restrictions this summer, you may be looking for a way to spend time with your special someone.  Although an evening out or a weekend away may be slightly different than we're used to, it doesn't mean that there is any shortage of entertaining things to do in NJ this weekend for couples.
This list of fun activities covers a wide variety of activities and getaways for the thrill-seeker, the ocean enthusiast, and those couples looking for romantic things to do. From parasailing to wine tours, to kayaking; your only concern will be how to check all of the fantastic adventures in New Jersey. As soon as you've finished taking in the sights, take some time to create the perfect date-night with dinner theater, live shows, and fantastic authentic cuisines worldwide.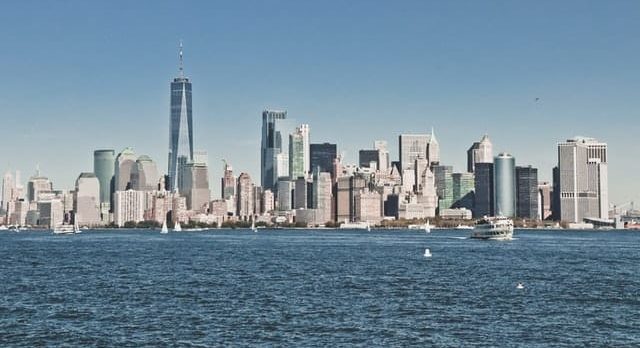 1. Human Village Brewing Company
The first stop on the list of things to do in New Jersey this weekend for couples is a flavorful destination that offers home-brewed concoctions that are guaranteed to tickle your taste buds. Human Village Brewing Company is a 5 star rated brewery that offers artisan brews, such as Rye of the Tiger, Hey There Sedona, and Abby Rd. All these amazing brews are made from sustainably sourced ingredients with a focus on the human element.
2. Atlantic Parasail
If you and your partner are adrenaline junkies looking for some fantastic sights, this next thing to do in New Jersey this weekend for couples is a must.  Feel the freedom of wind in your hair as you watch pods of dolphins frolic in the waves with Atlantic Parasail. Offering tandem and solo flights experience incredible views in a safe and certified environment. 
3. Pinelands Adventures
If you're looking for a thrill closer to the water, PinelandsAdventures is a traveler favorite in New Jersey! This nature exploration destination offers various water tours, such as self-guided paddling, guided hikes, nature and ecology tours, and history and culture tours. All of this with fully certified staff that want you to remember that masks don't have to keep you from experiencing the great outdoors!
4. Jersey Shore Alpacas
This net entry on the list of things to do in New Jersey this weekend for couples incorporates a herd of furry friends.  Jersey Shore Alpacas is a traveler favorite that is privately owned and operated and provides compassionate health and happiness.  Enjoy private and public tours, and don't forget to stop in the Farm Store for all things alpaca. 
5. Thundercat
 Dolphin Watch
When you're finished enjoying life on the farm and the wild inlands, explore the best marine wildlife at the Thundercat Dolphin Watch. This site offers an up-close view of some of the most entertaining creatures in the ocean.  This 90-minute tour has been rated the #1 traveler experience and is the area's only USCG certified catamaran experience. 
6. Bury the Hatchet Old Bridge – Axe Throwing
This next destination offers a unique thing to do in New Jersey this weekend for couples and will let you experience one of the oldest American games.  This safety-focused destination is a great place to learn or perfect your ax-throwing technique on your date-night.  After your game is finished, sit back and enjoy the entertainment while watching professional tournaments and local league competitions. 
7. Princeton University Art Museum
When you're finished with your axe competition, take some time to slow down and enjoy the finer things in life. The Princeton University Art Museum offers artist s like Cezanne and John Lewis while offering Architecture and Experience tours.  Additionally, they have unique collections such as Women Artists and Abstractions, Women and the Arts of Africa, Blue-Green Realms in Chinese Painting, and Transforming Landscapes: Memory and Slavery Across the Americas.
8. Hopewell Theater
If arts and culture are your ideas of the perfect thing to do in New Jersey this weekend for couples, this next entry offers hours of entertainment and is ideal for any date-night. Experience movies, music, and performances while enjoying an intimate dining atmosphere with your significant other in the newly remodeled The Brothers Moon Restaurant. 
9. Grounds for Sculpture
If you've had enough of the indoors but want to experience a unique outdoor cultural experience, look no further than this next thing to do in New Jersey this weekend for couples.  Grounds for Sculpture is an entirely outdoor non-profit sculpture exposition that supports local artists who transform the outdoor landscape into a scene that intertwines sculpted action scenes with artistic topiaries. 
10. Solve It, Sherlock Escape Room
If you're ready to solve a mystery and prove once and for all that you're the real Sherlock, this next thing to do in New Jersey this weekend for couples is the perfect place to take your Watson.  With puzzles like Pirates of the Golden Skull, Quarantine, and The Magician's Secret, this destination is a date-night thrill-seeker favorite that is sure to entertain. 
11. Silverball
 Pinball Museum
Relive your days as a pinball wizard at this next thing to do this weekend in New Jersey for Couples. Silverball Pinball Museum is a time capsule for the glory days of arcade games. Explore all your favorite games in one location, such as Space Mission, Friendship 7, Discs of Tron, and Street Fighter II. Also, don't forget to stop by the gift shop for all of your Pinball Wizard memorabilia.
12. Hoboken Waterfront Walkway
Located within walking distance of close to 200 restaurants, this next destination offers a walking tour with ocean views and a diverse evening with limitless opportunities for fun and exploration. This destination offers locations like the Lincoln Harbor Dog Park, Green Park, Webster Reading Garden, and Weehawken's Pier. 
13. Cape May County Park & Zoo
This next location on the list of things to do this weekend in NJ for couples offers a day outside interacting with some of the world's most exotic animal species. Open seven days a week, this location is a top choice for Trip Advisor Travelers and offers an up–close view of giraffes, gorillas, and lions. Moreover, you can visit the education center and one of the many wildlife exhibitions, all in a safe and socially distanced environment.
14. Valenzano
 Family Winery
This locally sourced and family-owned winery is a great place to unwind during a busy weekend. Enjoy the scenic outdoor landscapes with the one you love while sipping some of the finest wine fresh off the vine. Perfect for a date-night or a weekend retreat, this destination offers tasting, tours, and parings to delight even the pickiest of oenophiles.
15. Alosi's
 Bistro
When you're finished seeing the sights, spend a romantic evening with your significant other on this next thing to do this weekend in NJ for couples. Alosi's Bistro offers fine dining in an intimate atmosphere perfect for any date-night or a night on the town. This family-owned and operated restaurant is open for breakfast, lunch, and dinner and offers favorites like baked meatloaf, beef tenderloin, and veal cutlets.
16. Jersey Girl Bar and Restaurant
If you're looking for the tastes of American cuisine or seafood, this next destination offers new spins on diner favorites. Rated as a top date-night destination for things to do this weekend in New Jersey for couples, every choice on the menu is sure to make for a great evening. Try eggs and omelets, avocado toast, onion rings, and burgers galore. With plenty of vegetarian options, every diner can find a tasty dish.
17.
Dong Sin
Looking for a unique restaurant experience? This flavorful destination offers traditional Asian cuisine with various vegetarian options for a wonderful night out. Explore sushi, hibachi, Chinese, and Thai classics with modern presentations. No matter your tastes, this is another fantastic choice on the list of things to do this weekend in New Jersey for couples. 
18. The Jellyfish Café
Located near the waterfront, this next dining experience offers vegan and vegetarian options and all the favorites in American cuisine. This recently reopened, family-owned, and operated dining destination is open every weekend for breakfast and lunch. Stop by and try a specialty veggie omelet, home fries, or a club breakfast, featuring breakfast classics like pancakes or French toast. Stick around for lunch because you will not want to miss any of the seafood classics.
19. 3 Brothers Pizza & Restaurant
Whether you're on the go and looking for a quick and delicious bite, or you want a sit-down, this restaurant is perfect for you. This privately owned and operated restaurant offers a variety of crowd-pleasers such as Antipasto, Beef Carpaccio, Fried Zucchini. For the vegan diner, the Pasta primavera provides all the decadent delights of the classic dish without the butter!
20. The Wild Burrito
This entry on the list is the perfect thing to do this weekend in New Jersey for couples who love Mexican and International flavors. The Wild Burrito is the home of the original avocado fries and tailors all of its orders to every diner. Featuring all-day breakfast burritos, tacos, and nachos, there's a meal for everyone. Additionally, they include various vegan options like Vegan Buffalo Nachos, quesadillas, and Banh Mi Burritos. 
Conclusion
With so many things to do in New Jersey this weekend for couples, the list is endless.  Still, this quick overview provides a variety of fun entertainment for anyone looking to get out of the house and explore everything that New Jersey has to offer.
Whether you want the traditional shore experience or if the wilds of the woodlands are more of your taste, this list has quiet places to relax and adventurous activities for those who want to live on the Wildside.  When you're finished with the adventure and want a good meal, you can head over to any of the amazing restaurants around New Jersey offering seafood, pasta, meat-free, and even vegan alternatives. The only limit to your New Jersey experience is your imagination.