19 BEST Bars in Old Town Scottsdale, AZ [2022 UPDATED]
By

Marina Yoveva
Welcome to Old Town Scottsdale, a super fun-filled vacation spot. You have tons of things to do in town, including taking several group tours. Take time to journey through the town and discover the Arts Districts, shopping centers,  restaurants, and of course, Can find some bars in Old Town Scottsdale. Rent a bike or just walk since you will be close to the civic center, golf courses, and museums. You may even be in the area during spring training in the ball fields and Arizona State University.
You will have the selection of a ton of nearby restaurants, 83 hotels, and almost 500 area attractions. Crazy Horse Gallery, The Legacy Gallery,  American Fine Art, Inc, Signature Gallery, and so many more sights are awaiting you!
With all of that activity, never forget about the nightlife hours. The streets come alive in the Old Town Scottsdale area. Surely you will find at least one bar/pub that piques your interest in the 19 listed establishments!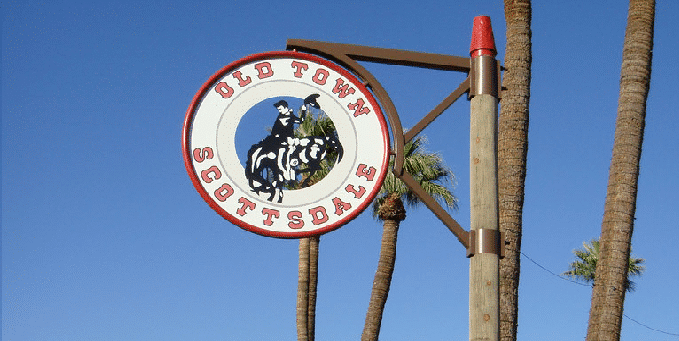 1. Goldwater Brewing Company
The brewery is a mere 0.2 miles from the quaint area of Scottsdale and has been family owned and operated for over 30 years. Its taproom is considered industrial-contemporary with over 15 craft beers. Enjoy the brew in the Goldwater Tap Room and multiple local restaurants and bars. Taste on and off the premises or have a neighborhood get together with a special keg.
2. O.H.S.O. Eatery & Distillery
This American bar and pub offer a fun atmosphere with excellent value, service, and food choices. If you are vegetarian or desire gluten-free options, the menu also has you in mind. Book a tour and taste a bottle of its finest brew or visit the online store for some special offers. Come and see for yourself and enjoy a delicious menu item with a cold brew!
3. Thirsty Lion Gastro-Pub & Grill
You will be in love with this American bar, pub, and gastro-pub, especially if you are looking for a place to dine, including gluten-free and vegetarian options. The diners rave over its pricing, generous portions, customer service, and the delightful beverage options. It was rated with the Certificate of Excellence in 2017-2019, so check it out when you are in the Oldtown Scottsdale area.
4. Two Brothers Tap House & Brewery
Enjoy the full bar with a delightful cold beverage or dine outside. Call ahead for reservation for lunch or dinner, and if you choose, select one of the vegetarian-friendly dishes. Patrons raved over the menu options, including delicious burgers, hamburger salad, fried fish, or a Reuben sandwich. The selection is there with a Certificate of Excellence in 2017!
5. Vines & Hops
This delightful bar/pub is listed as the #5 choice in Scottsdale, hailing a 4-Star rating. It's conveniently located just 0.3 miles from Oldtown Scottsdale. Stop by for happy hour all day Sunday through Tuesday or visit Wednesday through Friday at 7 PM. Choose draft and by the glass, one of the featured 15 types of bottled beer, high-end wine options, and delicious sandwiches, and foods.
6. The Mix
This exquisite Spanish bar/pub might be just the scene you are seeking, with its location only 2.6 miles from Oldtown at the Royal Palms Resort & Spa. Enjoy daily specials and live music from 7 PM to 10 PM on Fridays and Saturdays. Enjoy a delicious signature cocktail, grapes in a glass, or an ice-cold bottled/can beer. You will be delighted at the menu items. So much more is in store on this visit.
7. The Living Room
The Living Room achieved a 4 out of 5-star rating for excellence for its food, service, and value. Indulge the elegance provided in the wine cafe and lounge. Enjoy the outdoor seating at the full-bar with wheelchair accessibility. Check it out for lunch or dinner in the mid-range pricing category. The staff is ready and waiting with your beverage of choice served with a smile.
8. Terroir Wine Pub
The American wine bar deems to its principals with a glass of wine that explains it all, "Bike-Friendly Bar with Dog-Friendly Patio!" In doing their part for mother earth, ride your bike to tour and taste all wines by the glass on special, any day, anytime! They also have a dog-friendly patio. Check out Thursday night with any three wines-by-the-glass lists is $10 and only 3.2 miles from Oldtown.
9. Salty Senorita
As you can imagine, you will love this quaint Mexican bar atmosphere. Order delicious tacos, including Carne asada, Chicken Tinga, Braised Short Ribs, Grilled Shrimp, Blackened Salmon, or Broccolini, and that is just for starters. Add a side of nachos, Surf & Turf Islands Skewer, and finish it off with a Churros or a portion of fried vanilla ice cream.
10. Zipps Sports Grill On Camelback
Stop by the Grill, which is only a short 0.8 miles from Oldtown Scottsdale and is open from 11 AM until 2 AM Monday through Sunday. Order and dine-in for lunch, dinner, late-night, or takeout. Patrons praise the burgers, chicken wings, and cold beverages with an A+. It's good to know there are 83 nearby hotels in case you need one. You also have tons of nearby attractions (almost 500 of them).
11. The Attic Ale House
The alehouse is only 3.7 miles from Phoenix and 3.6 miles from Old Town Scottsdale, with a friendly staff awaiting your arrival. They also specialize in a delightful Turtle Dove Cheesecake and ice-cold alcoholic beverages. The service and value are highly rated with the locals and travelers alike. Stop by when you are visiting the nearby attractions (567) or staying at a hotel close by (184).
12. The District
If you are searching for lunch, dinner, and late-night foods, visit the full-bar for indoor or outdoor seating or takeout. Order a thirst-quenching drink within 0.6 miles of Oldtown Scottsdale. Sorry, but the District is closed on Tuesday and Wednesday, but come by any other day for a delicious treat and excellent service. It is noted as not "biker-friendly."
13. The Tipsy Coyote Bar & Grill
The bar and grill is open at 11 AM and closes at midnight except on Friday and Saturday; the doors will close at 2 am. Gather your friends and party on the outdoor patio with its excellent service and food, without the loud music inside. You have 83 hotels nearby as well as 499 nearby attractions to see while you are in the area.
14. Clancys Pub Pizza & Grill
Visit Clancys to receive excellent service at a value with excellent food until 2 AM every day of the week. The Irish atmosphere has been in the Valley for over eleven years with its sub and pizza menu offering luncheon specials like a choice of potato, a fresh salad, and a 10-ounce sirloin for only $10.99 (effective as of 1/1/20). So many other choices await your arrival.
15. Pedal Haus Brewery
If you want an awesome bar to enjoy the football game, this is your spot! Chill out from 3 PM until 6:30 PM every day for Happy Hour. Sunday is FunDay All Day Long! The brewery is spacious, and reservations are suggested because otherwise, you will be a first-come and first-serve basis. Whether you are in town for business or pleasure, it's a plus to visit.
16. The Hangar Food & Spirits
Some of the patrons suggested it was the local "Cheers" bar and would return. Join in for Happy Hour every Monday – Friday with drinks from 11 AM until 7 PM and Happy Hour on food from 4 PM until 7 PM. Bring the pooch along and visit on the dog-friendly patio with a side of off-track betting. Have some fun!
17. Scape Goat
You'll find the pub just 0.4 miles from Oldtown, and many have rated it highly for its service and cold beverages. Whether you have one or more in your group, book it in advance for a private party. Stop by Tuesday – Friday for$3 off wine by the glass and $2 off all drafts during the hours of 3 PM until 6 PM. Sunday hours are from 3 PM – 9 PM, whereby other days are 3 PM until 12 AM.
18. Bogeys Grill Scottsdale
The locals love this spot for dining and the full bar and beer options! You may be impressed when the owner is preparing your meal to ensure it's the way you like it with waffle fries on the side! Try a wrap or a delicious Bloody Mary as declared as the best in town. The friendly wait staff is awaiting your visit.
19. Salut Kitchen Bar
It's a must to stop in at this fabulous Mediterranean-cuisine wine bar and is rated as the #2 restaurant in Tempe. It also proclaimed the Certificate of Excellence award in 2016-2018. You are 3.4 miles from the Desert Botanical Garden and about seven miles from Old Town. You are welcome to make reservations and book a party to celebrate your life events!
Conclusion
Hopefully, you have discovered one or more options for a few good drinks and brew at one of the local bars in Old Town Scottsdale. Have a bit of the spirits, cocktails, wine, and soft drinks – if you prefer. You can choose from the very casual sports bars to the fancier choices; it's your turn for some fun. Have a salad, a burger, or a fish platter served by local chefs, and a waitress. Take in some of the local talents in music and arts. The area is limitless for touring and seeing how the rest of the world lives. Have a wonderful time on your journey!