The 20 BEST Dog Friendly Hotels in Omaha NE
By

Marina Yoveva
If you want to vacation with your fur baby, you couldn't choose a more pet-friendly place than Omaha, Nebraska. Omaha is a beautiful, bustling city with an extensive list of things to do. This is why we decided to compile this list of the best dog friendly hotels in Omaha NE, so you and your best friend can have a pleasant stay.
You can view the picturesque Missouri River from the Heartland of America Park or hike the Lewis and Clark Trail.  At Old Market, you can enjoy window shopping together or go on a tour.
Then head over to the Bob Kerry Pedestrian Bridge for a brief walk to the Nebraska/Iowa line.
At the end of the day, when you're ready to eat dinner, try one of the best restaurants in Omaha.  Of course, while you're out, you will need a safe and cozy place to keep your pet. If you're a pet lover, then you're in good luck.
Omaha has many fantastic pet-friendly hotels. Here are the 20 best hotels for every pet lover to wind down after an exciting day.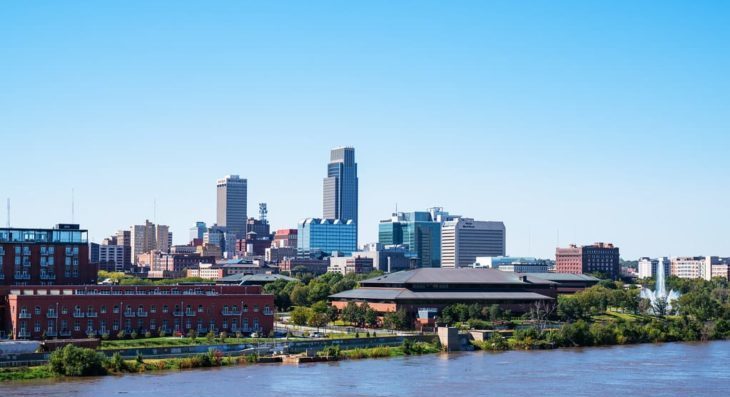 1. EVEN Hotels Downtown Omaha
This chic modern hotel is five minutes away from the Missouri River and America Heartland Park. While your pet gets cozy in the eucalyptus sheets, you workout in the spacious gym, enjoy the heated pool, or imbibe at the hotel bar.
Make sure to call about your pet before you arrive. EVEN has a call-before-travel policy and a $25 per night pet fee for pets.
2. Residence Inn Omaha Downtown/Old Market Area
A non-refundable $100 fee puts both you and your pet in the heart of the action. Not only is the Residence Inn downtown, but it's also in the Old Market Area. Here you can shop, dine and enjoy live music and art all within walking distance from the hotel.
Each room comes with its kitchen. If you prefer, you can share dinner in the room with your pet.
3. Magnolia Hotel Omaha
The Magnolia Hotel gets its majestic look from the inspiration of an Italian palace. Inside is no less luxurious as hospitality is their top priority. 
Located in the art and entertainment district, you are close to the baseball parks and Old Market. If you want to bring your dog with you, there is a two-pet limit. Should your pet have an accident, cleaning fees start at $400.
4. Sonesta ES Suites Omaha
Sonesta ES Suites offers multi-room suites for an enjoyable extended stay, with up to two pets. There is a pet fee of $75 for three nights or less stay and $150 for four nights or more.
You receive a magnet to put on your door to inform the staff that you have a pet in the room. The rooms at Sonesta ES are larger than one expects. You will have plenty of room for extra guests.
5 Best Western Plus Kelly Inn
This jewel in disguise has fantastic accommodations and a decent sized gym. Your pet gets a bag of treats to enjoy while the family is at the adorable kid-themed indoor pool.
There are few pet restrictions, but you will need to sign a pet agreement. The hotel is near I-80, so it's a short drive to the Henry Doorly Zoo/IMAX and Old Market. 
6. Home2 Suites by Hilton Omaha West
Approximately a nine-minute walk from the Funny Bone Comedy Club is the Home2 Suites. This pro-pet hotel has a designated pet area for potty time and a pet-friendly staff.
Take note though, only two dogs – 50 pounds or less – are allowed, and a $75 pet fee is required. Home2 also boasts a large continental breakfast with over 400 food combinations. One of the best dog friendly hotels in Omaha NE.
7. DoubleTree by Hilton Omaha Southwest
There's a $30 non-refundable pet deposit, so why not upgrade from a room to a suite. Located by Aksarben Village, you can enjoy unique shops and entertainment.
Follow it up by perusing Stinson Park's open market and outdoor entertainment. When the day is done, you can enjoy the hotel's elegant, open-kitchen Vida Restaurant as your pet relaxes in your room.
8. Element Omaha Midtown Crossing
If you're worried about a weight limit, there is no weight limit here. However, the hotel requires you to leash your pet and place a "do not disturb" sign outside your room.
Element is close to Turner Park, where you can enjoy jazz music, Monday night movies, a night market, and other events. The shops at Village Point are also nearby.
9. Residence Inn Omaha Aksarben Village
This Residence Inn only allows one pet under 50 pounds with a $100 non-refundable pet fee. At least the hotel is in the Aksarben Village, so you will have plenty to do with your small pet.
Stinson Park and Baxter Arena are less than a ten-minute walk from the hotel. The hotel is also known for its phenomenal customer service.
10. New Victorian Inn and Suites
Unlike many of the sites on this list, the New Victorian Inn and Suites' pet policy and waiver are on their website.
Even though it's a 15-minute drive from enjoying the day at the Old Market, the suites are affordable, and the pet fee is only $15 per night. If relaxing is what you prefer, treat yourself to a jacuzzi suite. 
11. Staybridge Suites Omaha West
Staybridge Suites only accepts dogs, no cats, or other pets. Still, the $50 fee is reasonable. The hotel offers full-sized kitchens,  laundry facilities, and full-service housekeeping.
You'll have plenty of time to take off on a fun trip with your dog to nearby Lake Zorinsky. Back at Staybridge, you can take advantage of the pool or spend some time enjoying the night air on the terrace. 
12. Residence Inn Omaha West
Go ahead. Relax on the back patio with your dog or sit by the fireplace in the Residence Inn's attractive lobby. This hotel has plenty of space for you to get out of your room and socialize.
It will cost you a $75 pet fee, but you're allowed to bring two dogs up to 75 pounds. Plus, you don't have to go far to stretch out and relax. 
13. Hilton Omaha
The Hilton Omaha is everything you expect from a luxury hotel. From the elegant lobby to the picturesque downtown views, you may never leave your bedroom.
If you do leave, take a stroll down the block to catch a Creighton Bluejays game at the TD Ameritrade Park. You can bring your dog to the hotel for a $50 pet fee as long as they don't weigh over 75 pounds.
14. Holiday Inn Express & Suites Omaha West
The pet fee here is a non-refundable $50 per night, but every Monday through Wednesday; you can enjoy a complimentary social hour that not only offers snacks but beer and wine, too.
The Holiday Inn Express is in a central location to access most of what Omaha has to offer. So, pick a suite or a room and enjoy a vacation with your furry best friend.
15. Best Western Old Mill Inn
The Best Western Old Mill Inn limits pet owners to a two queen bedroom. The fee is $15 per night, but there is no limit on how many pets you are allowed. They recently remodeled each room.
Every unit has a fridge and microwave. You can save money on eating out or enjoy dining at one of the nearby restaurants.
16. Sheraton Omaha Hotel
This hotel is about 15 minutes from the TD Ameritrade Ballpark and Westroads Mall. If escape room games are your thing, the Locked Room Omaha isn't too far away. The Sheraton is near a handful of restaurants.
It's quaint and includes a free breakfast, gym, and swimming pool. If you own a small dog – two of less than 40 pounds – you can bring them along for the trip. 
17. Hawthorn Suites by Wyndham Omaha/Old Mill
About 15 minutes away from the TD Ameritrade Ballpark, the Holland Center and the Henry Doorly Zoo is the economically priced Hawthorn Suites. If you bring your pet to the hotel, the charge is $50 per pet.
Each cozy room includes a kitchenette and a desk. If you want to see the College World Series – baseball – then this is the place to stay on a budget. 
18. Staybridge Suites Omaha 80th & Dodge
If you are in Omaha and need to be near a hospital, the Staybridge Suites on 80th and Dodge is the perfect location.
Closely situated to five major hospitals, including the Children's Hospital and Nebraska Medical Center, you can visit loved ones without leaving your fur family at home.
For $50 up to six nights and $150 over seven nights your pets can stay with you in a comfortable and roomy suite. 
19. Cambria Hotel Omaha Downtown
The Cambria Hotel is a mid-century modern meets 21st-century hipster hotel. The hotel allows both cats and dogs at $50 per stay per animal.
They are located downtown near the Creighton University Campus, and CHI Center Arena, which their front desk says are great places to walk your dogs. Make sure you try the nearby 801 Chophouse before you leave.
20. TownePlace Suites Omaha West
For $100 per stay, you can have your pet with you at the TownPlace Suites. It is everything you expect from a Marriott owned hotel: comfortable, clean, and pleasant staff members.
TownePlace offers a big workspace and fully equipped kitchen in every room. You can bring your dog to the nearby Lamp Park or shop and dine at Regency Court or Westroads Mall.  
Conclusion
The fees and restrictions on pets differ from place to place. Two hotels from the same parent company rarely have the same pet policy. What's even more frustrating is that most hotels don't list their pet policies on their websites.
To decide which location works best for you, you must call before booking your hotel. Not knowing the fees and restrictions can cause unnecessary drama during check-in.
Omaha has many exciting and fun attractions for both you and your furry best friend. Make sure you plan well before leaving home to ensure you have the best possible trip.