The 20 BEST Hotels in NW Portland Oregon to Stay at
By

Marina Yoveva
Northwest Portland is the perfect place to be when you're headed to the City of Roses. Lucky for you, we made this list of the best hotels in NW Portland Oregon so you can plan your trip and have as much fun as possible. A historic neighborhood that is best known for Northwest 23rd Avenue, visitors, will soak up the unique flavor of Portland in the Northwest District.
Teeming with activity, this affluent and exciting section of Portland is full of one-of-a-kind restaurants, high-end shopping, and culture that can only be found in the wacky and wonderful world of Portland. From Nob Hill to the Alphabet Historic District, you'll never run out of things to do in Northwest Portland.
Finding the best hotel in Northwest Portland is important when orienting yourself to this affluent district, serving as the base for your experience in the city. Making sure you've got a hotel that covers all the necessary amenities, and then goes the extra mile, is precisely what you need to optimize your time. Read on to discover why each hotel is distinctively perfect for your next visit to Portland, Oregon!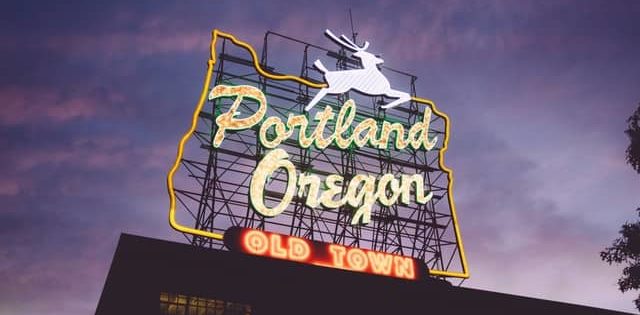 1) Hampton Inn and Suites by Hilton Portland-Pearl District
The Pearl District is just northwest of downtown, placing you at the perfect location for exploring the best of both downtown and Northwest Portland. Hampton Inn and Suites is a modern hotel with great amenities that include a pool, complimentary breakfast, and free wifi.
Close to a metro station, get everywhere you need to go to Portland without the burden of a car. If you do have a car, Hampton Inn and Suites has onsite parking for an additional fee, including an electric car charging station. Grab a bite at the onsite restaurant, or utilize the business center for all your work-related needs.
2) Inn at Northrup Station
Highly ranked as one of the most beloved hotels in Portland, Inn at Northrup Station prides itself on a uniquely Portland vibe, with local art hanging in the common areas, and views of the Portland streetcar below. Close to the Portland Japanese Garden, Inn at Northrup Station finds calm within the vibrant energy of Portland.
Suites are more like spacious studio apartments, complete with the option of full kitchens, sitting areas, and executive desks. Rooms with a balcony overlook the tree-lined streets, and all guests are welcome to enjoy the never-ending candy bowls in the lobby!
3) Holiday Inn Express Hotel & Suites Portland-NW Downtown
Holiday Inn Express Hotel & Suites is a staple in hospitality, offering amenities such as free parking, free breakfast, cribs and cots for families, and a pool and hot tub. The 24-hour fitness center makes it easy to keep fit while traveling, and little perks like free newspapers go a long way. Explore the Nob Hill neighborhood, which is home to beautiful Victorian homes, award-winning restaurants, and stunning Pacific Northwest greenspace.
4) The Hoxton Portland
In the Chinatown District of Portland, The Hoxton Portland is a boutique hotel with breathtaking aesthetics. Mid-century touches and local artwork give a unique feel to this 119-room hotel. Set in the old downtown of Portland, soak up the scene of the neighborhood, or jump on the nearby-metro to see what else Portland has in store.
A pet-friendly hotel, The Hoxton Portland, also boasts two restaurants and one cafe, as well as 2NW5 Bar. Free wifi, an available grab-and-go breakfast, and four meeting rooms are all additional reasons to love The Hoxton Portland.
Do note; there is no onsite parking.
5) Canopy by Hilton Portland Pearl District
Canopy has a sleek decor that emulates being in the heart of Portland. With proximity to entertainment and dining, Canopy by Hilton is a great pick. Hop on a complimentary bike to see the sights of the city, or walk to the Portland Art Museum to see American and international artists. Vaux, Canopy's restaurant, is seasonally and locally sourced. All rooms are equipped with flat-screen TVs, speedy internet, and espresso machines.
6) Portland International Guesthouse
Portland International Guesthouse offers European-style travel for visitors on a budget. With four bedrooms set in a large Portland home, Portland International Guesthouse is excellent for those who want to meet new friends and have the feeling of home while being away.
Free wifi, available parking, and a communal living room are all amenities of Portland International Guesthouse. Great for those who love to walk their way through a new place, Portland International Guesthouse fits the bill for a particular style of traveler.
7) Residence Inn Portland Downtown/Pearl District
In the city center and near the boardwalk, enjoy Residence Inn Portland. All 223 rooms come complete with kitchens, stovetops, refrigerators, and a dishwasher.
Enjoy the beautiful outdoor space, which includes an open fire to cozy up by cooler evenings. Check out art galleries, restaurants, and entertainment, all within the neighborhood. Relax near the indoor pool or at the fitness center. Pet-friendly rooms mean the whole family is welcome at Residence Inn Portland.
8) Park Lane Suites and Inn
Park Lane Suites and Inn is an 84-room hotel in the historic King Hill neighborhood on the edges of Goose Hollow. Tour the neighborhood by foot, and see iconic Portland architecture, or hit up the local stores for some retail therapy. Park Lane Suites and Inn has suites and guestrooms, including free parking, free fast-speed wifi, and an on-hand concierge. Clean, and with an attentive staff, visitors will leave Park Lane Suites and Inn satisfied customers.
9) Motel 6 Portland, OR – North
A budget hotel, Motel 6 Portland, is an excellent choice on the northside of the Colombia River. Clean, bright rooms greet visitors. With ample amenities, Motel 6 Portland ensures free wifi in all rooms, a pet-friendly establishment, and free parking.
Motel 6 Portland is handicapped accessible and accommodates specific accessibility needs upon request. Jantzen Beach Center is less than a five-minute drive for shopping, and the Moda Center is only an eight-minute drive if you're in town for a sports event or show.
10) Best Western Inn At The Meadows
Also, on the northside of the Colombia River, Best Western Inn at The Meadows has clean, spacious rooms that are especially good for families. Pet-friendly, Best Western Inn allows up to two dogs per room. Modified breakfast service is still available for you to get the day off to the right start. A free airport shuttle, outdoor pool, hot tub, and free self-parking make Best Western Inn at The Meadows an easy sell.
11) McMenamins Crystal Hotel
Indeed a memorable stay, each room in Crystal Hotel pays tribute to a song or band performed at Crystal Ballroom, a historic venue in Portland. Just outside the Pearl District, McMenamins is within easy reach of all the fun that Portland provides.
Crystal Hotel has nine king rooms with bathrooms; however, the other rooms have access to bathrooms down the hall. Enjoy soaking in the saltwater pool, or head to the Crystal Ballroom for live music. Bohemian in nature, McMenamins Crystal Hotel, is something to write home about.
12) Mark Spencer Hotel
Built-in 1907, the Mark Spencer Hotel is an upscale accommodation close to the city's theater district. A combination of modern furniture and decor set against the historic building brings out the essence of Mark Spencer Hotel. Enjoy exceptional amenities such as an outdoor patio, complimentary New York Times newspapers, an updated fitness center, and breakfast room service. Be sure to grab the hotel's discount passport to get the best deals on local restaurants and shops in the area.
13) Hyatt Centric Downtown Portland
Hyatt Centric Downtown Portland offers the consistently high standard that guests have come to expect from this chain. Within just a half-mile of Hyatt Centric, enjoy all that Portland is known for: hip coffee shops, touted restaurants, and distinct arts and entertainment.
The elegant yet comfortable rooms invite guests to unwind and relax, and amenities such as an onsite restaurant, fitness center, and blackout curtains make Hyatt Centric Downtown Portland a win.
14) Sentinel
Sentinel is a stately hotel in the downtown area of Portland. Sentinel prides itself on "signature amenities," including a pillow menu, pet-friendly rooms, and a Well+Fit program that streams fitness classes. It's certainly a luxury stay, which means you pay more for the experience; however, it's for these reasons Sentinel has earned recognition from travel companies such as Conde Nast. Whether you want a room or want a room with its terrace and firepit, the sky's the limit at Sentinel.
15) The Benson, a Coast Hotel 
A gorgeous historic hotel, The Benson, is styled in European design that has an air of elegance. Close to Pioneer Square and the Pearl District, The Benson has welcomed past presidents and celebrities through its doors. Enjoy lovely amenities such as a free cup of Starbucks coffee in the morning in the lobby, or a workout in the 24/7 fitness center. Add on an additional $26 per room, and you will get the upgraded amenities.
These include two complimentary glasses of beer or wine an evening, bottled water, a grab-and-go breakfast, as well as a $10 credit to The Benson's onsite store, Simon's Pantry.
16) Hotel Lucia
Hotel Lucia is a boutique hotel with an artistic touch on hospitality. Touting itself on an expansive photography collection, take a stroll through Hotel Lucia as if you were at an art museum. Hotel Lucia is a historic building built in 1909, yet it has a modern approach.
Dine at The Imperial Hotel Lucia's restaurant, which is a go-to even for nonresidents. Enjoy flexible cancellations in case your plans abruptly change, or you need to reschedule. Be sure to take advantage of such amenities as the bike rental or "spiritual menu" where you can browse the multi-faith library that Hotel Lucia has curated.
17) Kimpton Hotel Vintage Portland
Kimpton Hotel Vintage Portland is a boutique hotel in downtown Portland with some fun perks. Enjoy a drink at their urban tasting room or head to the game lounge for some old-school fun. Thursday through Saturday, enjoy live music at Kimpton's happy hour, complete with wine from the Willamette Valley.
If one of your main reasons for being in Portland is the wine, be sure to check in with the front desk about scheduling a wine tasting tour with unique possibilities such as an equestrian wine tour. With its style and personality, Kimpton Hotel Vintage Portland is something to remember.
18) Portland Marriott City Center
Marriott, also referred to as The Bidwell, blends the high standards of Marriott with a boutique-feel. You can also enjoy majestic views of Portland's trees, city, and mountain views in the comfort of your room. Or get your exercise on with the fitness center's Peloton bikes and TRX equipment. Portland Marriott is excellent for businesses coming for work with ample meeting space and valet parking.
Enjoy an on-premise beauty and barbershop, onsite laundry, and ADA accessible rooms.
19) The Paramount Hotel Portland
The Paramount Hotel is in the epicenter of Portland's life, bustling with close access to museums, cultural events, and restaurants. Dine at Swank + Swine, The Paramount's two restaurants with an emphasis on local food.
Enjoy the services that The Paramount offers, from business services to same-day dry cleaning. Check out the website to view current specials such as a Family Field Trip and Portland Japanese Garden Package.
20) Residence Inn Portland North
Residence Inn Portland North is an affordable extended-stay hotel, great for families or those coming to Portland for longer periods. Newly renovated, each room comes with a kitchen, free high-speed internet, and breakfast. Bring Fido along as Residence Inn is pet-friendly. Residence Inn Portland North is close to both downtown Portland and Portland's airport and is ideal for those coming for work at Vigor, SoloPower, and Pepsico.
Conclusion
Whether you're looking for a budget stay or want luxury at its finest, Northwest Portland has something for every style and need. From the downtown Pearl District area reaching north to Nob Hill and Forest Park, these hotels have you covered. Portland is a great place to visit any time of the year, and with this list of the best hotels in Northwest Portland, you're well on your way to the perfect Pacific Northwest getaway!