10 Hotels Near Austin Bergstrom International Airport
By

Marina Yoveva
If you are looking for hotels near Austin Bergstrom International airport, you are in the right place. Located in central Texas, the city of Austin has an endless number of accolades to its name. In 2018 Austin was named the number one place to live in the America by U.S news magazine, it was also named 'The city of the future' by Forbes magazine, which is pretty fitting for a city that according to a national census had a population of 964,254 people, a demographic that keeps easing everyday.
Because it is located at the intersection of four major ecological regions, Austin is the perfect place to visit if you are looking to go on an adventure, not only that but if what you are looking for is a city with a vibrant music scene, Austin is your place.
This city's official slogan is 'The live music capital of the world' that should be reason enough to convince you to drop by.
This year the Austin- Bergstrom international airport set a record mark with 1,543,108 passengers traveling to Austin in airport history.
So, if you are already booking your plane ticket but don't have a place to stay once you arrive, worry not! Exploreist have you covered.
Here is a list of the best hotels near Austin Bergstrom international airport.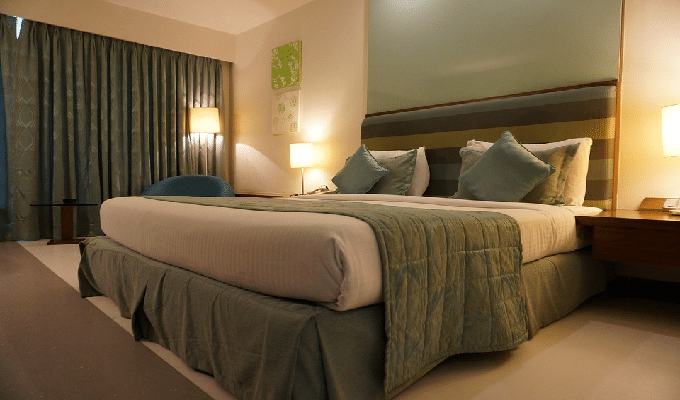 1. Orangewood Inn & Suites
If you have a tight budget and you are looking for cheap hotels near Austin's airport, Orangewood Inn & Suites is the perfect option for you. Here, you can book a room for a standard price of $60 per night.
In Orangewood Inn & Suites 'cheap' doesn't equal 'bad quality or attention' so be ready to expect the best comfort you can get while you explore Austin.
Begin your day with a complimentary hot buffet breakfast, which includes waffles, eggs, biscuits, pastries, fresh fruit, and hot beverages. Guests are served breakfast from 6 am to 9 am. Don't hesitate and give them a call.
2. Red Roof Inn Hotel
This hotel is placed 7 miles from Austin's airport, it also places you within 10 km from touristic places such as Ladybird lake, south Congress avenue, and Saint Edward's college.
Every room available in Red Roof offers you flat-screen televisions with cable channels along with free Wi-Fi and free local and long-distance phone calls.
For only $62 per night, you can book and a standard room with two full double beds for an occupancy of 4 people.
Red roof inn offers its guests with complimentary breakfast, free self-parking, an outdoor swimming pool, free coffee/tea in the common area and many business-friendly amenities.
3. Hilton Austin Airport Hotel
The Hilton Austin hotel spares no expenses to make of your stay a vacation to remember.
You can enjoy a daily free breakfast from 6 am to 10:30 am, their staff specialize in American cuisine which includes bagels, fresh-cut fruits, orange juice, pastries, oatmeal, eggs, and sausages. 24-hour room service is available.
If you enjoy liquor drinks there is an in-site bar, there you can enjoy the most amazing cocktails Austin has to offer.
You can book a room for $120 per night, it comes with free shuttle service to the airport that runs 24 hours for their guests.
4. Quality Inn Austin & Suites Hotel
This modern and cheap hotel near Austin's airport is located 1.9 miles from Austin midtown and 9.8 miles from Austin convention center.
Quality Inn offers you the comfort of home, the many amenities you can find are: 42″ flat screen tv with premium cable, hydro-massage bathtubs, free coffee/continental breakfast from 6 am to 10:00 am for only $85 per night.
5. Hyatt Place Austin Airport
Your stay at this Austin hotel places you within 6 miles (10 km) of The Domain and LBJ Presidential Library.
Hyatt Place Hotel is the closest hotel to Austin International airport.
For $107 per night, you can enjoy all the luxury this hotel is famous for.
The many amenities this hotel can offer you are endless. An indoor and outdoor swimming pool, a 24 hour inside bar/restaurant, a continental breakfast every day for free for all their guests and a fitness gym center.
Hyatt place hotel also offers its guests a free shuttle service to Austin Airport. You can never go wrong choosing Hyatt place like your hotel of choice.
6. JW Marriott Austin Hotel
The very first thing that comes to mind when you think about the Marriott hotel is Luxury and comfort their main feature is their rooftop swimming pool is loved for tourists and locals alike.
You can drink the sights of the city of Austin while enjoying crafted cocktails from Marriott's rooftop bar.
This hotel is also famous for its on-site spa, it offers you all you can imagine and more, from warm oily massages to full chocolate facial services.
Located in downtown Austin, Marriott hotel offers you soundproofed rooms that ensure a good night's sleep and stylish, sophisticated guest rooms.
You can book a standard room for $290 per night.
7. Microtel Inn & Suites
Enjoy a good night of rest when you book a room at Microtel Inn & Suites, this pet-friendly hotel is located 12 miles near Austin's airport.
This hotel provides you with easy access to many local attractions.
Start your morning with free continental breakfast and a free copy of the USA today's newspaper.
Microtel Inn Suites also offers you a fitness center and an outdoor swimming pool.
You can book an standard room for $101 only.
8. Motel 6 Austin Hotel
Motel 6 is located less than 5 miles from Austin Bergstrom airport, which is convenient if you are on the road, traveling for work or if you are looking for a nice and affordable place to stay.
Enjoy the many facilities this place has to offer such as free Wi-Fi, laundry services, free breakfast, and pet-friendly.
You can book an standard room for $55 per night.
9. Super 8 Hotel
This hotel offers you a 60 air conditioner accommodations, with refrigerators and microwaves in every room. Bathtubs and showers are provided with complimentary toiletries.
Guests can surf the internet using a complimentary wireless internet connection.
This onsite business center provides you with free breakfast, an outdoor pool, multilingual staff, and free coffee.
Limited parking is available for all their guests. You can book a room for only $63 per night. One of the cheaper hotels near Austin Bergstrom International Airport.
10. Wyndham Garden Hotel
First and foremost, this luxury hotel is located in East riverside, this hotel is 2,5 miles from Austin Bergstrom international airport, it also leaves you within a 20-minute walk of Ladybird lake and Austin convention center. To start, you can book a standard room for only $87 per night, while enjoying a daily free breakfast buffet, a luxury fitness center, free internet connection, and free self-parking.
Many people describe their stay at Wyndham Garden Hotel as enjoyable and pleasant.
Conclusion
Whether you are a tourist or just passing through, Austin has a lot to offer, from National park reserves to architectonic delights, we hope that with this list of hotels near Austin Bergstrom International Airport you have one less thing to worry about.
Making travel arrangements can be a little stressful sometimes, financial concerns, traffic jams, and flight delays can make what should be a fun time a difficult experience.
Booking a hotel room is financial-related stress that everybody goes through, How much should I spend? Can I take my pet with me? Are the locations clean and the staff friendly? These are questions we all ask ourselves before traveling. Luckily here are some tips to make of this an enjoyable experience and an amazing bonding activity for you and your loved ones.
-Keep a budget: Don't expend more money than you have.
– Research: Before booking a hotel room first research the place you are traveling to. Read reviews online about the hotel you are considering booking in. Call the staff and ask about family discounts.
-Book your room in advance: Sometimes hotels have seasonal discounts which will help to save some money.
-Compare prices: this takes us back to the first point. Research.
-Pack your luggage accordingly to the place you are visiting: Sometimes we pack more clothes than we need for five days' travel. Be careful, remember that we can only carry a limited number on weight in our suitcase.
Here in Exploreist, we wish you a safe and fun trip.