21 BEST Restaurants in Fresno, California [2022 UPDATED]
By

Marina Yoveva
Fresno nestles in the San Joaquin Valley in the beautiful state of California. Actually, it's a popular vacation spot. Certainly, there's a fascinating aspect in the Forestiere Underground Gardens. Created in the 1900s, discover courtyards and subterranean passages inspired by Roman catacombs. Alternatively, enjoy family-fun at Fresno Chaffee Zoo. There, many species of animals reside. Additionally, a touch pool's available where the kids can get up close and personal with stingrays. Next up, the Island Waterpark also brings loads of fun with a variety of water rides, slides, and pools. Pleasantly, the city has a number of green spaces. These include Woodward Park with its beautiful and restful Shinzen Japanese Garden. Plus, there's a vast range of some of the best restaurants in Fresno, California.
For those who wish to travel further, the city is 62 miles from Yosemite National Park. Of course, it's famous for giant rock formations, ancient sequoia trees, and the beautiful Bridalveil Fall, as well. For the shopper, retail therapy can be enjoyed in the city's many shopping malls. Tantalizing, they include the Riverpark Shopping Center with its stores, food court, and movie theaters. Meanwhile, Fig Garden Village is an upmarket open-air shopping center. Actually, there's a huge diversity of dining options in the city offering all types of cuisine. To get an idea of what is available, read up on the best restaurants in Fresno listed below.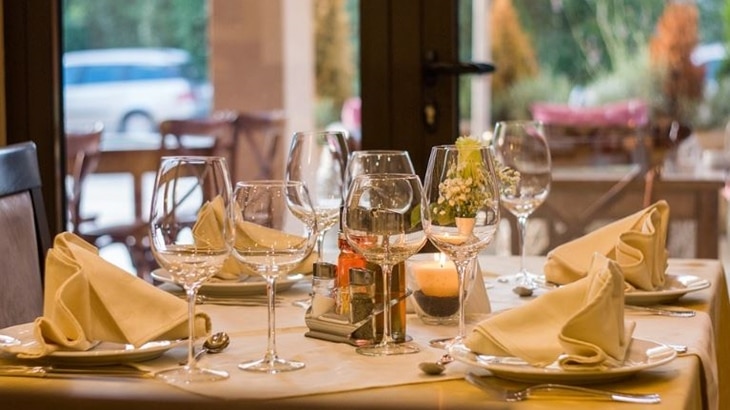 1. Mediterranean Grill & Cafe
Our top choice on our list of the best restaurants in Fresno includes The Mediterranean Grill & Cafe! Amazingly, the Mediterranean Grill & Cafe received the People's Choice Award for the best Mediterranean cuisine for 11 consecutive years. In fact, this full-service restaurant serves a mixture of Lebanese and Greek cuisine, crafted with the freshest ingredients for a flavorful experience. Dine-in, or alternatively, take out such delights as hummus or falafel as an appetizer. Plus, choose specialty dishes like the Vegetarian Plate or Lebanese Chicken and Rice. Furthermore, there's also a range of sandwiches, salads, and burgers.
2. Fleming's Prime Steakhouse & Wine Bar
Carnivores will love this classic steakhouse. Conveniently, it's located in the Fashion Fair Mall on Shaw Avenue. Impressively, the restaurant has a seasonal chef's table. Additionally, the bar offers selected wines, spirits, and hand-crafted cocktails. Nicely diverse, the menu includes a range of starters including Burrata with Prosciutto and Chilled Seafood Tower, along with a choice of salads or soups. Deliciously tempting, the signature steaks like Main Filet Mignon, Prime New York Strip, and Certified Angus Beef Ribeye, deliver the delicious factor.
3. Dog House Grill
This time, it's a good thing to be in the dog house! Conveniently located, the popular Dog House Grill sits across from Save Mart Center. There, they offer a grill restaurant and a full-service bar. Choose from a selection of entrees, including chicken, pork, and ribs, sliced, shredded, or chopped. Select a serving along with sides like Coleslaw, Fries, Onion Rings, or Ranch Beans. Alternatively, pair up with a fresh and tasty salad, including Garden Salad, Trip-Tip Cobb, or Caesar.
4. Pismo's Coastal Grill
Pismo's Coastal Grill has prepared a great menu. Open-aired, the style in their restaurant comes with their Adirondack-style booths. Furthermore, the roll-up windows, rock columns, and a hand-made wooden boat at the entry to the restaurant add to the ambiance. Interestingly, the menu features cold appetizers, like Seafood Ceviche and Oysters on the Half Shell. Additionally, you can select hot appetizers like Pistachio Crusted Calamari, salads, burgers, and sandwiches. Plus, don't overlook the fish tacos and a selection of seafood and fish entrees.
5. The Annex Kitchen
Italian-inspired, the restaurant is influenced by the fresh, seasonal produce of Central Californian farmers. Ultimately, this helps them create the rustic-style cooking of Italy. Authentically, a wood-burning oven produces pizzas. Meanwhile, the menu also features grilled meat dishes, homemade pasta dishes, like Tagliatelle and Mezzi Rigatoni, and tasty vegetables. The wood-burning hearth produces delights like Mary's Free Range Half Chicken. Conveniently, the restaurant has a full bar offering craft cocktails, wine, beer, and other spirits.
6. Yosemite Ranch
Yosemite Ranch is an upscale steakhouse and bar with a historic Yosemite warm atmosphere and decor. Their signature dishes are spicy buttered aged steaks, roast house specialties, and seasoned grilled salmon. Professionally, they're cooked on a Coastal Oak fire. Furthermore, the restaurant offers a range of appetizers. Also, salads, burgers, sandwiches, and non-meat appetizers abound. Tempting the palate, try the Crab Cakes and Goat Cheese with Roasted Garlic. Plus, there's a good range of draft and bottled beer and a choice of wines. Obviously, this makes it a no-brainer for us to include it on our list of the best restaurants in Fresno, California.
7. Westwoods BBQ and Spice Co
Westwoods BBQ is a barbeque restaurant with a great atmosphere. Here, the chefs use the best, locally sourced ingredients for menu items with a touch of Mexico. Usefully, serving lunch and dinner, the menu includes starters such as Brisket Quesadilla or BBQ Pork Nachos. Notably, the Burgers feature 100% USDA prime grade chuck. Meanwhile, there are Starter, Power and Specialty Salads, some worthy of vegetarian note and some not. Entrees feature a delicious range of beef and chicken dishes.
8. Parma Ristorante
Parma Ristorante opened in Fresno in 1999. One of the best restaurants in Fresno, California, brings a taste of the Italian city of Parma to the San Joaquin Valley. Authentic, the pasta is house-made from scratch and all dishes on the menu are Italian. Famous, the award-winning restaurant features menu items such as Tagliere di Parma and Carpaccio Alla Parmigiana. Plus, their delicious pasta dishes include Ravioli di Radicchio e Mele, Gnocchi di Patate, and Lasagna Alla Parmigiana.
9. Max's Bistro & Bar
This charming bistro claims to be reminiscent of San Francisco, with its accessible cuisine and humble service. Comfortably designed, the family-run bistro is a place to enjoy creative dishes. Snd, wherever possible, organic ingredients get used on the menu. For the connoisseur, the menu includes the seafood special of the day. Additionally, they make dishes from scratch with locally sourced ingredients. Among the specialties are Hawaiian Poke, Pan Seared Salmon Salad, the Max Burger, and Petite Filet Mignon. You can pair them with good wines and hand-shaken martinis.
10. Red Apple Cafe
Red Apple Cafe is a buzzing cafe serving a hearty breakfast and a range of burgers and sandwiches for lunch. Easily, we place this on the list of the best restaurants in Fresno. And, for more than just one reason. The family-run business has a huge menu, with basics such as steak and eggs, omelets. However, it has a less usual side with Hawaiian French Toast and Apple Pie French Toast. Alternatively, there's Calamari Steak and Eggs, and Eggs Benedict with Crab Cakes. The cafe says it serves everything from "ultimate meat" to vegetarian options. There, you can even enjoy a mimosa with breakfast.
11. Elbow Room
Elbow Room is a bar and grill serving fresh seafood. Additionally, exceptional steaks and a range of comfort food made from the freshest locally sourced ingredients abound. Conveniently, brunch, lunch, and dinner menus are available. They include starters and house specials, such as Grilled Prawn & Heirloom Tomato Salad. Why not try the Vegetarian Pasta? For variety, small plates and burgers are available. These include the Wild Veggie Mushroom "Burger" for vegetarians, plus some crisp fresh salads and sumptuous desserts.
12. Don Pepe Taqueria
Enjoy the taste of Mexico seven days of the week at this locally owned restaurant. Authentic, they serve hand-made Mexican cuisine, washed down by a good cold beer. Long-lived, the business has been running in Fresno for some 20 years. Deliciously diverse, their specialties are super quesadillas, super burritos, tacos, and combination plates. These include shrimp and fish tacos, and carne asada with pork or chicken and tortas.
13. Fresno Breakfast House
For those who love breakfast, this restaurant is a must. In fact, big breakfasts, generous servings, and plenty of flavors are the buzzwords here. Enjoy everything from homemade pancakes and toppings to crispy bacon, sausage, and lean ham. Also, enjoy their eggs done whichever way you want. Additionally, the menu also includes a range of select vegetables. Notably, visitors love their Fresno Breakfast House signature Cottage Potatoes. And, all this with a big jug of the best fresh coffee, puts the restaurant on our list of the best restaurants in Fresno, California.
14. Ruth's Chris Steak House
The California Restaurant Association has dubbed their fare the "Best Steak in Fresco." Actually, the said steaks are 100% USDA Prime and are paired with an award-winning wine list. However, the menu isn't just about meat, as you can also enjoy New Orleans-style barbequed shrimp and vegetarian options too. Serving lunch and dinner, you can choose steak or chops, specialty seafood dishes, salads, and soups, crowned by great desserts and craft cocktails.
15. Batter Up Pancakes
Enjoy pancakes? Batter Up Pancakes offers a range of hand-made, fresh pancakes for breakfast and lunch, every day of the week. Family-friendly, they are also just plain friendly. Plus, they won the People's Choice Award seven years in a row. Featured for breakfast, is Tessa Cate's Cinnamon Roll Pancake. Meanwhile, for lunch, you can enjoy a spicy Pork Chili Verde Omelet. Why not try the Grand Slam Challenge, which includes 10 eggs and other ingredients?
16. Texas Roadhouse
Centrally situated, this little bit of Texas in the heart of Fresno, features an early dining special choice of 11 entrees for only $9.99. The menu includes hand-cut tender steaks, "fall-off-the-bone" ribs and a selection of sides, made completely from scratch. Wherever possible, the meal's put together with fresh, locally sourced ingredients. Enjoy steaks and burgers Meanwhile, the kids can choose from their own menu. Finally, finish off with desserts including Granny's Apple Classic, Strawberry Cheesecake, or a "Big Ol' Brownie."
17. P.F. Chang's
Notably, one of the best restaurants in Fresno, California this Chinese and Asian eatery sits in the Riverpark Shopping Center. There, they offer lunch, dinner, and a range of sushi. Actually, the menu options are all made from scratch. Filled with choices, select appetizers, salads, soups, dim sum, sides, and entrees. Try, for example, vegetarian Tempura Poppers, hand-folded crab wontons, or vegetable spring rolls. Alternatively, try the restaurant's take on the classic Mongolian Pot Stickers. Scrumptious, the fresh sides include Kimchi Fries, Kung Pao Brussels Sprouts, and Sichuan-Style Asparagus.
18. BJ's Restaurant & Brewhouse
Combining good food with great beers, this Fresno branch of BJ's is the place to go for dinner. Moreover, you can beer at the bar while watching the latest game. Delicious, top-quality hand-crafted beers are on tap. These can accompany some of the eatery's shareable appetizers, snacks, and small bites. Alternatively, try the tasty entrees like the BJ Signature Deep Dish Pizza, Vegetarian Pizza, hand-made burgers, and fresh specialty salads.
19. Yard House
Eat, drink and be merry at the Fresno branch of Yard House. For value, they offer great food backed by what they boast is the world's largest range of draft beers. Depending on your appetite, choose snacks, soups, salads, or appetizers, like Chicken Nachos, or Fried Mac n' Cheese. Alternatively, try the house favorites like Nashville Hot Chicken, Southern Fried Chicken Breast, or Braised Short Rib Ravioli. Steak options include Sirloin & Loaded Potato Stack or Pepper-Crusted Filet. Meanwhile, seafood options include Pan Seared Ahi and Lobster & Shrimp Agnolotti.
20. Sal's Mexican Restaurant
Sal's has been running for 76 years. Authentic, they serve Mexican cuisine accompanied by a tasty Margarita. Choose from a range of appetizers and finger foods. These include such dishes as Chili Verde Nachos or Steak Fajita Quesadilla. Moreover, they're followed by specialties like Chimichanga, Chili Con Carne, or Refried Bean Dinner. Choose a tasty Tostada for a lighter meal, or combination plates, burritos, or Mexican grilled dinners. Afterward, wash down the meal with a cold drink, like raspberry iced tea or a soda.
21. Phoenician Garden Mediterranean Bar and Grill
This Mediterranean restaurant is owned and run by the Hmaidan Family from Lebanon. There, they serve a range of Mediterranean, Lebanese and Greek dishes. Actually, they come with an American twist. In fact, the restaurant's known as "The Home of Spicy Chicken." Additionally, they also serve a range of appetizers, salads, and pasta. Don't overlook the burgers, tasty wraps, and specialty plates. Also, discover other options, including Lamb Shank. Or, select a Vegetarian Plate, classic Greek Mousaka, along with kebobs and seafood dishes.
Conclusion
In conclusion, Fresno is a great destination for a vacation or weekend visit with plenty of fresh air activities. Additionally, there's great shopping and museums. Then, there are art galleries, sports options, and fun locations for the whole family. In fact, the city offers a variety of entertainment options. Above all, explore your options, including theater, music, films, bars, and sizzling nightlife. Notably, while exploring, make sure you stop off, relax and revive at one of the best restaurants in Fresno, California. Certainly, you'll find they feature visitor-recommended international and local cuisine. Additionally, enjoy craft beers, cocktails, and wines. Hope you enjoyed this list of good places to eat in Fresno. Bon Appétit!