Kansas City, Missouri, is an unsung star of the Midwest. With a deep jazz culture, delectable food, and a surprising amount of stunning fountains, Kansas City should be your next destination. The city sits just on the border of Missouri and has a unique personality that you will revel in. From art museums to a historic sports past, Kansas City has so much to offer. Whatever your reason for coming to this Midwestern treasure, you'll find more than enough activities to keep your time occupied. Read on to explore our top things to do in Kansas City, MO, and get ready to be inspired by this quaint and lively city.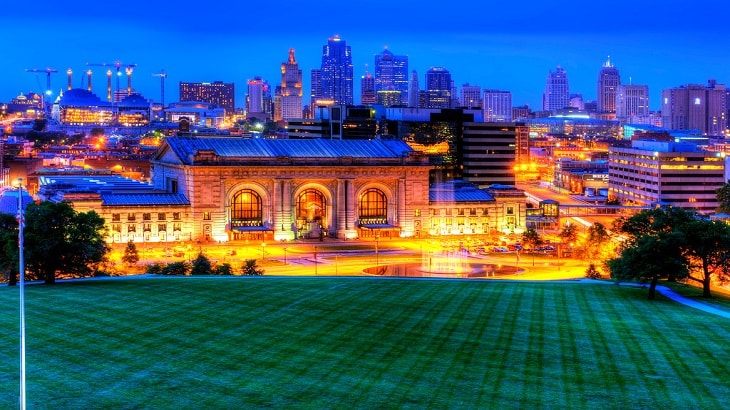 1) National WWI Museum and Memorial
World War I was a formative time in the world's history, and nobody pays tribute to that era like the National WWI Museum and Memorial. The most comprehensive collection of WWI memorabilia in the world, the National WWI Museum and Memorial immortalizes the strengths and struggles of the time. The core exhibit of the museum is "The World War, 1914-1919" but rotating exhibits like the current "French Fashion, Women and WWI" help to enrich the museum. The museum is open daily from 10 am to 5 pm, except for Mondays.
2) The Nelson-Atkins Museum of Art
A beautiful collection of visual arts, The Nelson-Atkins Museum of Art holds some 40,000 works of fine art. World-class in its caliber, yet always free, The Nelson-Atkins Museum of Art should be on any visitor's itinerary. Collection highlights include a large Asian collection, a comprehensive modern art exhibition, and a fascinating sculpture garden. Though the museum is free, advanced reservations are still required, so plan accordingly.
3) Eat BBQ
Yes, this is a general must-do when in Kansas City, as bbq is considered its signature dish. Known for some of the best bbq in the country, when visiting you really have to eat it at least once, or maybe twice. The city has its own app dedicated to finding bbq in the city (listed below), making it easy to quickly be directed to the most delicious bbq eats nearby. A shortlist of favorites includes Arthur Bryant's Barbecue, Joe's Kansas City Bar-B-Que, and Q39.
4) Made in KC Marketplace
It feels awesome to support local artists when traveling, and Made In KC Marketplace is the place to go for all things Kansas City made. Whether you're looking for a cool tee, or want to take home a nice present for someone, you'll find it here. With 300 artisans part of the local movement, Made in KC Marketplace shows its artists' impressive breadth of talent.
5) Listen to Jazz 
Jazz and Kansas City are nearly synonymous. Best known for Bebop, Kansas City jazz has left its print on all of jazz. The height of jazz in the city was during the 1920s and 1930s, however, you can still find live music that you'll never forget at joints like The Blue Room or Green Lady Lounge. You can also do some self-education about the city's relationship to jazz at the American Jazz Museum. Additionally, pay tribute to jazz legend Charlie Parker at the Charlie Parker Memorial at E 18th St & Vine St.
6) Negro Leagues Baseball Museum
The Negroes Leagues ran from post-Civil War to the 1960s and were an important contribution to the history of American sports. Explore the museum as it follows the leagues' timeline and learn more about players who have since been inducted into the National Baseball Hall of Fame. After your visit to the museum, walk two blocks to 18th & Vine to stand where the leagues were first established in 1920.
7) Union Station
Union Station is more than a historic train station. With exhibits, 3D movies, restaurants, and the museum, Science City, Union Station is a perfect choice for a cold or rainy day. Entrance to Union Station is free, however, admission to specific attractions such as The Arvin Gottlieb Planetarium or Dinosaur Road Trip comes with an additional cost.
8) Kansas City Zoo 
An affordable day-out for the family, Kansas City Zoo is home to 1,700 animals. Set on 202 acres, the highlights include the Helzberg Penguin Plaza, Orangutan Canopy, and the chance to experience animal encounters. Reservations are currently mandatory and indoor viewing is temporarily closed. Check the zoo website to see their animal cams for ongoing zoo fun.
9) Country Club Plaza
When it's time to get your shop-on, head to Country Club Plaza, 15 blocks worth of unique shopping. A great collection of women's, men's, children's, home goods, and beauty stores make up the plaza. There are also several delectable restaurants onsite like Fogo de Chao or for your sweet tooth, Cupcake a la Mode. With a whimsical European-style feel that elevates your usual shopping experience, Country Club Plaza is worth checking out.
10) The National Museum of Toys and Miniatures 
For anyone who has retained their child at heart, The National Museum of Toys and Miniatures cannot be missed. With the world's largest collection of miniatures as well as historic toys, The National Museum of Toys and Miniatures will take your breath away with the attention to detail that each toy was given in creation. Discover toys that date back to the 1800s, or geek out on the tiny, tiny recreations such as a mini Versailles. Located on the University of Missouri campus, The National Museum of Toys and Miniatures is open Wednesday through Saturday from 10 am to 4 pm.
11) City Market
This historic market is loved for fresh and seasonal produce, but also the slice of past it provides. Founded in 1857, City Market is now a mix of boutique stores, restaurants, and grocers. The farmers market runs on the weekends only, however, the restaurants and stores are open daily. Onsite is also the Arabia Steamboat Museum, complete with a story of treasure and mystery that cannot be missed.
12) The Arabia Steamboat Museum 
The Arabia Steamboat sank near Kansas City with 200 tons of cargo and 150 passengers. In 1988, 132 years after the boat capsized in the Missouri River, it was pulled up from the river. The allure of the Arabia Steamboat's story piques curiosity and gives depth to the fascinating, and dangerous history of riverboats. Inside the Arabia Steamboat Museum, you'll find treasures from the ship,  including everyday wonders like kitchen supplies, buttons, and weaponry.
13) Kauffman Center for the Performing Arts 
As part of the effort to revitalize downtown, the Kauffman Center for Performing Arts has made a lasting contribution to the community. This beautifully constructed building is home to the Kansas City Ballet, Lyric Opera, and Kansas City Symphony, to name a few. The building has two main performance halls with exceptional acoustics. The center currently has performances planned for April but does not have them running during the winter months due to Covid.
14) Sea Life Kansas City
To dream about watery adventures in the heart of the Midwest, head to Sea Life Kansas City, an interactive aquarium. Walk through the iconic 360-degree aquarium tunnel or put your hands in a sensory pool to feel marine life. The only aquarium in Kansas City, Sea Life holds 11 exhibits including the Sea Turtle Rescue Center, Stingray Bay Exhibit, and Doodle Reef.
15) KC Fountains
Kansas City is known for its remarkable fountains, and has been dubbed the "City of Fountains." Covering a range of styles, the fountains represent minimalist to classical styles and more. With 200 fountains throughout the city, 48 are publically owned, and a map to view them can be obtained through the KC Fountains Foundation website.  A free and lovely activity especially during the summer months, see how many KC fountains you can tick off the list.
16) The Ewing and Muriel Kauffman Memorial Garden
This two-acre botanical garden sits in the heart of downtown and is a tribute to the Kauffman-family legacy. Unwind in the garden comprised of annual and perennial plantings, and bask in the beautiful sculptures in the garden. Whatever time of the year you chose to visit, the garden is open, with daily hours of 8 am to dusk.
17) Take the KC Streetcar 
The KC Streetcar is an impressive and free network of streetcars connecting Kansas City. The KC Streetcar runs from River Market on the north end to Union Station and Crown Center on the south, with 16 stops along the way. Leave your car and worries behind when you step aboard the KC Streetcar, which newly opened in 2016. Streetcars arrive approximately every 10-15 minutes, meaning you're never far away from your destination.
18) Kansas City Public Library (Central Branch)
The Kansas City Public Library, Central location, is another fun and free attraction. This beautiful building is worth visit a classical-style library, even if you can't check out a book. Check out a film screening, browse magazines or newspapers, or look up regional information concerning Kansas history. Additionally, the Ramos Collection is a unique collection of materials relating to African-American history.
19) Art Alley
Part of the Crossroads District, Art Alley is a special little alleyway exploding with bright colors and unique art. An ongoing rotation of murals covers the walls, taking the ordinary to extraordinary. If you love art or are looking for your next Instagram-worthy shot, Art Alley is a great destination to seek out.
20) American Jazz Museum
Round out your experience in Kansas City with a worthwhile trip to the American Jazz Museum. Set in the 18th and Vine District, the American Jazz Museum pays tribute to jazz classics like Ella Fitzgerald, Charlie Parker, and John Coltrane. Check out the museum's ever-expanding music library, and dive into the culture of jazz in Kansas City. The museum is open Tuesdays through Sundays, and advanced reservations must be made.
Conclusion
There are simply so many things to do in this city at any time of the year. Whatever your interest—music, art, history, or food, this city is rich in opportunities to learn and play. With this list of our top things to do in Kansas City, MO, you'll be ready to explore this beautiful Midwestern gem!