Warning
: DOMElement::setAttribute(): ID wpgmza_tolls_139 already defined in
/home/sweetspi/exploreist.com/wp-content/plugins/wp-google-maps-pro/includes/class.directions-box.php
on line
126
Iconic San Francisco is an all-American city set on a bay overlooking the majestic Pacific Ocean. From the free love movement of the 1960s to the Silicon Valley boom of today, the contemporary San Francisco will forever have you California dreaming. Landmarks such as the Golden Gate Bridge cannot be missed, as well as cultural gems such as San Francisco's streetcars. Set in a Mediterranean climate, San Francisco is memorable in any season. Read on to discover the top things to do in San Francisco, and get ready to leave your worries behind in the Golden State!
1. Alcatraz Island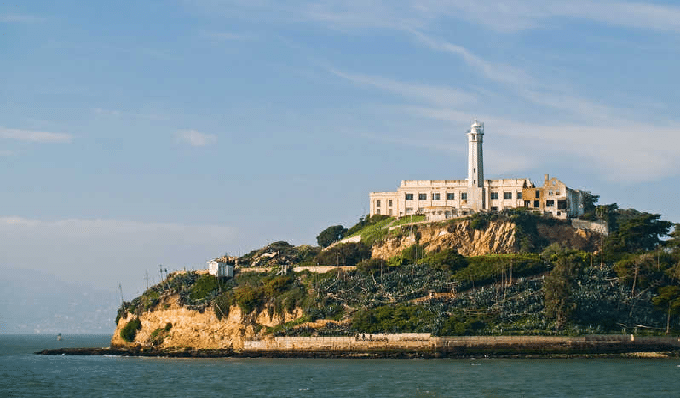 A trip to San Fran without heading to Alcatraz Island just wouldn't be complete. Alcatraz has been many things including a lighthouse, military fort, military prison, and most notably, a federal prison housing such famous prisoners as Al Capone. Additionally, Alcatraz was occupied for 19 months by the Indians of All Tribes who demanded Native American civil rights. Set 1.25 miles off of the city of San Francisco, this historic island can be accessed only by ferry, which runs from The Embarcadero. Now managed by the National Park Service, take a tour to really get the inside story on this now-defunct landmark.
2. Golden Gate Bridge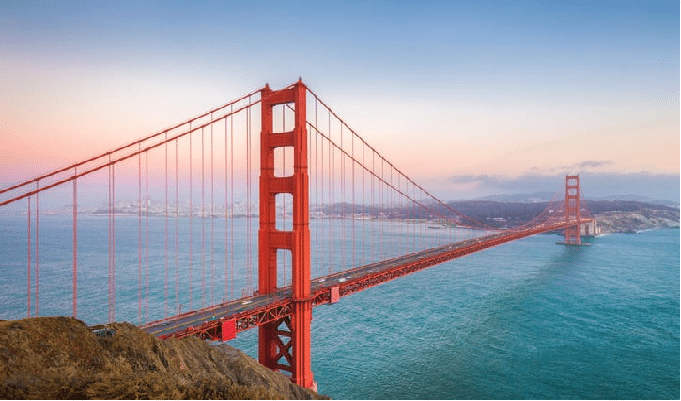 Nothing says "San Francisco" more than the Golden Gate Bridge. An average of some 10 million visitors per year flock to the impressive Art Deco-style bridge, which connects the city to Marin County. View the bridge from a ferry passing by, car, foot, or bike which can be rented from The Wharf. Whatever your style, views of the Golden Gate Bridge make the perfect travel photo, and memory to take home from your time in San Fran.
3. Twin Peaks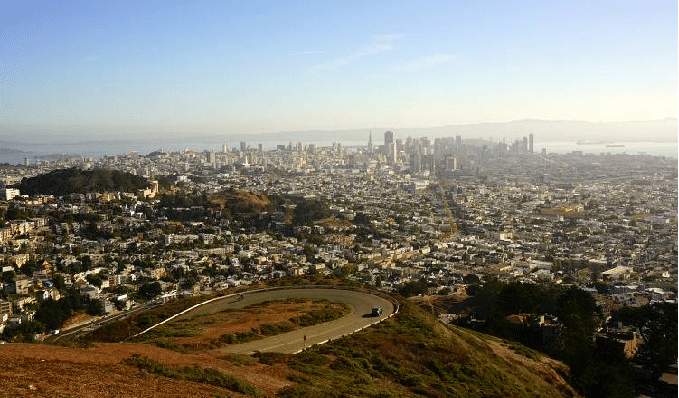 If you want the ultimate vantage point in San Francisco, head to Twin Peaks. Overlooking San Francisco, take in a breath-taking 360-degree view. A totally free destination, drive to the top of the peak, then get out for pictures and views. It is also possible to access the peaks by way of a tourist bus in case you are traveling without a car. While you are visiting, be sure to check out the 64-acre park that surrounds the view, which highlights coastal scrub and grasslands.
4. Oracle Park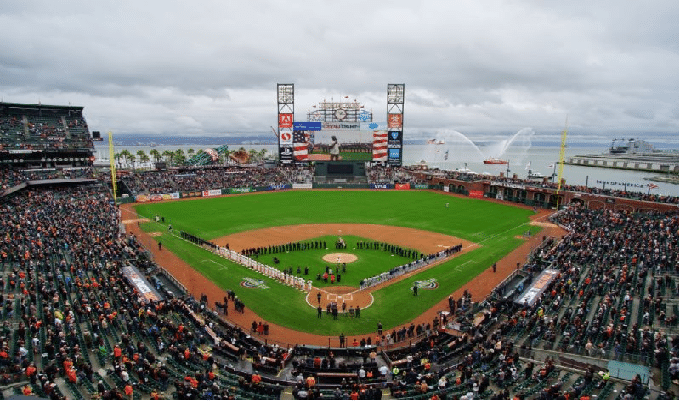 If you're a San Francisco Giants fan then you need to visit Oracle Park, where home games are played. Head to the park for a game, or take one of their Pre-Game Tours, which gives a private glimpse of the glamour of Oracle Park. Oracle Park is also a great place to see a show, such as past superstars The Rolling Stones, Ed Sheeran, Green Day, and Lady Gaga. Check out all upcoming events and games on their website.
5. Palace of Fine Arts Theater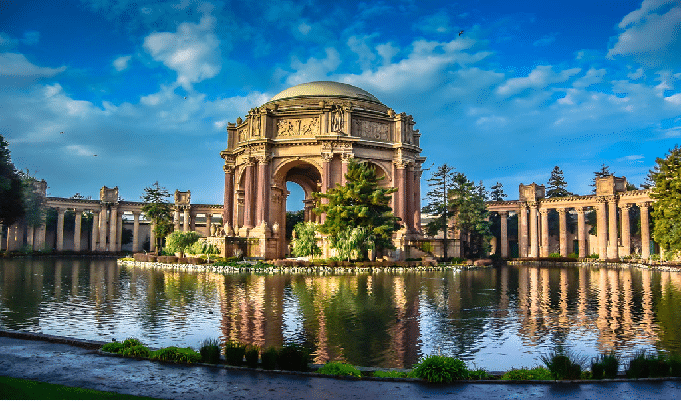 The Palace of Fine Arts is a stunning Romanesque structure originally constructed in 1915 for the Panama-Pacific Exposition. Overlooking a small pond, it is a lovely way to spend an afternoon and is especially romantic in the evening. Catch migrating fowl such as swans, ducks, and geese, as they stop at the water. The Palace of Fine Arts is also home to a theater whose on-going lineup of comedians, musicians, and speakers is worth checking out.
6. Golden Gate Park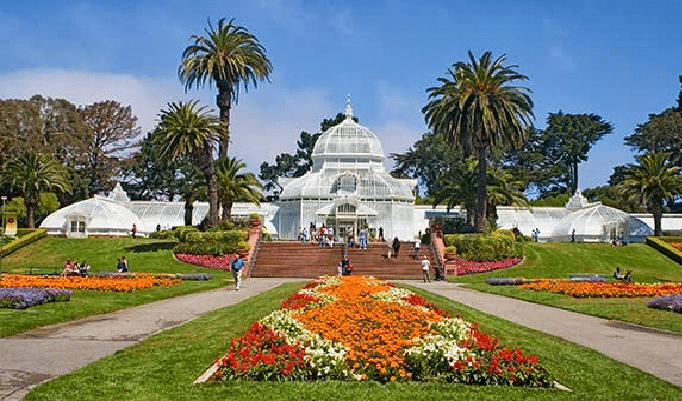 Golden Gate Park is a verdant oasis, with 1,000 acres of gardens, playgrounds, lakes, picnic areas, and trails. Additionally, the park hosts a variety of cultural activities and on-going events. Just this fall, the park reinstated public horseback riding throughout the park, adding yet another reason to visit. The Japanese Tea Garden is highly rated for a garden tour, followed by tea. Most of the park is free (there are some fees to enter certain gardens), and with the diversity in activities, it's easy to fall in love with Golden Gate Park.
7. Exploratorium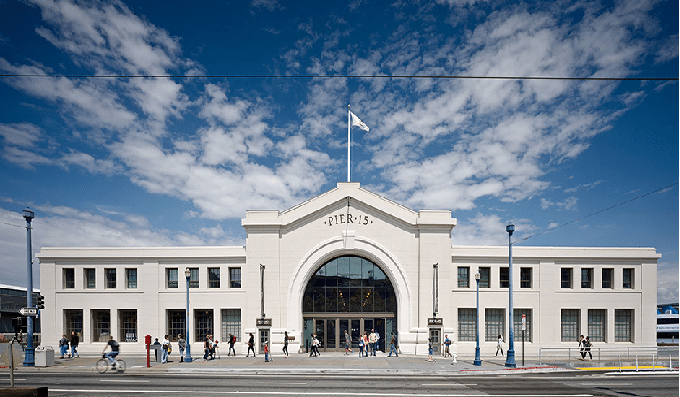 The Exploratorium is a must-see for those interested in hands-on exhibits in science, art, and play. Become curious like a child with all the activities to delight in, including experimentations in light and sound, a gallery dedicated to "tinkering," as well as outdoor exhibits. The Exploratorium is located within The Embarcadero, a central hub for many of San Francisco's top activities, and easy to access. You don't need to have children with you to enjoy this exhibit; kids of all ages will adore The Exploratorium.
8. Lands End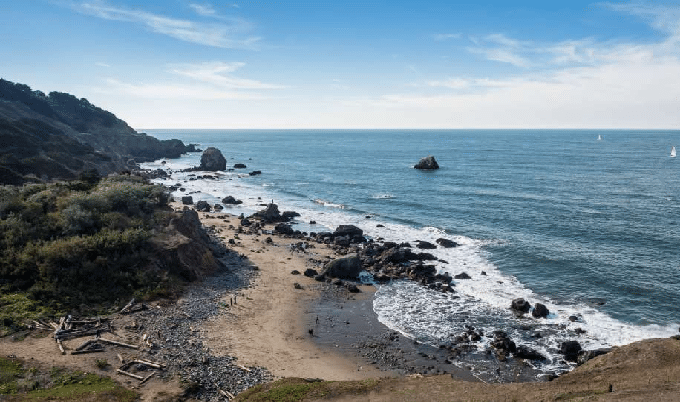 Explore the natural beauty that the area of San Francisco has to offer at Lands End. Lands End is in the northwest corner of the city and provides hiking and running trails winding above the ocean. Breath in the sea and smells of cypress and eucalyptus as you immerse yourself in Mother Nature. Head to Lands End just before sunset to catch incredible views of the Golden Gate and ocean.
9. California Academy of Sciences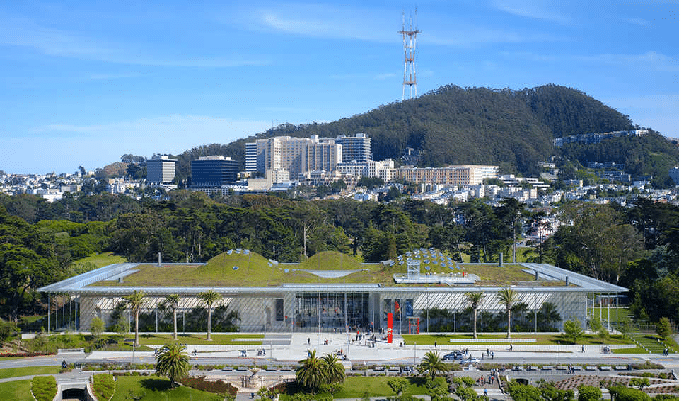 Set in the Golden Gate Park, the California Academy of Sciences are an incredible collection with an aquarium, planetarium, rainforest, and natural history museum in one spot. With so much to explore, you may need more than one trip to the California Academy of Sciences. Thursday nights are especially fun for adults when the museum opens up for live music, cocktails, and after-dark exploration. Check the website for specifics on free and reduced admission to make your trip to California Academy of Sciences a possibility on any budget.
10. Walt Disney Family Museum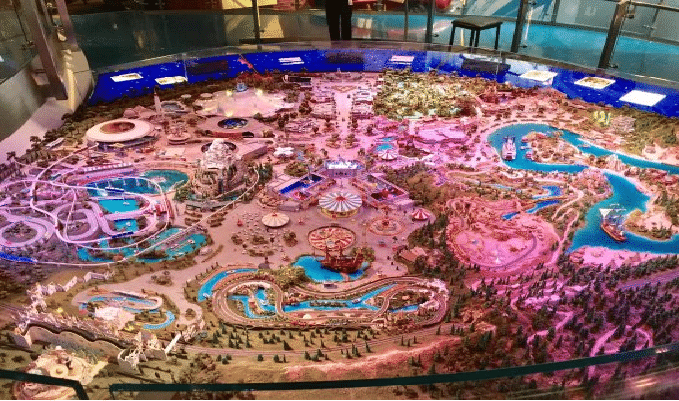 For insight into the life of the man who was Walt Disney, check out the Walt Disney Family Museum. Whether you want to view the earliest drawings of Mickey Mouse, or are curious how Walt rose in fame, this museum will pique your curiosity for all things Disney. One of the key features not to miss is the model Disneyland of Walt Disney's dreams; not the one that exists in real life, but how he imagined it to be. All in all, the museum is an authentic look into Disney's life.
11. Cable Cars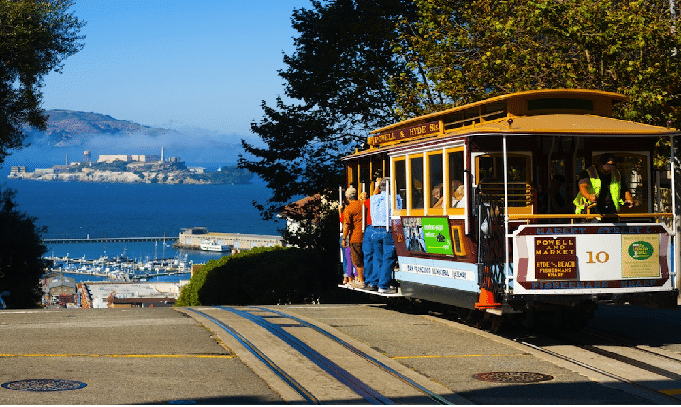 A ride on San Francisco's cable cars will make you feel as though you've stepped into days past. Now mainly functioning out of pure nostalgia, the original cable cars were installed in 1873 to navigate the hilly terrain. Now you can ride the cars throughout the city, though the ride from Powell and Market to Fisherman's Wharf is probably the most notable. Buying tickets in advance is recommended, and required for the highly trafficked areas.
12. Ferry Building Marketplace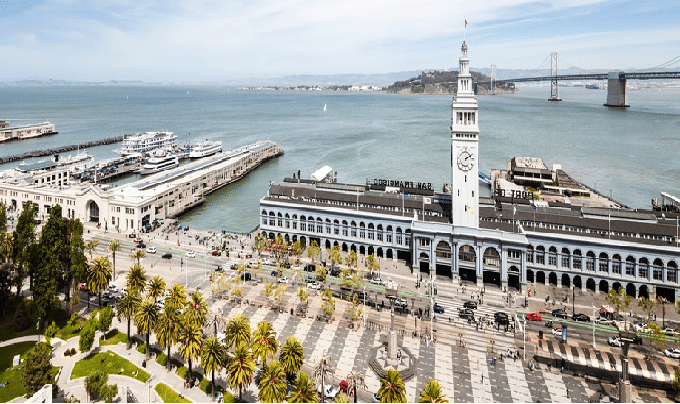 Ferry Building Marketplace is a beloved San Francisco staple, known for an ongoing farmer's market, indoor boutique stores, and regular events such as author tours. If you're heading anywhere via ferry, Ferry Building Marketplace is a great place to kill time, as all departures come through here. Built-in 1898, Ferry Building Marketplace has undergone changes but remains a core part of San Francisco culture.
13. Lombard Street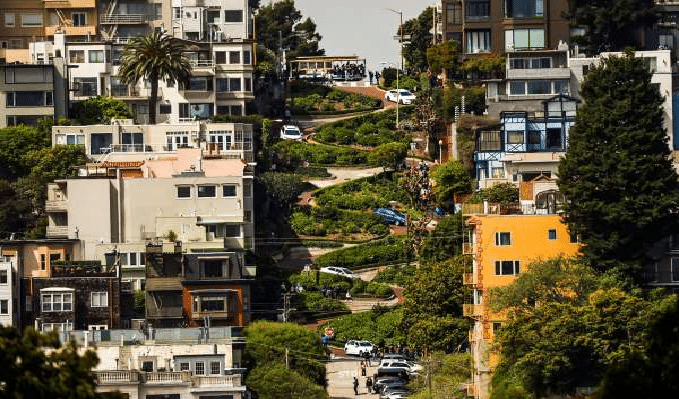 Known as the most crooked street in the world, it's a wonder that Lombard Street is still a functioning passageway. However, cars daily traverse the route that passes San Francisco mansions set on Russian Hill. Though the climb on foot is a bit challenging, the view from the top is worth it all, especially in the warmer months when flowers bloom. You are also welcome to drive the remarkable zig-zag road.
14. San Francisco Museum of Modern Art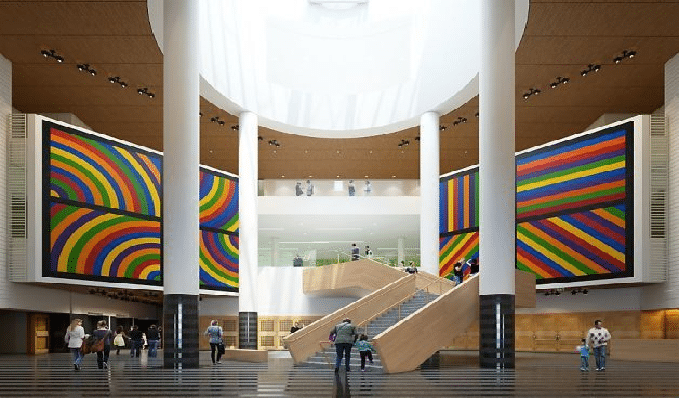 One of the largest museums of modern and contemporary art in the United States, art lovers should not pass up the opportunity to head to SFMOMA. With an extensive collection, highlights included pieces by Frida Khalo and Andy Warhol. Enjoy the outdoor sculpture garden, a cup of coffee at the onsite eatery, and gaze upon the city from the museum's vantage point. Though the admission fee is a steep $25, those under 18 always enter free.
15. Coit Tower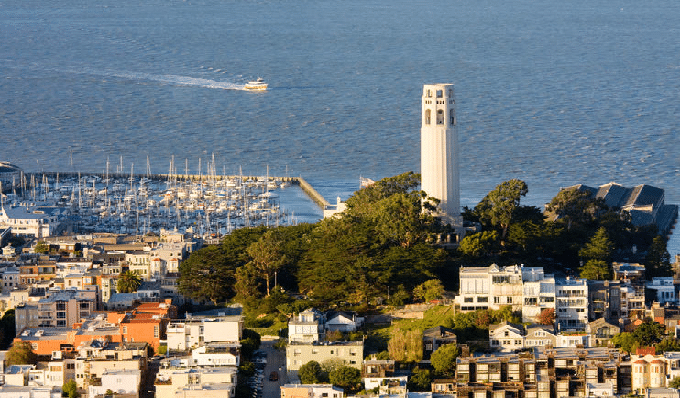 Coit Tower offers yet another opportunity to see San Francisco from up high, as it overlooks the Golden Gate Bridge. A thin, cement column that rises above the city skyline, a hike up to Coit Tower will have you earning your next meal. Though it is always possible to climb to the tower, the tower itself is only open from 10 am – 6 pm, and is worth the visit. Inside, colorful murals highlight life in California during the Depression. A $7 elevator fee exists if you want to ride to the tower's top.
16. Pier 39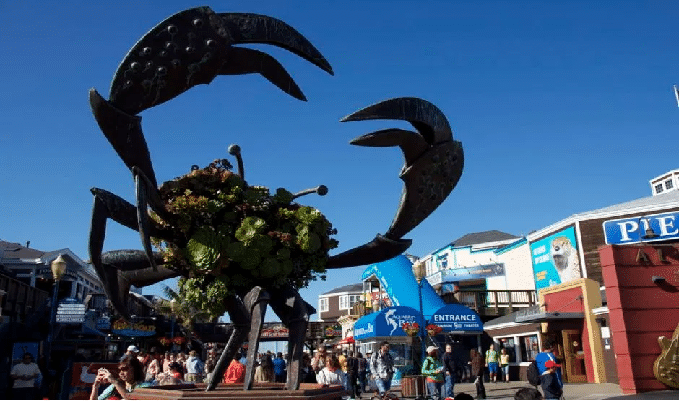 Pier 39 at Fisherman's Wharf is always a happening place to head to. Known for great restaurants, ocean views, as well as shopping, Pier 39 is a relaxing way to spend an afternoon or evening. Check out the musical stairs, or get lost in the Magowan's Infinite Mirror Maze. Bike rentals and boat trips also leave from Pier 39, giving endless options for things to do. Local sea life gets up close and personal at Pier 39, with the ever-present sea lions who come to the beach on the pier.
17. Legion of Honor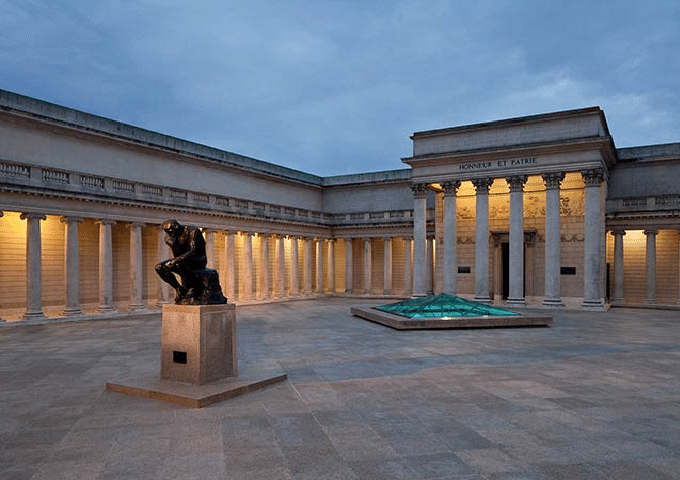 Legion of Honor is yet another San Francisco museum not to miss, known for European and Mediterranean art that spans some 4,000 years. A plethora of Rodin sculptures, as well as one of the most extensive collections of works of art on paper in the United States, are two clear reasons to visit. Legion of Honor is known for a sophisticated ambiance, that can be enjoyed in the museum as well as in their dining area which serves made-to-order meals.
18. Presidio of San Francisco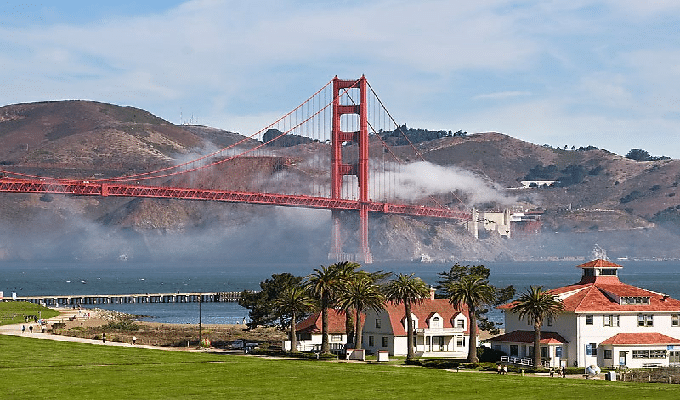 Once a military fort, Presidio of San Francisco is now a park of an impressive 1,500 acres. Whether you're looking to get into the outdoors or want something cultural to do, The Presidio has something for everyone. An informative visitor's center greets you upon arrival, as well as a museum and cultural center. Frequent events such as guided walks, tours of Fort Point, and rotating art exhibits make The Presidio special.
19. Museum of Ice Cream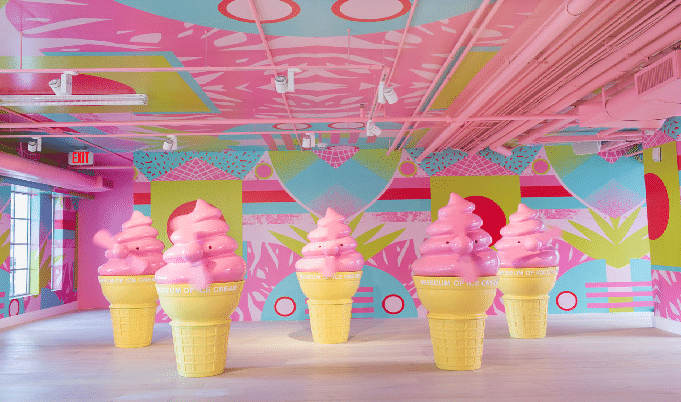 Museum of Ice Cream, you had me at hello. If you're a fellow ice cream lover, you simply must put this museum on your list of things to do while in San Fran. Perhaps one of the best spots to snap a selfie, and have a load of fun, is in the life-size sprinkle pool. Check out their ever-changing exhibits, and of course, end it all with a trip to their ice cream shop where they scoop up seven signature flavors.
20. San Francisco Botanical Garden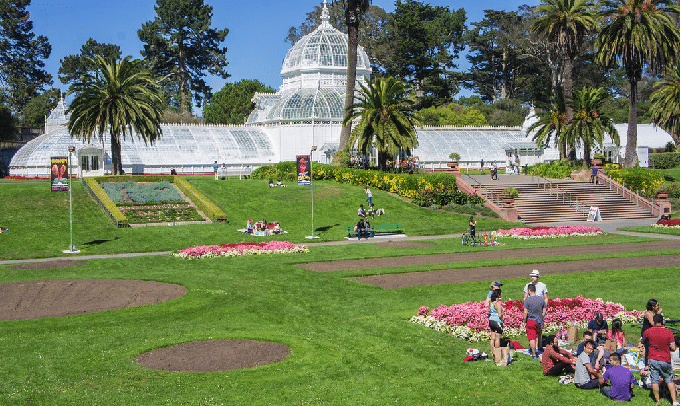 Known for incredible beauty and as one of the most diverse gardens in the world, the San Francisco Botanical Garden is a gardener's dream. Set on 55 acres of land within the Golden Gate Park, some 9,000 different plants inhabit the San Francisco Botanical Garden. Split into botanic zones such as South Africa, Mediterranean, and California woods, it is easy to get lost in wonder. The gorgeous old trees set in the middle of the garden are quiet but strong beauties in this gem.
Conclusion
With so many things to do in San Francisco, you may need to extend your stay in the Golden State. From outdoor adventures to inspiring museums, San Francisco has no shortage of incredible things to do. Hopefully, this list will inspire you to map out your list of things to do on your San Fran getaway!
See Also: Hotels on Powell Street in San Francisco