Jacksonville is a coastal city in Florida dotted by beautiful beaches. Both tourists and locals flock to the sandy shores to enjoy sunny days or starry nights. With any coastal area, the quality of beaches varies depending on the location, the pollution, and how dedicated the community is to keep their beaches clean. Fortunately, Jacksonville has quite a few beaches to choose from, and all of them have their charms. While some are known as tourist hotspots, others appeal to a more local crowd. Despite who the area caters to, public beaches in Jacksonville, FL are not difficult to come by. When considering the best beaches near Jacksonville, the below information will prove useful for visitors unfamiliar with the area. Regardless of preference, there's a beach in Jacksonville for you.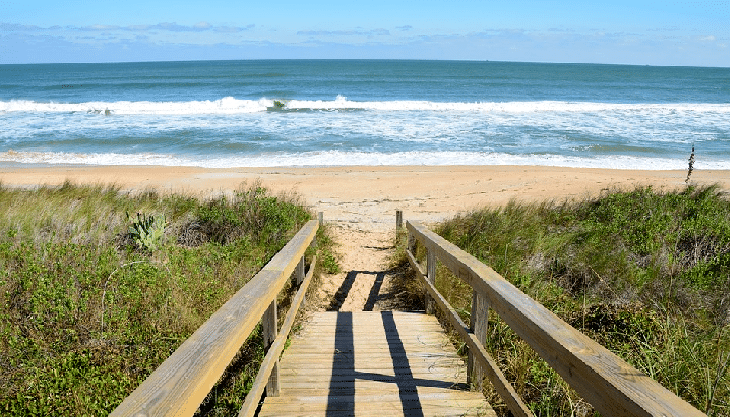 1. Neptune Beach 
If you value peace and tranquility, coupled with clear water and clean landscape, Neptune Beach is one of the best beaches near Jacksonville, FL. The crisp, blue water and lack of noisy tourists attract quiet visitors, as well as a strong local crowd. Neptune beach in Jacksonville, FL is a great place to relax with a book. Rest assured, you will be able to hear the waves crashing beside you without the noisy disturbance of large crowds. Many visitors have stated that the beach is well maintained, quiet, and the perfect place in Jacksonville to catch a beautiful sunrise. 
Like most public beaches, Neptune Beach is open 24/7. It does not have on-site services, nor a number to call directly. There is plenty of parking available, but there is often a walk involved to reach the beach. Neptune beach is also close to shops and restaurants, making it the perfect location! 
2. Atlantic Beach 
Atlantic Beach in Jacksonville, FL is another local gem. Famed for its pristine white sand and quiet local sunbathers, Atlantic Beach is a prime spot to unwind from a busy vacation or just a busy day. The best time to visit Atlantic Beach is during the week. This is when the beach is at its most unpopulated, and the perfect time to commune with nature without the noise of music or crowds enjoying a rowdy vacation. There are also facilities for visitors to use for changing, restrooms, and showering; a must-have for many travelers. A few visitors have named this beach as Jacksonville's best-kept secret, as there are no large hotels or tourist attractions nearby. 
Atlantic beach is open to the public 24/7, same as Neptune. There is no direct phone number to the beach. Quaint restaurants are dotting the area for beach-goers to enjoy after a day of relaxation. 
3. Ponte Vedra Beach
Ponte Vedra Beach in Jacksonville, FL is a destination for many visitors. It is spotted with lavish beach homes and hotels. While it is still considered to be a quiet, residential area, the possibility of a crowded atmosphere is much higher. The beach itself is very well kept, with clean water and sand that stretches out as far as the eye can see. In addition to these qualities, if you are a shell hunter, Ponte Vedra is known for its beautiful multitude of shells that wash up on the shore every morning. Of course, the earlier visitors go, the more likely they are to find the best shells. 
The beach access is open 24/7, as are the other public beaches listed. Ponte Vedra has private parking for beach-goers to make vacationing very accessible. It is also accessible for bikes, and restrooms are provided onsite. All of these attributes make Ponte Vedra one of the best beaches near Jacksonville, FL, and worth checking out.
4. Amelia Island Beach
Amelia Island Beach, otherwise known as Fernandina beach is a part of a historic district near downtown Jacksonville. It is a long stretch of coastal land dotted with old, grandiose homes. Visitors can drive onto the beach with 4-wheelers or other off-road vehicles. Amelia Island has more than one beach available to the public, and several of those beaches are rural and secluded. 
Visitors and locals can ride horses on the beach for a peaceful sunrise experience, or go watch one of the scheduled turtle excavations to see the eggs being hatched. Most of the beaches in Amelia Island are covered in grassy dunes leading to the white sand, giving it a wild feel. 
5. Jacksonville Beach 
Jacksonville Beach is a great choice for people who are looking for an exciting vacation, with the added serenity of spending time near the ocean. This beach is located near a beach strip, which is typically packed with tourists sampling local cuisine, shopping, and participating in other fun activities. As opposed to the other beaches listed above, this might not be the place for you if you are in search of a quiet, relaxing experience.
While there are times of the day that Jacksonville Beach is not crowded, there is a constant flow of tourists filtering through. This is one of the best beaches in Jacksonville, FL to select if you are looking for the excitement of the strip close to the ocean. 
6. Mickler's Beach Park
Mickler's beach park is a wonderful attraction for families and individuals who enjoy water sports and other types of competition. It is a standard beach in its own right but has many more amenities because it is managed by the state as a park. This beach is one of the best beaches near Jacksonville, FL because it offers a fully handicap accessible beach for those utilizing power chairs, walkers, or other mobility devices. 
There is a wooden walkway covering the dunes in specific areas to ensure people utilizing mobility devices can enjoy the beach as well. The beach is well maintained, with clear water and a clean environment for enjoyment. There is a lifeguard staffed for peak season, parking available, as well as grills and tables for cooking out.
As this is a park managed by the state, it is not a 24/7 beach. This park is open from 6 am-8:30 pm daily. 
Conclusion
Jacksonville is filled with wonderful beaches and parks for visitors to enjoy year-round. With every traveler having different needs in mind, it is important to check up on the beaches available in the area before setting off to a specific destination. Many travelers do not realize there is more than one beach near their destination city. While some people are in search of quiet and serenity, others may be looking for the excitement of a tourist hot-spot filled with shops, games, and activities. Downtime is a precious commodity, and many travelers regret how they spent their time because they were uninformed beforehand. No matter what your preference, Jacksonville has a beach for everyone.