Warning
: DOMElement::setAttribute(): ID wpgmza_tolls_202 already defined in
/home/sweetspi/exploreist.com/wp-content/plugins/wp-google-maps-pro/includes/class.directions-box.php
on line
126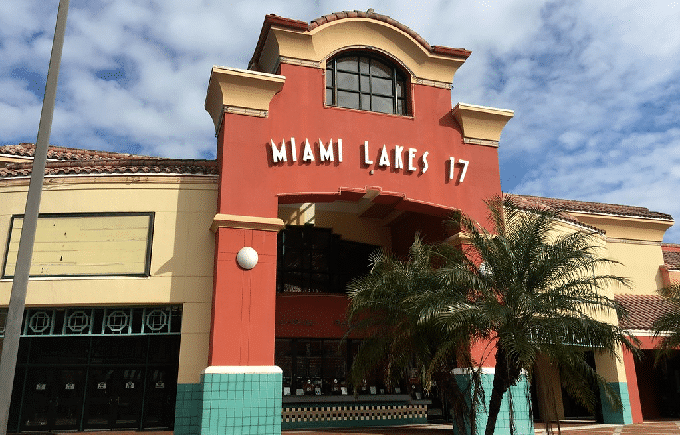 Phone:  +1 305-558-3810
Address:  Main Street Shopping Center, 6711 Main St, Miami Lakes, FL 33014, United States
Website: www.cobbtheatres.com
Hours of Operation
Fees
Directions
Starting times for the various movies vary, depending on the length of each film. In general, the first screening starts at around 12:50 or 13:00 pm. There can be up to nine viewings per day, again depending on the films' length.
All tickets are $5 each on Tuesdays. On other days, ticket prices vary from $9.73 for a child or senior and $12.57 per ticket for an adult.
The best route from Downtown Miami Lakes is to head west on Miami Lakes Dr. W towards Mahogany Ct as follows
Turn right onto Miami Lakeway N.
Turn right onto Meadow Walk.
Turn left onto Bull Run Road.
Turn right onto NW 67th Avenue/Ludlam Road.
Your destination will be on the right at 6711 Main Street, Miami Lakes.
Enjoy an afternoon or evening's entertainment for the whole family or a group of friends at Cobb Theatres Miami Lakes 17.
Description
One of many in the Cobb Theatres group, Cobb Theatres Miami Lakes 17 is a  multi-screen movie complex located in Miami Lakes, Fl, offering 17 screening theaters with stadium seating to give unobstructed viewing to patrons. Each screening room has a giant, curved, wall-to-wall, high gain screens, offering sharp images and colors. Movie sound is 7.1 Digital Surround Sound for the ultimate experience. 17 screens mean a wide choice of all the latest cinematic releases to enjoy.
The theater house offers customer service areas for general assistance and ticket sales, while automated box offices can also be used to purchase tickets. Tickets can also be purchased online on the website. Cobb Theatres Miami Lakes 17 makes use of the "Frequent Moviegoer Program," which offers rewards for concession goods and movie tickets. The concession menu at the theater offers a wide range of hot food items, cold drinks, candy, popcorn, and snacks.
During summer vacation, children can take advantage of free kiddie shows, and birthday party rooms are up for rental for private events. Video games are also available in the lobby for the kids to have fun.
Reviews
Google reviews give Cobb Theatres Miami Lakes 17 a 4.3/5 rating from 1,453 reviews. Overall, the theater was well received and staff were said to be friendly and helpful. One reviewer mentioned that tickets are only $5 on Tuesdays, which is a good deal. However, they also said some of the screens were smaller than average, but they have all the latest films. Most said the venue was clean.
Many patrons mentioned there were several excellent restaurants within easy reach of Cobb Theatres Miami Lakes 17, which made the venue convenient for an evening out or family celebration. Others did say that prices at the concession stand were a little high.
Several patrons complained that there are always noisy teenagers in the theater, which they found very disruptive when trying to watch a film. Another said they found people were constantly yelling at the teenagers in an attempt to get them to be quiet. Saying the theater seemed to be run by teenagers, they said nothing was done to keep them quiet. Many reviews said the venue appeared to only be run by teenagers and they found the restrooms and other areas to be very dirty.
See Also: Things to do in Miami
Cobb Theatres Miami Lakes 17, Florida
Average rating:
0 reviews