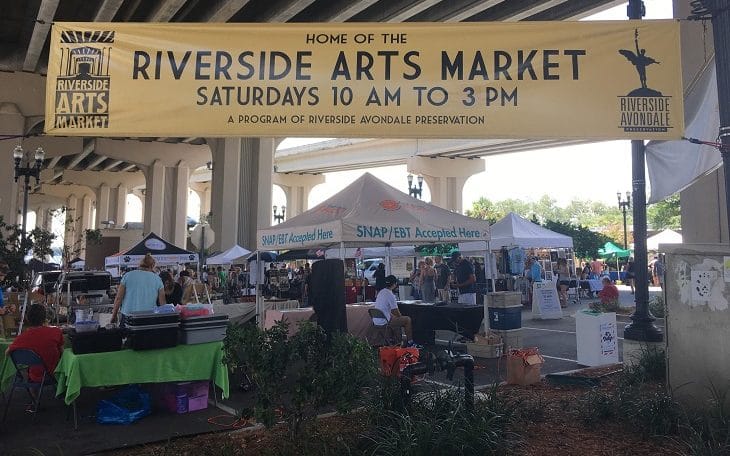 Hours of Operation
Admission
Every Saturday 10 am – 3 pm (Rain or Shine)
Description
The Riverside Arts Market is hosted every Saturday, rain or shine from 10 am – 3 pm. It serves as a friendly gathering where the integration and escalation of diversity can take place. Many locals and tourists fill the market isles as they shop till their hearts drop. The Riverside Arts Market is unique because you can arrive by foot, car or passage on a boat. It is extremely extra and is the exact market you are looking for. Trending on a grand scale, the Riverside Arts Market racks in tons of tourists a year for the beautiful scenery and amazing parks.
The market also features fresh produce and amazing works of art. The vendors at the Riverside Arts Market mainly sell organic produce and make sure that almost everything on sale is vegetarian and vegan-friendly. The founder of the Riverside Arts Market had the vision to place a marker at the edge of the river to create an amazingly fresh tomato here for the selling of greens and the building of communities. The vision was seen through and the market is an amazing establishment and addition to Jacksonville.
The Riverside Arts Market is serving up major aesthetics. This is a six-time Folio winner and is righteously so. There is always live music and the produce is always as fresh as if it were straight from the ground (which it is). The Zumba is one of its best perks and with Stella temperatures you'll always be fresh and cool. 
Read Also:
Riverside Arts Market Jacksonville Reviews
Some people love the Riverside Arts Market, but most people LOVE it. The fresh and organic produce always seems to bring pure joy to the visitors of the Riverside Arts Market. The Zumba brings fun and new energy to the market and is a real conversation starter. Then there is live music which pleases all the music lovers and keeps them coming back for more.
The weather is great for the older and younger visitors who prefer cool and gentle breezes. The air is dewy and moist due to the riverbanks on which the market rests. The artwork is incredible and is what makes the market artsy for the art enthusiasts. Please be sure to stop by if you're in the area. You are sure to enjoy the marvelous atmosphere of the Riverside Arts Market. 
Riverside Arts Market Jacksonville
Average rating:
0 reviews