Welcome to Roosevelt Boulevard or Theodore Roosevelt Memorial Boulevard as it was officially named. It is the major traffic artery through North and Northeast Philadelphia. The hotels described will be within that area. Your options are limited on the Boulevard, but the suites, inns, and rooms mentioned are ready to serve your needs. While you are in the area, you may want to check out some of the local attractions. There is something available to suit every budget and group in this list of hotels on Roosevelt Blvd Philadelphia PA.
Visit Benjamin Rush State Park and go hiking or biking on the property of its beautiful garden and visit its other attractions. The Philadelphia Insectarium & Butterfly, The Franklin Institute, Pennypack Park, Sky Zone Trampoline Park, or the Philadephia Zoo await you. Journey through a piece of history at Independence National Historical Park, view the Liberty Bell or visit the Philadelphia Museum of Art. The area is full of family and kid-friendly activities, so head on out to one of these great locations for the fun of your lifetime.
1. Days Inn Philadelphia Roosevelt Boulevard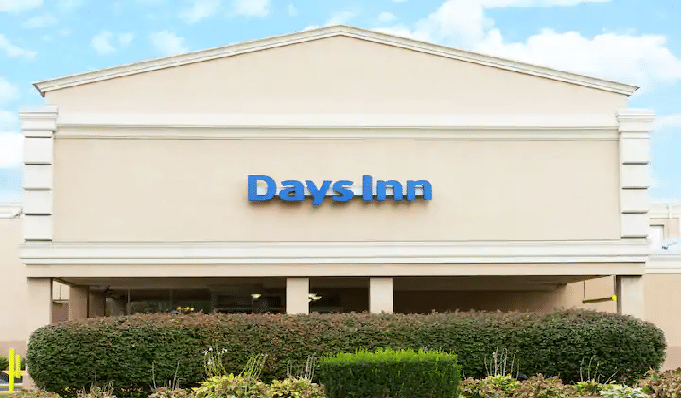 The location is 6.2 miles from the City Center and Downtown Philadelphia. You can indulge in free breakfast, WiFi, and parking. Pick up a newspaper at the front desk to see what's happening locally. Choose from one of the nearby restaurants, cafes, or bars. If you have a baby and would like a crib, just ask. It's also pet-friendly.
2. Four Points by Sheraton Philadelphia Northeast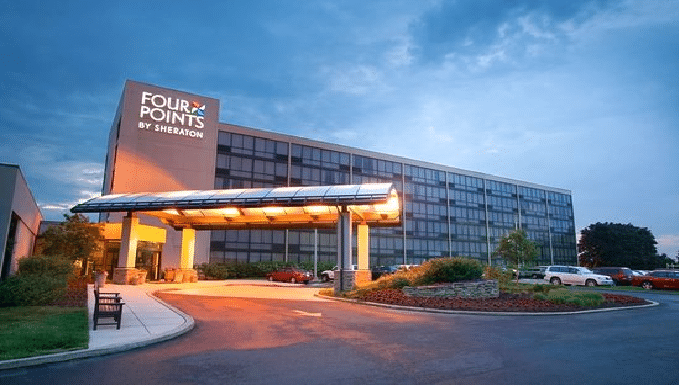 Plan your meeting event in one of the four meeting venues. The Market is outfitted with an array of refreshing beverages, quick snacks, or foods that are excellent for your on-the-go kind of day. You will find the patrons believe the service and cleanliness are acceptable. Do some sightseeing at the Liberty Bell, Philadelphia Museum of Art, or wander through Eastern State Penitentiary just for fun (27 minutes away).
3. Roosevelt Inn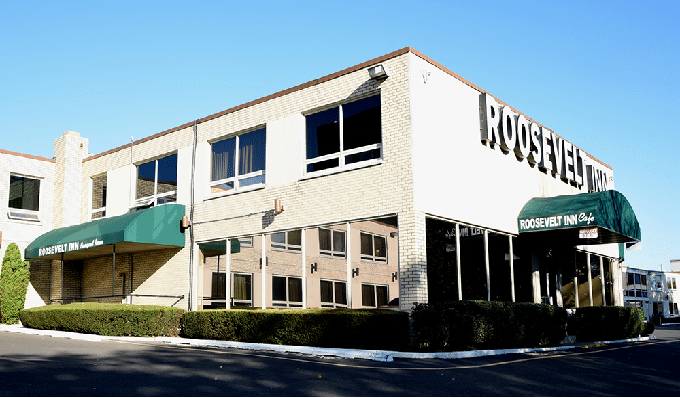 You will have free parking, WiFi, Internet, and free breakfast on Saturday and Sunday at the Roosevelt Inn. The location is highly-rated for travel plans, including Bucks County, Philadelphia, and Peddler's Village. All rooms are accessible from the interior corridor, and a baby crib is available if needed. It has both smoking and non-smoking rooms, which some patrons found unsatisfactory. One of the best hotels on Roosevelt Blvd Philadelphia PA.
4. Hampton Inn Philadelphia – Willow Grove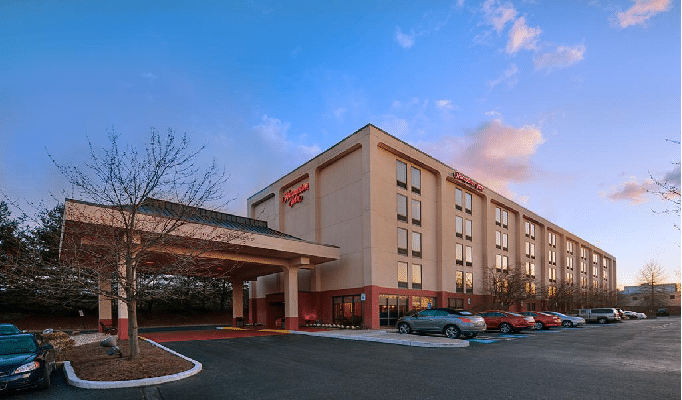 Just a ½-hour drive from Philadelphia, off I-276, travelers love the family-friendly environment with a complimentary hot breakfast, including hearty oatmeal or freshly-baked waffles with toppings. Book yourself at the business or fitness center as your schedule allows. Go and play a game of golf! You're only two miles from Willow Grove Station and less than a mile from an array of dining options.
5. Best Western Plus Philadelphia Convention Center Hotel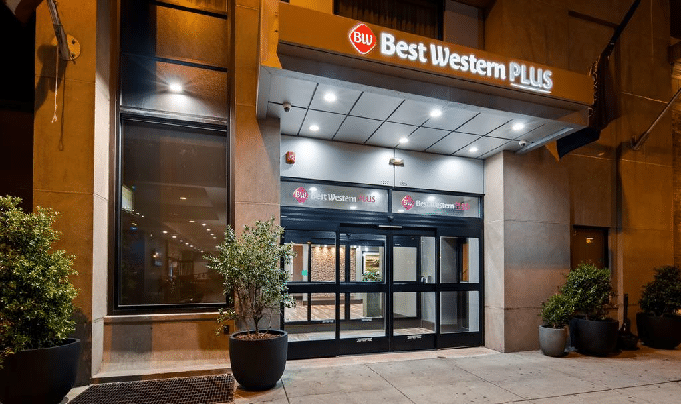 Whether you're in town for business or pleasure, you have found the perfect venue to relax and enjoy the furnished fridge for your convenience. You're only a ten-minute walk from Reading Terminal & the Convention Center. You are also within one mile of Independence Hall and the Liberty Bell Center. Self-parking is a block away, or for a fee – use a valet. Sorry, pets cannot visit.
6. The Study At University City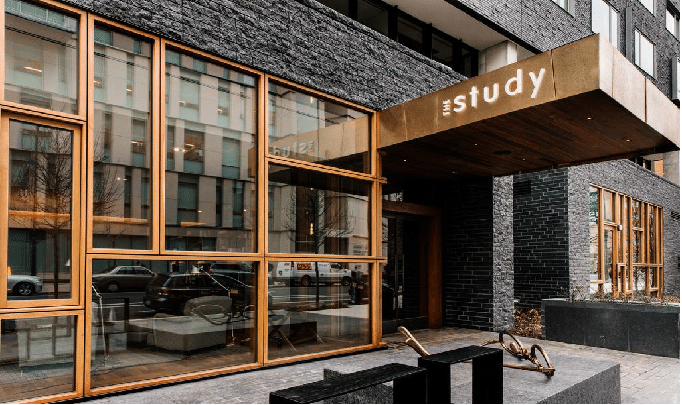 You'll love this location at the crossroads of the University of Pennsylvania and Drexel University. Comfort and service place The Study with a Certificate of Excellence rating of 4.5 out of 5. CO-OP Restaurant & Lounge offers an awarding perspective on urban dining experiences. Feel free to use the conference facilities and business center. The Study is dog/pet-friendly.
7. Inn Of The Dove Romantic Luxury & Business Suites – Bensalem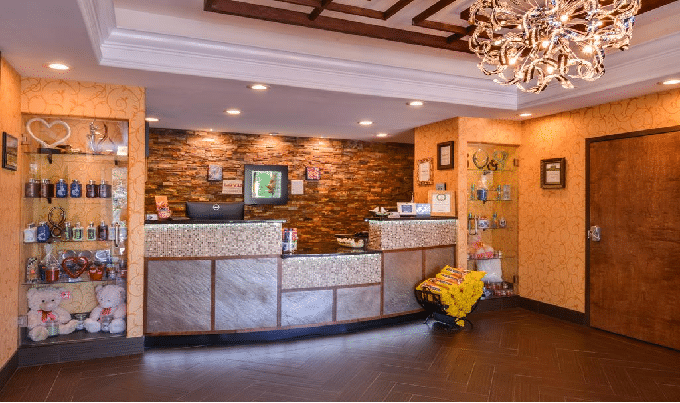 If you are visiting or on business, the quiet hotel is perfect for a weekend getaway and is noted for soundproof rooms. Choose from the suites, and consider the Bridal Suite if you want a honeymoon spot. Enjoy the indoor – heated pool, Internet, WiFi, snack bar, and a romantic outdoor fireplace. Visit the gift shop for that special purchase! You're only a short drive from historic landmarks in Philadelphia.
8. Cornerstone Bed & Breakfast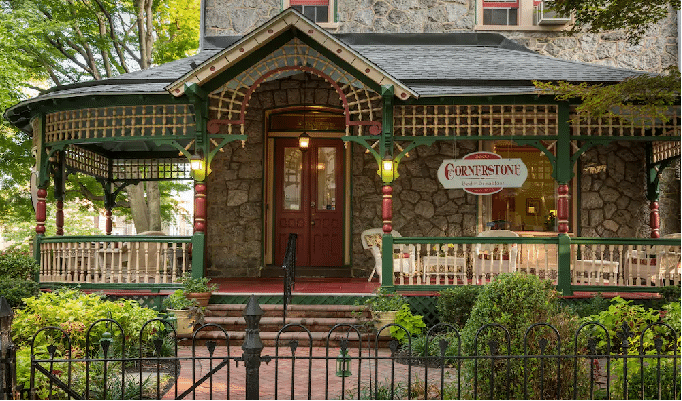 If you're adventuresome to try something a bit different, rating a 5 out of 5 on the Certificate of Excellence, Philadephia's "Cornerstone Bed & Breakfast" is a cozy and elegant inn on a beautifully tree-lined street. The rooms include a Continental Suite, University Suite, The Philadelphian, The Franklin Room, The Furness Room, and The Fairmont Room. Enjoy the whirlpool tub or have a bath/shower. Settle in with a furnished robe, and relax with a bit of cable/satellite TV.
9. Candlewood Suites Bensalem – Philadelphia Area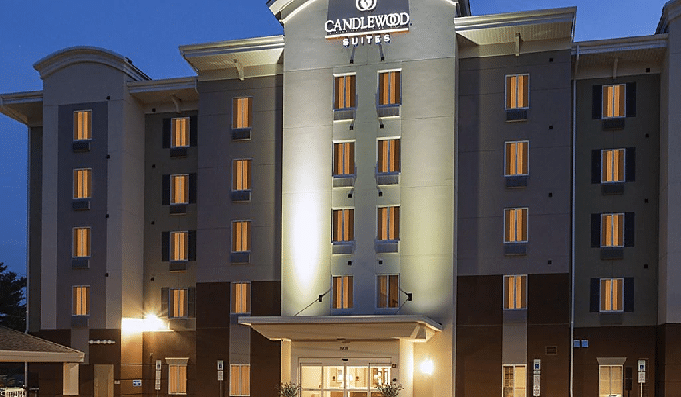 You will have 21 restaurant options to choose from within a ¾-mile radius. The suites can accommodate family reunions or business needs. On your honor, enjoy a variety of breakfast food, beverages, snacks, and frozen entrees. Make yourself at home. Your pets are welcome but check for fees and restrictions.
10.Holiday Inn Express Philadelphia NE – Bensalem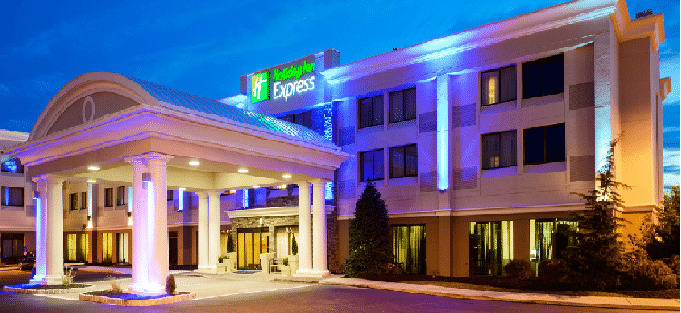 Come on by for a bit of business or just some perfect quiet, surrounded by the Bucks County countryside. Exercise in the outdoor pool and the fitness center. There are 576 square feet of flexible meeting space with catering available. If you're low in cash, there's an ATM and safe on-site. You'll have 11 restaurants to choose from within ¾ of a mile!
11. Courtyard Philadelphia Bensalem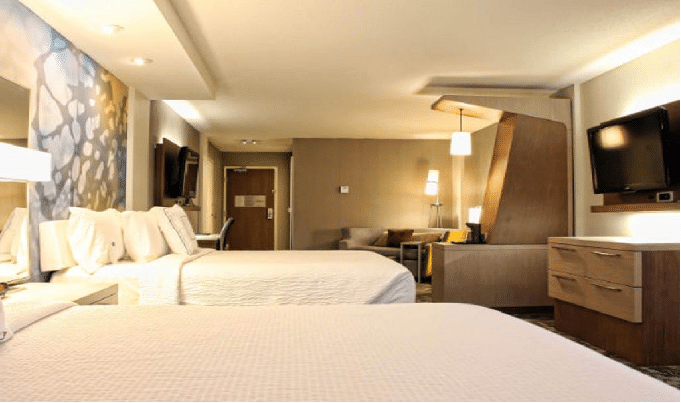 Some proclaim you will call this location your "home away from home," making Courtyard a yearly visit. Enjoy the outside pool, free breakfast, fridge, and free WiFi. Grab a free newspaper each day to see what is on the traveling scene for the day or check out The Valley Pizza Restaurant, and LaCena for some fabulous dishes. Visit the Historical Society of Bensalem or the TD Bank Amphitheater within one mile of your room.
12. Best Western Plus Philadelphia-Pennsauken Hotel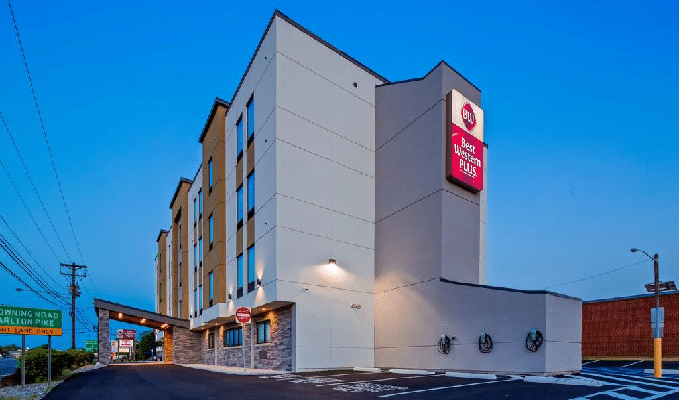 Patrons rave of its great newly built location, only minutes from Cherry Hill, Camden, and Philadelphia. If you are headed to the Battleship New Jersey, Camden County Boathouse Adventure Aquarium, or the BB&T Pavilion. It has acquired a Certificate of Elegance of 4.5 out of 5. Feel free to use the fitness center/gym, business center, in this kid/family-friendly setting. Sorry, no pets are allowed.
13. Microtel Inn & Suites by Wyndham Philadelphia Airport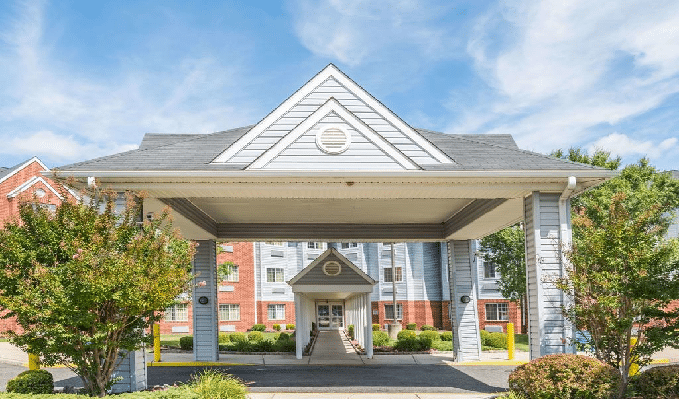 Have some fun and use the fridge and microwave to prepare some tasty snacks and devour the free continental breakfast. If you head toward the Philadelphia International Airport, take a free shuttle. Book your room and go to a 76ers game at the Wells Fargo Center, or have some fun at a Phillies game at Citizens Bank Park. Go exploring to view the Liberty Bell and visit the birthplace of our Nation at Independence National Historical Park. Have a wonderful adventure.
14. Extended Stay America – Philadelphia Airport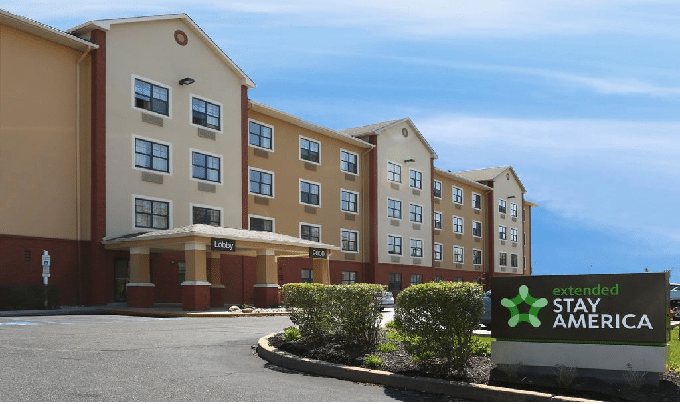 All suites are non-smoking with free WiFi. Prepare your snacks or meals in the fully equipped kitchen. Pet-friendly rooms are available. Be sure to enjoy the free grab-and-go breakfast, including muffins, breakfast bars, hot cereal, or coffee and tea. Other options include 86 restaurants and 38 attractions within a ¾-mile radius, including the John Heinz National Wildlife Refuge at Tinicum.
15. Rodeway Inn Center City – Philadelphia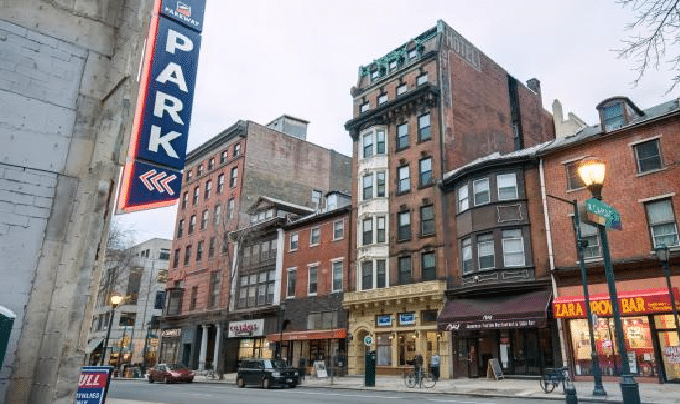 Center City is ready for you with Roadway Inn within walking distance of a bunch of attractions, including the Liberty Bell, Reading Terminal Market, City Hall, and much more. You are provided with great amenities in the updated rooms, English and Spanish are understandable by the friendly staff. You also have 293 restaurants and 54 attractions within 0.3 miles.
16. Doubletree By Hilton – Philadelphia Center City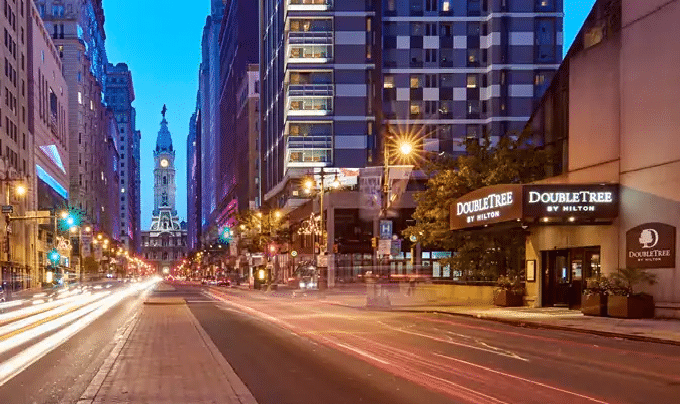 Have a fabulous time on this super-busy avenue, bringing Phillie to your doorstep! Enjoy a free breakfast buffet and a leisurely dip in the indoor heated pool. Have a drink at the bar/lounge or go for a workout in the fitness center gym. Plan your day using the business center with Internet access. You won't get stuck in a long line with the express check-in and check-out!
17. Hawthorn Suites by Wyndham – Formerly Residence Inn – Philadelphia Airport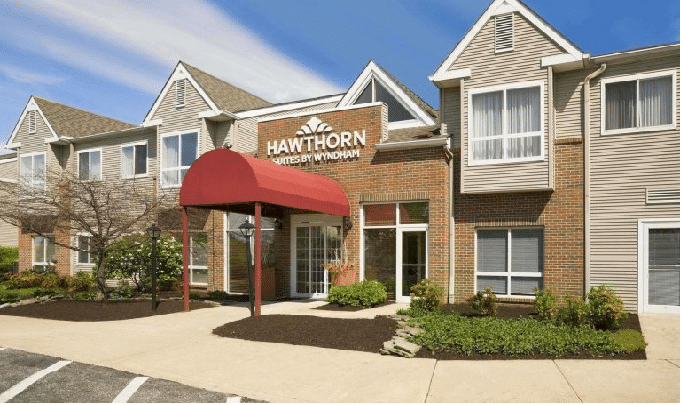 Bring your business meeting to the available 534 square feet of event space and one meeting room. It can be arranged to house 25 banquet guests or 25 conference guests. Patrons proclaimed the suites were nice, with almost everything in the full-size kitchen, including a full-sized fridge. It has an outdoor pool, free breakfast, a free airport shuttle, and is pet-friendly. (Call for the specific details.)
18. The Windsor Suites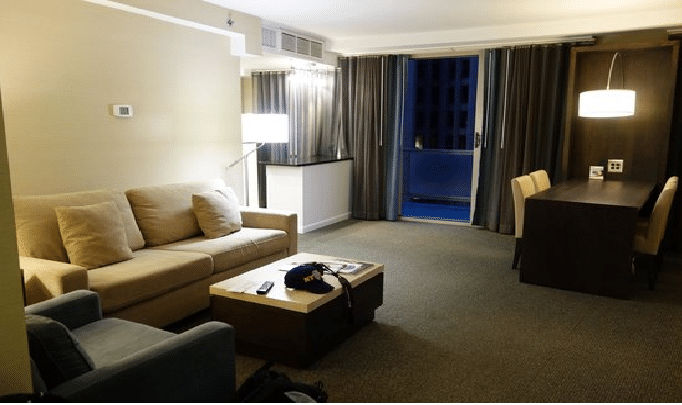 Come by and spend some time for great value and a great view as well as a rooftop pool open through Sept. 13. Apartment-style suites are available with select suites including a private balcony. Within 0.3 miles, you will have 121 restaurant options and 36 attractions. Bring the pooch, it's pet-friendly, but be sure to check for guidelines before registration.
19. Club Quarters Hotel In Philadelphia – Rittenhouse Square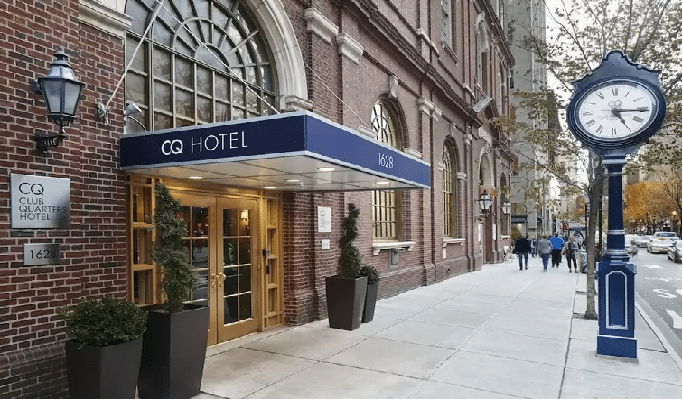 You will find this newly renovated, centrally located, full-service hotel is what you need if you're seeking a location for business travel. It's terrific for couples with room service, Wine @ 5, unlimited bottled water, its restaurant and bar, and much more. There are 347 restaurants and 68 attractions within a 0.3-mile span ranking #24 of 91 hotels in Philadelphia.
20. Warwick Hotel – Rittenhouse Square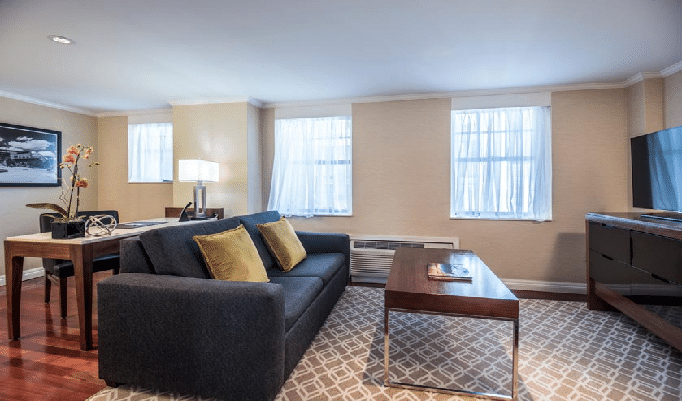 The Warwick Hotel is a superior deal with 301 suites and rooms, private in-room spa treatments, and two exceptional restaurants. Plus, you have landmarks, a world-class shopping location, fine dining, the latest theater shows, and nightlife. That is just for starters. The Warwick made history as the birthplace of the Shrimp Lamaze, a local culinary legacy. Reserve your spot today!
Conclusion
By now, you should have an idea of what hotel best suits your needs. Unfortunately, some of the Hotels on Roosevelt Blvd Philadelphia PA are not top-rated, you may need to travel a bit further to receive adequate overnight or longer accommodations. You have some pet-friendly hotels and some that have pools. Most offer WiFi and some type of breakfast before leaving the premises for the day.
Be adventurous and check out some of the venues while on the next business or pleasure event in your life. You may find a piece of the world you never knew existed. Enjoy yourself, whether it is a 2- star or 5-star hotel!