Atlanta is the capital of Georgia and has become known for a thriving cultural mecca of the Southeast. With a rich history in civil rights, delicious and innovative restaurants, and many activities to keep any visitor busy for days, Atlanta is a must-see city.
A wonderful balance of old and new, Atlanta continues to recreate itself without leaving the past behind. Whether you're in here for a weekend or a week, you'll find more than enough to whet your appetite.
World-class museums, historic architecture, lush parks, and an ongoing list of events in Atlanta make it the place to be. Discover the spectacular city with this round-up of things to do in Atlanta to plan your next getaway!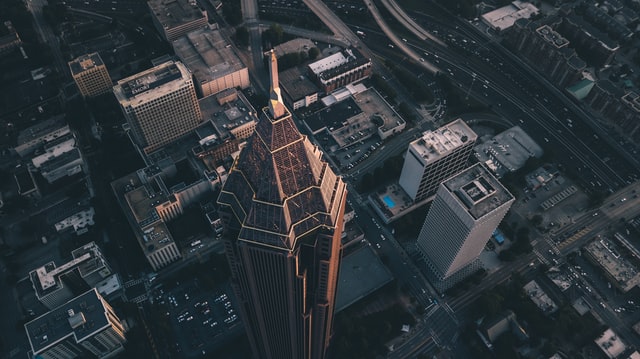 1) Fernbank Museum of Natural History
If you've got a dinosaur lover in your midst, then a trip to the Fernback Museum of Natural History should be on your list. With live animals, ancient fossils, and an incredible outdoor area of 75 acres, there is more than enough at Fernbank to fill half a day or even a day. Open daily from 10 am to 6 pm, Fernbank Museum of Natural History has been safely reopened during the Covid pandemic, with reserved tickets in advance. Check the calendar of events for great opportunities such as storytimes and dinosaur talks.
2) Georgia Aquarium 
Another stellar Atlanta museum, the Georgia Aquarium, is home to incredible sights such as sharks, sea lions, and dolphins. Come to immerse yourself in the watery underworld, complete with a 4D theater experience. Open daily from 8 am to 8 pm. The Georgia Aquarium glows both day and night. Make your experience extra special with an animal encounter or unique Swim & Dive where you can swim with the sharks, manta rays, and whales.
3) Alliance Theater
The perfect place to catch a play, Alliance Theater is known for highlighting Broadway-bound actors. An ongoing rotation of tantalizing plays, even during Covid, has kept Atlanta entertained and enlightened. Currently working through their holiday plays, Alliance Theater has plays posted on their website through July 2021. The alliance is also allied with school and youth programs in the area, making you feel extra good about your decision to support a local theater company when you visit Alliance Theater.
4) Atlanta BeltLine Eastside Trail 
A testament to the healthy lifestyle that Atlantans adhere to, the Atlanta BeltLine is a great place to walk, bike, or roll through the city. Whether you've got children you need to let loose (there's green space for that) or want to get your cardio-on, Atlanta BeltLine is the place to be. Rent a bike from a local bike shop such as Atlanta Bicycle Barn to get your wheels turning, or take an Arboretum walking tour to learn more about Atlanta's flora.
5) Atlanta History Center 
An incredible resource for the Atlanta community, the Atlanta History Center is a museum and a living research center. Set on 33 acres, the center includes nine permanent exhibits, historic gardens, as well as historic homes. Learn about Atlanta during the Civil War, or discover the native people of Georgia. An ongoing series of author talks are a great reason to put a visit to the Atlanta History Center on your calendar. There is also a Midtown campus worth visiting to see the Margaret Mitchell House.
6) Chattahoochee River
A trip to Atlanta would not be complete without seeing the Chattahoochee River on the city's west side. In the summer, floating down the river in a tube epitomizes relaxation. However, the river is also iconic simply to go for a walk beside, and a network of trails makes this possible. Cochran Shoals Fitness Trail is a great way to get a workout in, and many flock to the Chattahoochee for fishing. Do remember to get a license before going if you're planning on fishing and taking your catch of the day home.
7) Center For Puppetry Arts
Like something out of a dream, the Center For Puppetry Arts shows the world the fine art of puppet making. Come for a performance, tour the museum, or sign up for an educational opportunity to learn more about puppets. People of all ages will adore the Center For Puppetry Arts, where you can discover the back-story on some of your favorite puppets, such as those from Jim Henson. Open every day but Monday, check the website for upcoming events.
8) Oakland Cemetery 
Founded in 1850, the historic Oakland Cemetery is one of the largest green spaces in Atlanta and home to many beloved Atlantans now at rest. Stunning oak and magnolia trees give the space a poetic leaning. Check out the graves of notable Atlantans such as Pulitzer-Prize winner Margaret Mitchell (Gone with the Wind) and Bishop Wesley John Gaines, founder of Morris Brown College. The cemetery grounds double as gardens, and whether you've come for the trees or the deceased, this historic gem is worth checking out.
9) Krog Street Market 
An expansive, international food hall, Krog Street Market, should be on any foodies list. Not just a collection of restaurants, also come to Krog Street to visit Atlanta Stove Works' historic home. Grab a bite from one of the renowned restaurants in Krog Steet, such as Richard's Southern Fried or Yalla, where you can sample contemporary Middle Eastern cuisine. Take in the inspiring original exposed brick walls and clerestory glass windows.
10) Mercedes-Benz Stadium 
Home to the Atlanta Falcons (NFL) and the Atlanta United FC (MLS), the Mercedes-Benz Stadium is a mainstay for sports-lovers in Atlanta. Even during the Covid-pandemic, there is something to do at the Mercedes-Benz Stadium. Come for a stadium tour, which includes a deeper look at the surprisingly impressive art collection housed here. During normal times, check out one of the ongoing events, which, in addition to sports games, include musical acts.
11) Municipal Market  
The Municipal Market in downtown Atlanta serves as another testament to the history and food culture of Atlanta. Once an open-air market, it was transformed in 1924 and includes fresh produce, meats, a bakery, as well as retail spaces. Open Monday through Saturday from 8 am – 5 pm. The Municipal Market is the perfect place to grab lunch or get special ingredients for a nice dinner. Additionally, events such as cooking demonstrations and live music are another reason to love Municipal Market.
12) National Center for Civil and Human Rights 
To really know the civil rights history of Georgia and all of the United States, head to the National Center for Civil and Human Rights. Spanning beyond domestic affairs into global issues, prepare to learn and be inspired by world-changing movements of human rights. All tickets must be purchased online before visiting, and one should plan for about two hours in total to cover the museum with some depth. Take part in such unique experiences as a simulated "lunch counter sit-in" like those of the 1960s.
13) Porsche Center Experience 
Take a drive on the wild side when you visit Porsche Center Experience, which showcases a 1.6-mile driving loop to try out a sleek Porsche on. Check out the simulator lab, which allows one to get a Porsche experience without being on track, or opt for the real deal and book a chance to drive a Porsche. Take a break after and enjoy dining at Restaurant 356, currently open for lunch only.
14) Skyview Atlanta 
To get an elevated view of Atlanta, head to Skyview Atlanta, twenty stories up. Gaze on Centennial Park and views of the Atlanta cityscape from the cozy interior of your private gondola. Gondolas can seat up to six adults, and the ride itself lasts for approximately seven to 12 minutes. Skyview Atlanta is currently operating, and rides run as long as there is no lightning in the area.
15) Stone Mountain Park 
Just outside Atlanta, Stone Mountain Park is an expanse of some 3,200 acres, complete with hiking trails, Summit Skyride, a laser show, and a train ride. It's the perfect Covid-era activity with a plethora of options to do outside. From history to the theater, there is something for everyone in this mega-park of fun. Additionally, there are camping and hotel options on the grounds if you want to really immerse yourself in an experience at Stone Mountain Park.
16) Zoo Atlanta 
Zoo Atlanta on the east side of the city is a great place to spend an afternoon learning about animals in true-to-life habitats. Perhaps best known for being the only zoo in the United States with twin panda bears, Zoo Atlanta also has a wide range of animals to see, from gorillas to giant tortoises. Timed ticketing is currently in effect, and the zoo is open daily from 9 am – 3:30 pm, with the exception of Fridays.
17) Atlanta Botanical Garden 
An incredible place to snap a selfie, the Atlantic Botanical Garden is 33 acres of well-manicured garden grounds. With stunning landscapes as well as a lively list of events, come to Atlanta Botanical Garden to unwind from the city. Come for a walk or sign up for a lecture such as the upcoming Science Cafe on orchid conservation. Perfect, whatever your age, be sure to put the Atlanta Botanical Garden on your list.
18) World of Coca-Cola 
The superstar Coca-Cola offers the chance to learn more about this iconic brand through its museum-like experience at the World of Coca-Cola. A 20-acre complex, the World of Coca-Cola has exhibits such as The Vault of Secret Formula, inviting you to discover the rich (and secretive!) background of the recipe of Coca-Cola. Also, check out the Coca-Cola Theater, the Coca-Cola Polar Bear, and the interactive Coca-Cola Portrait Wall.
19) The King Center 
The King Center of Atlanta pays tribute to the late Dr. Martin Luther King Jr. as a living memorial. Come to pay tribute to The King at his crypt or learn more about nonviolent civil action. Admission and parking are free, so there's no reason not to put this historic and important institution on your list. You can also check out Dr. King's birth home, which you can register for at the Martin Luther King Junior Historic Site Visitor Center.
20) Piedmont Park 
Piedmont Park is a beloved urban park between the Midtown and Virginia neighborhoods. Piedmont Park is an oasis for health and well-being within the city limits from bike paths to playgrounds. The park is also home to the Green Market, an aquatics area and pool, and dog parks. Fun for the whole family, Piedmont Park also has numerous food vendors on-site, making it the perfect place to spend an afternoon.
Conclusion
Clearly, Atlanta is a city teeming with wonderful opportunities. From the outdoors to the historic, Atlanta is a city that embodies high culture, rooted in a strong past. Whatever your reason for visiting Atlanta, be sure to put at least one of these things to do in Atlanta on your list. With so much to do, you may even be planning your next visit back to Atlanta while you are still there!