Warning
: DOMElement::setAttribute(): ID wpgmza_tolls_220 already defined in
/home/sweetspi/exploreist.com/wp-content/plugins/wp-google-maps-pro/includes/class.directions-box.php
on line
126
There are a lot of amazing things to do in Atlanta for couples at night. With a hip food scene, lively arts, and culture, as well as multiple sports teams in Atlanta, it's easy to plan a date night in this Georgia gem.
This mid-sized city has something fun going on weeknights and weekends and has lovely year-round weather. Whether you're ready to splurge on a big night, enjoy a delicious meal, or want a creative date night to remember, Atlanta is the place to be for romance and whimsy.
For couples who are brand new or couples who want to feel young again, this round-up of things to do in Atlanta for couples will surely get that old spark lit. Read on to discover a plethora of ways to play with your beloved in charming Atlanta.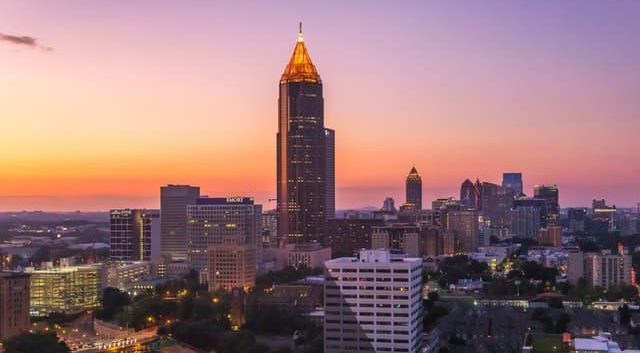 See also: Best hotels in Atlanta Georgia
1) Visit the Georgia Aquarium 
The Georgia Aquarium is a beautiful place to walk hand-in-hand while viewing spectacular watery life. One of the best spots in Atlanta for anyone, The Georgia Aquarium, has lighthearted fun such as dolphin shows and exhibits that include highlights like the Tropical Diver.
To make an extra special date, attend the Georgia Aquarium's monthly event, Sips Under the Sea, which includes music, tapas, and drinks. Please call ahead to check if the event is still being held, as things are in flux with the current pandemic situation.
2) Check Out the Views from Stone Mountain
For the adventuresome couple, get your hiking boots and get ready to sweat! Stone Mountain Park is set on 3,200 acres of quintessential Georgia landscape. The mountain itself is a total of 1,686 feet, not extraordinarily high by some climber's standards but tall enough to make for a great lookout point.
Though it is possible to walk the 1-mile trail to the summit of Stone Mountain, one can also take the gondola cable car, Summit Skyride, which highlights beautiful views.
3) Take a Driving Lesson at Porsche Experience Center Atlanta
For those who love to go fast, sign up for a driving lesson at Porsche Experience Center in Atlanta. The driving lesson takes you around the 1.6-mile paved circuit and includes six different driving aspects within the course.
If you're not feeling up to driving, it is also possible to take a demo drive as a passenger. To get a more low-key experience, take a tour of the facility, and be sure to end it with a meal at the onsite restaurant, Restaurant 356.
4) Get Spooked at the Oakland Cemetery 
Sure, a cemetery might not be at the top of what you think of for a romantic date. However, the historic Oakland Cemetery is worth your time. Gorgeous magnolia trees and views of the city skyline at in itself worth the visit.
This cemetery is where actual Civil War battles took place, as well as being the resting grounds of notable Atlanta figures. The graveyard has frequent festivals, including a Gone With the Wind festival to celebrate writer Margaret Mitchell who is buried in the cemetery.
5) Take a Spin Around Atlanta
Bike rental is a fun way to see the city and get your blood pumping. Though the city is known for traffic, there are several trail systems devoted to biking throughout the city and surrounding areas.
Check out the company, Bicycle Tours of Atlanta, for the easiest way to get set up with a good bike and a route that fits your needs. The company has fun and educational bike tours that include such loops as Atlanta's Journey for Civil Rights Bike Tour.
6) Go Old School with a Drive-In Movie
Feel like your a teenager again with a drive-in movie. Starlight Drive-In Theater is an affordable and fun date at $10 per adult. Bring lawn chairs and even your picnic to sit out and enjoy the night air.
Four screens show double features nightly, and the theater accepts credit cards. Open 365 days a year; every night is a good night to head to Starlight Drive-In Theater!
7) I Scream, You Scream, We All Scream for Ice Cream!
Okay, an ice cream date is about as cheap as it gets; however, who doesn't love a good cone?
Atlanta has a plethora of delicious ice cream options throughout the city. Jeni's Splendid Ice Creams is one of Atlanta's mainstays and has multiple locations throughout the city.
With unique flavors that include biscuits & peach jam, you are sure to remember this sweet treat! The locations for the Jeni's Splendid Ice Creams that follows is located in Krog's Market, a historic food hall.
8) Stroll the Castleberry Hill Art Stroll
Set for the second Friday of every month, the Castleberry Hill Art Stroll is a great way to check out some local art as well as getting a pulse for this great Atlanta neighborhood.
Completely free of charge, it's the perfect date for those who love to take long walks and who adore getting to follow their fancy. Known as the best art stroll in Atlanta, enjoy not only art galleries but also local restaurants and shops along the way.
9) Lounge in Piedmont Park
Piedmont Park is a quintessential Atlanta green space and is beloved by Atlantans for a good reason. One hundred eighty-five acres, this beautiful expanse is set just outside of downtown Atlanta.
Whether you want to pack a picnic, toss a frisbee, or watch the clouds float by is up to you. If you get crazy, Piedmont Park offers elopement packages set on the waterfront!
10) Get High (on Art) at The High Museum of Art
A bright and modern art museum, The High Museum of Art, is one of the top art museums in the southeast. Timed tickets make social distancing and safety easy.
The main collection includes notable names such as Monet, Tournier, Tiepolo, and Ernst, and additional rotating exhibits are included in the museum. For an extra-special night out, come for live jazz held on Friday nights.
11) Grab a Cold One at SweetWater Brewing Company 
Whether you want to sit on the outdoor patio (dog-friendly!) or want to take a tour of the brewery, this laid-back vibe is perfect for a date.
Brewery tours must be booked online ahead of time and are offered on Tuesday-Friday as well as Sunday. SweetWater Brewing Company also hosts a variety of events, so be sure to check out the website to plan a fun-filled date night!
12) Disc Golf in Atlanta!
Atlanta has numerous disc golf courses throughout the city, which make for a fun and affordable date. Perkerson Park Disc Golf Course is just one of many parks that offers a standard 18-hole course.
Set in the Capitol View/Sylvan Hills neighborhood, this course is within proximity to downtown. This course is also one of the most challenging courses in Atlanta, so be prepared for some friendly competition with your date.
13) Animal Lovers Unite at Noah's Ark Animal Sanctuary
Just outside of Atlanta is Noah's Ark Animal Sanctuary, which includes a one-mile walk around the sanctuary. Free, animal lovers can gaze upon exotic animals that have been saved by the nonprofit organization.
If you want to spring for a unique experience, a $75/person tour called the WOW Tour takes you behind the scenes and helps to support this great cause. Additionally, a $175/person tour to feed the big cats is also available.
14) Check Out the World of Coca-Cola
Coca-Cola is a huge name that reigns throughout the world. At the World of Coca-Cola, you can discover the history of this dynasty.
At the World of Coca-Cola, interact with multiple exhibits about this icon, and even get in line to taste the various products Coca-Cola produces.
Tickets can be purchased ahead of time, and ensure that everyone is safe while inside of the museum.
15) Try Upscale Bowling at the Painted Pin
A boutique bowling bar that includes bocce ball and shuffleboard, Painted Pin takes bowling to a whole new level. Set in the Buckhead's Miami Circle, the Painted Pin is perfect for those who love chic.
After, or before, the game, enjoy a dinner at the Painted Pin's restaurant, which serves small plates to share, wood-fired pizzas, sandwiches, and an array of drinks.
16) Try a Traditional Korean Spa at Jeju Sauna
This date idea might be best for couples who are already well acquainted, as it may be a bit intimate in some minds. A spanning 34,000 square feet, Jeju Sauna replicates a traditional Korean spa, with nude (genderized) and clothed areas.
Affordable, you can opt for the basic sauna entry ($30/adult), or add on massages and body treatments as you like. Oh, and did we mention, entry is good for 24-hours if you feel like spending an entire day worth of relaxation.
17) Take a Couples Cooking Class Together
Cook some romance while also learning some new tricks in the kitchen at Irwin Street Cooks. Each class creates a family-style meal, which is enjoyed together as a class at the end of the meal.
With smaller class sizes and extra safety measures, Irwin Street Cooks is COVID-prepared. Try fun classes such as how to make sushi, pierogis, or how to make bread.
18) Heat Up the Dance Floor at Salsa Atlanta
Salsa is a sexy, approachable dance that will only help to get the chemistry flowing. Dance classes are held throughout the week at an affordable price.
If you feel like you're ready to hit the dance floor, jump into it at the weekly Saturday salsa night at Zero Bar in Duluth, Georgia. Get up close and personal with dance moves, and whatever happens, have some fun.
19) Get Buzzed at East Pole Coffee
If you're a coffee-lover, then a trip to East Pole Coffee, which roasts and brews its coffee, is a must-do. Beautifully lit, this spacious coffee house is perfect for afternoon conversation.
Open daily; the coffee shop does not have evening hours. However, a day date can be the perfect way to get to know a new love interest. Set in the Armour Yards complex, this funky coffee house has an off-the-beaten-path vibe.
20) Bloom in Love at the Atlantic Botanic Gardens
A gorgeous place to spend any amount of time, the Atlantic Botanic Gardens are perfect for a low-key date full of beauty. Open Tuesday-Sunday 9 am – 9 pm. You can head to the garden, whatever time fits your schedule.
Now through November 1st, check out the special exhibit of Alice's Wonderland Reimagined, which showcases larger-than-life plants. Advance tickets are required, and masks are mandatory on the garden grounds.
Conclusion
With this list of things to do in Atlanta for couples, though far from exhaustive, you are sure to have a memorable night with your loved one. From outdoor adventures to new experiences, there is no shortage of new ways to connect with your partner in Atlanta.
Plan one of these things to do for couples in Atlanta on your next date night!