There is nothing like a brisket made Texas-style, but what Atlanta restaurant serves Texas brisket? You may be asking isn't brisket the same anywhere? It isn't. It all depends on the cut, the packer's cut. The entire cut, with both point and flat sections intact. I never knew there was so much to do in picking the right type of brisket, I just know how good it tastes.
Texas brisket is said to be a melt in your mouth smoked beef if cooked right. Is anyone else craving it now besides me? If you are in Atlanta and looking for this juicy goodness, look at the list below for places that serve it.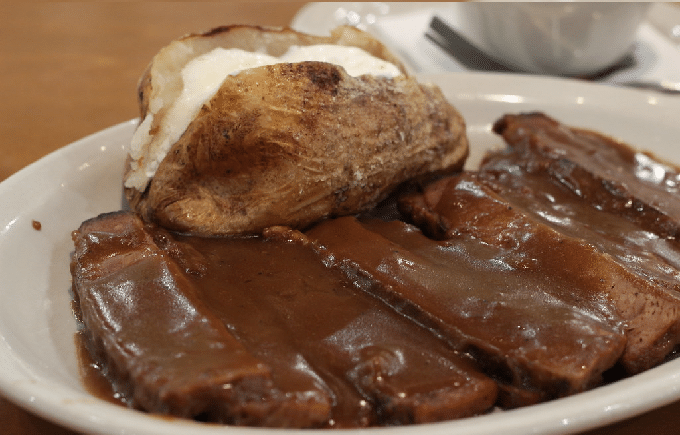 1. Das BBQ
As with any Texas brisket, the meat at Das BBQ is never frozen and always slow-smoked to perfection. One person who moved from Texas to Atlanta wrote that this is the best Texas BBQ since moving to Atlanta. You can't ask for more than a glowing review from a Texan.
2. City Barbeque
City Barbecue is another one of the Texas brisket makers in Atlanta. They are not just making it, they are winning awards for it including best brisket. One diner to City Barbeque said the food was "frickin amazing". This person was not the only one who loved the food. The brisket was a fan favorite for just about everyone who tried it.
3. Hattie Marie's Texas Style BBQ & Cajun Kitchen
There is no question that Hattie Marie's Texas Style BBQ & Cajun Kitchen makes Texas brisket because of the name, but does it taste like Texas brisket? According to its website, "Best BBQ Restaurant in Atlanta! Handcrafted in Texas with love". What do customers say about the Texas brisket? After looking through all of the reviews, the consensus was that they loved it, so it is worth heading to Hattie Marie's to judge for yourself.
4. Sweet Auburn BBQ
What started as a food truck, Sweet Auburn BBQ is now a brick and mortar restaurant that is becoming a favorite of many people. Owned by siblings, Howard and Anita Hsu, they add traditional southern barbeque with an Asian flair, adding a tribute to their heritage and upbringing. If this restaurant is as good as the reviews say, then it is a must-try when in Atlanta.
5. Daddy D'z BBQ Joynt
Although there are many good reviews for Daddy D'z, I think the most important went judging Texas brisket are those from people who are actually from Texas.  According to them, the brisket was moist and tender and deserved 5 stars. Coming from those who know what good Texas brisket should taste like, this is an honor. This is a place worth trying.
6. Wood's Chapel BBQ
"Barbecue is primal.  It is meat; it is fire; it is smoke." This is listed on their website, so they must take the BBQ practice seriously. They take pride not only of their community but the food they serve as well. Is their food as good as they claim? According to reviews, the brisket is said to rival if not beat the taste of real Texas brisket. All reviews were a rave. Not just the food, but service as well. This sounds like it is one Texas brisket you can't miss out on!
7. Fox Brothers Bar-B-Que Que-osk
Fox Brothers Bar-B-Que Que-osk is an addition to the Fox Brothers Bar-B-Que family. They serve a pared-down menu from their main restaurant. Just as good, and loved just as much as the original. The only difference is they are only open for lunch. If you are looking for a great fast option for your lunch, then head over and enjoy Texas-style BBQ at it's best.
8. The Greater Good BBQ
Fast and friendly service is what you get here. The food? Well if you are looking for "Texas Style brisket, you have found your place in Atlanta".  Voted Top 30 of Best BBQ In America – Thrillist. It sounds like what makes this place so good stems from childhood memories of family dinners growing up and wanting to recreate that feeling. Their family recopies are what inspired them to open up The Greater Good, and from what I can tell, it was a great decision.
9. Heirloom Market BBQ
Described as Texas brisket with a twist, and that twist is Korean sauce. Even without the sauce, the brisket is said to be some of the best customers have ever eaten. With the ide of paying respect to iconic barbeque, the owners and chefs wanted to bring to its customers "the things we eat on our days off." Well from what I can gather, they eat well when not cooking for their customers.
10. Fox Bros. Bar-B-Q
At the top of the list, Fox Bros. Bar-B-Q stands head and shoulders above the rest. Feel a little déjà vu? That's probably because we already mentioned their Bar-B-Que Que-osk. Yes, they are the same owners. Their Texas brisket must be good if they have made this list twice, and it is. Texas-born twin brothers who relocated to Atlanta missed the traditional Texas barbeque they grew up with and decided to bring it to Atlanta. They have been featured in several magazines and television shows such as diners, Drive-ins, and Dives, so you know they must be good. They are also the official Barbeque of the Atlanta Falcons.  Need I say more?
Conclusion
After reading through all of the delicious menus on this list, I must admit that I am craving some of that Texas brisket myself. Having lived in Texas years ago, I must admit I have missed it. Those Sunday afternoons watching football and having a barbeque, what great memories of the fun, but especially the food.
Well, there you have it, the best restaurants that serve texas brisket in Atlanta. The mouthwatering, sometimes finger-licking goodness that can even tempt the taste buds of the biggest barbeque critics. From nicer dining establishments to a hole in the wall dives, these places serve the best of the best Texas brisket in Atlanta. From the sounds of it, the rest of their menus are just amazing. These places made this list because they are filled with Southern charm and some of the best food. Head on over to one of these gems when you are in town next or just out to dinner. You won't be disappointed!