Curious to know the 20 best restaurants in Atlanta? Don't worry we got you covered!
When you think of Atlanta, this vibrant city might evoke certain sensations and images: soft Southern drawls, sweating glasses of iced tea, and Margaret Mitchell's Gone With the Wind. However, there's so much more to this historic state than Coca-Cola, college football, fried chicken, and is one of the film and television capitals of the world. There are several reasons why visitors have Georgia on their minds. Its theatres, museums, galleries, and diverse attractions are as abundant as the magnolia trees.
But that's not all…
To get to know the pulse of a place, savoring its cuisine has to be at the top of any visitor's list. So, after you have explored the Georgia Aquarium, The Museum of Contemporary Art of Georgia, the Martin Luther King Jr. National Historic Site, and shop your hearts out at Lenox Square, treat yourselves to some delectable dishes at some of the best restaurants in Atlanta. For your dining pleasure, we've put together a list of 20 top restaurants in Atlanta that will be worth your while to experience.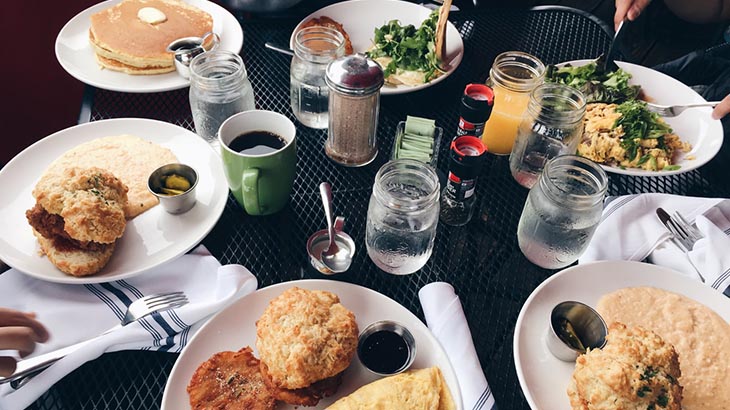 Read Also:
1. Aviva by Kameel
For the past four years, Aviva has maintained a 5-star rating for its food, service, and the value it offers. Located a half-mile from the Georgia Aquarium in Atlanta, the specialties of this top-rated lunch restaurant are Lebanese, Mediterranean, and Middle Eastern cuisines. With an emphasis on healthy meals, Aviva caters to special dietary needs. Are you vegan, vegetarian, or gluten-intolerant? Take your pick of falafel wraps, mujadara (lentils and brown rice, topped with caramelized onions), and authentic hummus, among other tasty organic dishes. 
2. Babette's Cafe
Close to downtown Atlanta is Babette's Cafe, a French restaurant that takes your palate on a journey with its French, Spanish, and Italian dishes that are a chef's kiss. It's no wonder that this restaurant, which has been serving big taste and excellent service for over 25 years, has been voted the "Best French Restaurant in Atlanta". Book your next business dinner, romantic date, or anniversary dinner for a memorable dining experience in a quaint setting.
3. Bone's Restaurant
"The Best Steakhouse in Atlanta for 18 years in a row" is just one of the several glowing accolades this sterling restaurant has racked up over the years. Porterhouse steak, filet mignon, and an assortment of chops are some of Bone's signature dishes. Pair any of these mouth-watering meals with a select choice from their impressive wine list, and you'll be in foodie heaven. You don't need to make a reservation, but we would, to be on the safe side.
4. Eight Sushi Lounge
Would you like to experience an evolution in sushi in the heart of Atlanta? Eight Sushi Lounge offers you something unique that will change the way you think about seafood and Japanese cuisine. You'll feel as if you're eating a work of art. Yet, these stunning creations—sushi, makis, and sashimi—are affordable. Not to be left out are vegan, vegetarian, and gluten-free menu options. The young and young-at-heart are welcomed to the evolution.
5. Herban Fix – Vegan Kitchen
Vegans, vegetarians, and even meat lovers can enjoy fine dining at Herban Fix, a restaurant that offers authentic vegan dishes with Asian influences. Whether it's brunch, lunch, or dinner, your mind will be blown by the incredibly tasty dishes and attentiveness of the staff. This Atlanta vegan restaurant proves that a healthy, wholesome meal doesn't have to skimp on great taste.
6. Desta Ethiopian Kitchen
"Desta" means "happiness". What better way to describe how this restaurant will make you feel after you've savored its reasonably-priced African and Ethiopian cuisine! Serving traditional Ethiopian dishes, along with other culinary delights, this Atlanta favorite uses only fresh ingredients, such as Ethiopian spices like berbere, mitmita, and Ethiopian butter. You can dine in at Desta, which can hold 250 guests, or order your food to-go.
7. The Capital Grille
The Capital Grille is another steakhouse in the Atlanta area. Before you even enter the restaurant, you'll know that this restaurant offers a sophisticated dining experience, based on its historic architecture. As you dine on dry-aged, hand-carved steaks, you'll have a stunning view of the Las Vegas Strip. Its menu options also cater to vegans and vegetarians. This elegant restaurant provides private dining.
8. Canoe
Canoe, as befitting its name, lies along the Chattahoochee River in Atlanta. So expect exquisite dining in an aesthetic setting. Its awards include being inducted into the Nation's Restaurant News 2005 Fine Dining Hall of Fame. When you savour fine American cuisine at Canoe, it's not just about its fabulous food. It's all about a lasting experience that will have you coming back for more.
9. Red Phone Booth
According to Thrillist, the Red Phone Booth is "The Best Bar in Atlanta right now". Remember the speakeasies of the 1920s? That's the kind of Prohibition experience you can expect when you step through the doors of this exclusive Atlanta bar and lounge. It also means that there's a strict dress code. If you need a bite to eat, they serve small plates of fresh seafood, beef tenderloin, Neapolitan pizza, and house-made desserts.
10. La Grotta Ristorante Italiano
This family-owned restaurant serves authentic Italian dishes for both meat lovers and vegans or vegetarians. It's high-end, but well worth it, once you've savored their delectable dishes, such as Petto D'anatra Alla Griglia Con Salsa Al Porto E Balsamico, and choice wines. Then you'll understand why it has received Atlanta Magazine's vote as the Best Italian Restaurant for 18 consecutive years. 
11. Nan Thai Fine Dining
A Diamond award-winning restaurant, Nan Thai promises an unforgettable Thai experience through its fine cuisine with an Asian twist. Their private dining room is highly sought after in Atlanta and can hold up to 70 guests. You'll be blown away by the creative presentation of the dishes, the professionalism of the staff, and the tranquil ambiance. Prices range from $31 to $40.
12. Nikolai's Roof
Nikolai's Roof is the longest active restaurant in Atlanta to receive the AAA Four Diamond award for 27 consecutive years. It boasts a contemporary cuisine with a Russian influence. An example of this is their Braised Beef Tenderloin Piroshki. It's the best of two worlds! On Thursday nights, you can sample their in-house flavored vodkas. Keep in mind that they're closed on Sundays.
13. Poor Calvin's
There's nothing poor about this restaurant that's tucked away in the heart of downtown Atlanta. It marries Asian cuisine with Southern influences in a masterful way that will tantalize your taste buds. With high honors, such as "100 BEST BRUNCH RESTAURANTS IN AMERICA FOR 2019" and "TOP 100 ATLANTA CHEFS", this restaurant is what's hot for 2019. Now that's rich! 
14. Buttermilk Kitchen
Looking for a unique spot to have a delicious, wholesome breakfast, lunch, or weekend brunch? Look no further than Buttermilk, the best little breakfast spot in Atlanta. They make all their meals, such as caramelized banana oatmeal, buttermilk pancakes, and whiskey syrup from scratch, using the freshest ingredients. They even offer two options to build your own breakfast. Buttermilk Kitchen may just become your home away from home.
15. Aria
With several outstanding awards each year to its credit, along with a Four Diamond rating for 13 consecutive years, Aria is a must-visit for an exquisite dining experience in Atlanta. The dinner menu might be all-American, but the flavors are international. You'll never be bored, not with its elegant, seasonal dishes. The prices range from $41 to $80, but with a seven-course tasting menu available nightly, it's worth it.
16. The Porter Beer Bar
Beer lovers, are you ready for this?
One of the best American pubs in Atlanta right now is The Porter Beer Bar. Why? For one, it has an impressive menu of over 800 beers! They serve lunch and dinner, and a full cocktail menu is also available, all at prices that won't burn a hole in your wallet. If you're passing through on the weekend, try their special "Hair of the Dog" Brunch menu.
17. Chama Gaucha Brazilian Steakhouse
You've never eaten steak until you've had it Brazilian-style at Chama Gaucha. To experience it is to understand the passion and heart that goes into the preparation and presentation of their meat dishes, such as cordeiro and the house's specialty, picanha. Their mission is to fill your bellies and your hearts with so much goodness, that you'll feel like one of the family when you leave. Don't leave Atlanta without experiencing a taste of Brazil at this fine steakhouse.
18. Egg Harbor Cafe
With so many restaurants in Atlanta to choose from, you can't go wrong with an eatery that provides hearty breakfast and lunch dishes in a cozy farmhouse setting. They open as early as 6:30 in the morning, and close at 2:00 in the afternoon. Their creative menu features meals with names like Everyday I'm Brusselin' and Guac & Roll Omelette. Great food for diners of all ages, greater service, and a feels-like-home atmosphere. What's not to love?
19. Thumbs Up Diner
Thumbs Up Diner will bring back the nostalgia of days gone by when you enjoyed your mom's home cooking. It's that good. That's why diners keep flocking to this best little restaurant in downtown Atlanta, with four locations that serve the Atlanta metro area. It has to be the real Southern cooking, complete with freshly squeezed orange juice, homemade biscuits, and the warmth and professionalism of the staff.
20. Atlanta Breakfast Club
The Atlanta Breakfast Club is another diner, one that places an emphasis on the most important meal of the day. If you like a traditional Southern breakfast of eggs, grits, biscuits, and your choice of meat, or perhaps, a peach cobbler French toast, then this restaurant is the one for you. It's all good at this Good Food & Company's eatery.
Conclusion
Now that you've read our pick of the best restaurants in Atlanta, which ones are you eager to experience? Each highly-rated restaurant offers a unique dining experience that shouldn't be missed. There's something there for everyone. If you're still finding it difficult to make a choice, narrow down your top favorites according to their location, price range, menu options, and quality of the service and ambiance. Once you have your list, the next part is easy. Eat, drink, and be merry with the people you care about, as you continue to make the most of your time exploring Atlanta, Georgia.