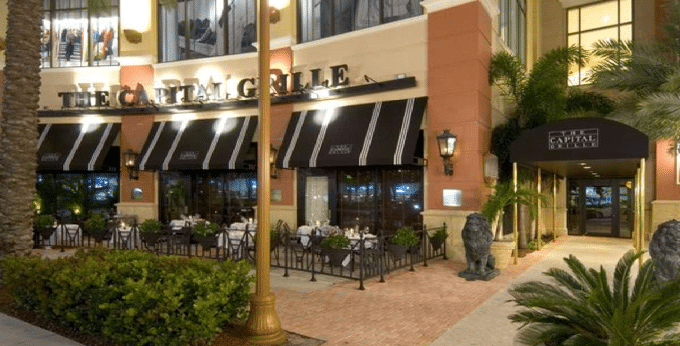 Phone:  +1 954-446-2000
Address: The Galleria at Fort Lauderdale, 2430 E Sunrise Blvd, Fort Lauderdale, FL 33304, United States
Website:  www.thecapitalgrille.com
Restaurant hours
Price Range
Directions
Opening hours:  Sun – Thu: 11:30 am – 10 pm; Fri – Sat: 11:30 am – 11 pm
Lunch hours:    11:30 am  –  04:00 pm
Dinner hours:   04:00 pm  –  10:00 pm Lounge Hours   11:30 am  –  10:00 pm
When heading to the restaurant from Downtown Fort Lauderdale, the journey takes around 8 minutes to cover the 2.5 miles.
Head north on US-1 N toward E Broward Boulevard
Pass Arby's on the right.
Take a slight right onto E Sunrise Boulevard
Watch for the restaurant at number 2430.
Enjoy delicious grilled steaks and more at The Capital Grille in Fort Lauderdale, paired with the perfect wine.
About The Capital Grille Fort Lauderdale
The Capital Grille is located in The Galleria in Fort Lauderdale and is well-known for its dry-aged steaks and a great wine list. The restaurant serves lunch and dinner, and also offers lounge hours when visitors can relax with a drink.
The menu features a range of appetizers and soups, including New England Clam Chowder, Caramelized French Onion Soup, and their signature appetizer, Pan-Fried Calamari with Hot Cherry Peppers. They also offer a delicious range of fresh salads, including Burrata with Heirloom Tomatoes and Wedge with Bleu Cheese and Smoked Bacon.
The burgers and sandwich menu includes Lobster and Crab Burger with House Tartar Sauce, Ribeye Steak Sandwich with Caramelized Onions and Havarti and the restaurant's Signature Cheeseburger.
Plates on offer in the restaurant include Crispy Chicken Sandwich with Hot Honey and Chili Mayo, Sauteed Jumbo Shrimp with Mushrooms and Parmesan Risotto and delicious Parmesan Crusted Salmon with Roasted Garlic.
Entrees on offer in the Grille include the timeless Filet Mignon, Bone-In Dry Aged NY Strip, Dry Aged Sirloin Steak Frites with House-made Bearnaise and for fish lovers, Sushi-Grade Sesame Seared Tuna with Gingered Rice, along with other delicious grilled options.
The critically acclaimed wine list offers more than 350 world-class wines from almost all the wine-growing regions in the world. Besides the extensive wine list, refreshments include House-made Grapefruit Soda, Fresh Brewed Iced Tea, and Fresh Mint Lemonade.
Reviews
The Capital Grille has received 841 reviews on Google, leading to a ranking of 4.6/5. While all reviewers compliment the restaurant on its fine food and service, one reviewer recently had an exceptional experience in the restaurant. She and her husband went to The Capital Grille to celebrate their anniversary and, having told staff of their celebration, received almost over-the-top service and a delicious meal.
Other reviewers say it doesn't matter what you order on the restaurant's extensive menus, the food is always delicious and well-prepared. Yet another said that this is how it is supposed to be done = with amazing and professional waiters and perfect cuisine.
Facebook users gave the restaurant a 4.8/5 rating from 841 reviews. Many users commented on their experience of a celebration in the restaurant, whether a birthday or anniversary, saying service was great and the food was excellent. Another reviewer said their experience at The Capital Grille was truly romantic and enjoyable.
The Capital Grille, Fort Lauderdale
Average rating:
0 reviews