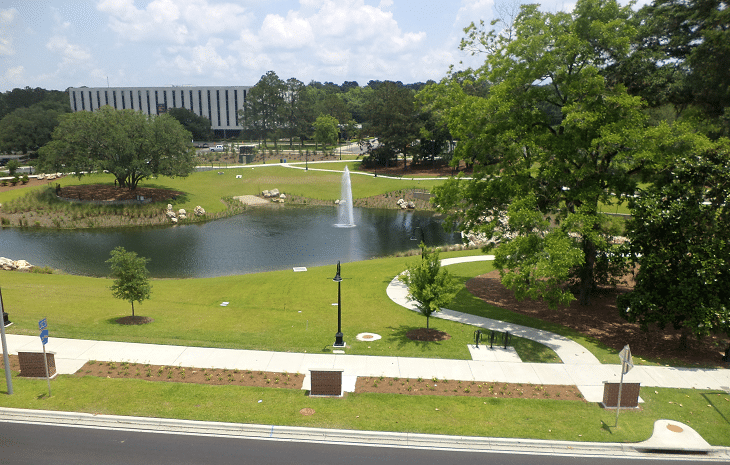 Hours of Operation
Admission Fee
Interactive Play: 9:00am – 9:00pm
Evening Fountain Shows: Friday, Saturday & Sunday 8:00 – 9:30 pm (every 15 mins)
Description:
Cascades Park is the newest social center of the community. It is a place of sharing and connectivity. Music, art, education, history, and wellness are all enhanced and expressed here. Cascades Park is one of the best communal enhancers, bringing together crowds of people from different backgrounds and backstories and then creating memories, people join stories and live in the moment. The tax is put back into the community through the representation of this outstanding park. Cascades Park Tallahassee is located in the heart of downtown, which is very central and perfect for people to get around.
The idea is to create a space to allow recreational processes to take place and for creativity to flow. The Cascades Park offers; a state-of-the-art amphitheater, a kid-friendly interactive water fountain, a children's play area and so many trails to hike, walk and jog. The amphitheater provides sound, vibrancy, and color to the park and ignites spark and energy in the crowd. While the trails provide wonder and peace of mind.
There is a section for everyone to enjoy themselves which is why the park is so famous, due to the fact that it is so convenient and relatable. There are certain rules to be followed if on the premises of Cascades Park. No gatherings for 50 or more people unless permitted, bring own sound amplifier and bounce houses to name a few of the permits one would need. The park was also built by the locals of Tallahassee, which makes this park even more unique and dear to the citizen's hearts. 
Read Also:
Cascades Park Tallahassee Reviews
Described as a paradise within a city, not very common to hear. It stops traffic all the time and leaves people wondering "what is it?". It is extremely spacious and caters for so many. Accommodating to all kinds of people and then also bring together all kinds of people. It unifies and connects souls which are inspirationally outstanding for a simple park. Locals cannot get enough and tourists to flee in when in Tallahassee. Runners are obsessed with the trails, and there are so many to choose from.
Rentable scooters are so refreshingly genius, as park members can scoot around the park and do some quick site-seeing and thought-seeking. The kids love the waterworks and it gets them energized and refreshed every time. They run through the shooting and sprinkling water to cool down and to splash around in on a sizzling hot summer day. It is a place to connect and to unwind, perfect for dates and family occasions. This is definitely a spot for tourists and locals alike. 
Cascades Park
Average rating:
0 reviews