Las Vegas is always ready to entertain, and that includes a line-up of comedy shows that will leave you feeling lighter after the night is through. From staple Las Vegas comedy acts to hot new comedians hitting the Vegas scene, there is something for every sense of humor when it comes to comedy shows in Las Vegas. Finding the best comedy shows in Las Vegas is worth doing one's homework about.
Luckily, we've researched for you with this comprehensive list of comedy shows in Las Vegas. After grabbing a bite to eat, discovering the most intriguing comedy show in Las Vegas for your upcoming trip is at your fingertips. Read on to find the best comedy shows in Las Vegas, and book one today!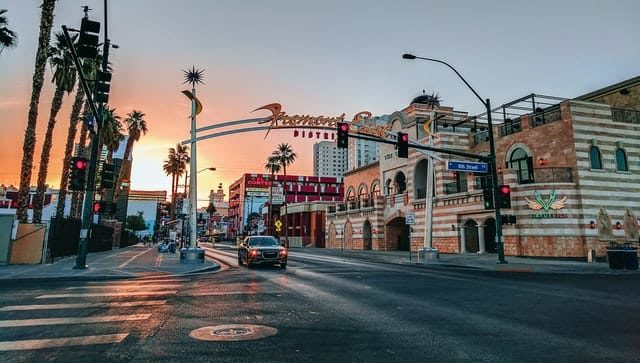 See Also: Best afternoon shows in Las Vegas
1) Carrot Top at Luxor Hotel & Casino
This redhead is so quirky that he's made his place a mainstay in Las Vegas Comedy. Though Carrot Top has played at Las Vegas since 2005, he is constantly creating new material, ready to get your gut-splitting. His act surrounds a trunk in which he pulls out surprising props, inspiring fodder for his craft.
Jokes surround current topics, music, and pop culture, Carrot Top promises that no two shows will be alike. Carrot Top first made his debut on "Star Search" and has since gone on to be a guest at "Comic Strip Live" and "The Tonight Show," to name others. Not really a family-friendly show, leave the kids at home.
Carrot Top performs nightly at 8 pm, with the exclusion of Sundays. Spend a little more and opt for the Meet & Greet with Carrot Top and hour before the show.
2) Laugh Factory at the Tropicana Hotel & Casino
The Laugh Factory brings together a diverse group of comedians, highlighting a different comedian each night. The Laugh Factory has been responsible for launching several now-big-name careers, such as the Second City in Chicago feeds SNL.
Past comedians have included Tim Allen, Dave Chappelle, Eddie Murphy, Jay Leno, and Wanda Sykes to name just a shortlist. Shows are currently running Thursday through Sunday evenings, at 8:30 pm and 10:30 pm. Check the website to find the latest lineup of whose playing next, which can be booked for about a month. General tickets run around $38, and VIP is closer to $45 a person. Must be 18 or older to enter the Tropicana club.
3) Brad Garrett's Comedy Club at MGM Grand
Brad Garrett's Comedy Club showcases the three-time Emmy winning Brad Garrett (best known for his role in Everybody Loves Raymond), but also a variety of up-and-coming comedians that are worth coming to see. The custom made theater was created with comedy in mind, a claim no other stage in Las Vegas can make.
The club has a 1920s New York City feel, a charming atmosphere to spend an evening whiling away the hours in. The loveable Brad Garrett is not always at the club but frequently makes appearances with comedy content that includes "life's second act."
Comedy shows run on Friday and Saturday at 7 pm and 10 pm, and Sundays at 8 pm. The schedule is posted on the website and usually runs about a month and a half out. Typical shows run for about 90 minutes, with no drink minimum, but a minimum entry age of 21.
4) The Mike Hammer Comedy & Magic Show Las Vegas
Mike Hammer combines laughs with magic in this edgy and fun performance. This fast-paced 70-minute show includes joking around alongside razor blade-swallowing and his signature stunt, the Pick Pocket Booth of Solitude. Mike has charmed audiences for over 25 years and has been featured on Penn & Teller, A&E TV, and Bad Ink.
Named one of the "45 Under 45" by Esquire Magazine, Mike Hammer is a force to be reckoned with. A wild ride, you'll find yourself fully captivated by this unique mix of live entertainment, including mind-reading and nonstop jokes. Mike's slogan is, "Get Hammer'd with Mike Hammer," which pretty much says it all. Best for adult audiences, the Mike Hammer Comedy & Magic Show runs five nights a week in the Four Queens Hotel & Casino.
5) L.A. Comedy Club at The STRAT Hotel
Another go-to comedy club in Las Vegas, enjoy a mix of comedy styles and comedians from the L.A. Comedy Club at The STRAT Hotel. The Dragon Room hosts up to 160 audience members at a time, making for an intimate night of humor. L.A. Comedy Club's past stars have included Aziz Ansari, Felipe Esparsa, and Loni Love. At L.A.
Comedy Club, you can choose from general admission, VIP, and VIP All-You-Can-Drink seating options, to really make it a memorable evening. Additional perks at The STRAT include free parking. General admission is $39.95, and VIP admission, which includes the VIP line and choice of seating, runs at $59.95.
6) Las Vegas Live Comedy Club at Planet Hollywood Resort & Casino
This small comedy club is tucked inside of the Miracle Miles Shops complex. Bringing comedians from NYC, Boston, Chicago, L.A., and Las Vegas, this new but up-and-coming comedy club is on the cutting edge of comedy. Resident comedian Edwin San Juan frequently headlines here and is worth coming to see.
Performances run each night of the week, so anytime is a good time to let loose. Prices start at a modest $18 and up and are currently heavily discounted. Audience members must be 16 and over due to adult content in the shows. Nightly shows run at 9 pm.
7) The Comedy Cellar in the Rio All-Suite Hotel & Casino
The Comedy Cellar has seen such big names as Darrell Hammond, Keith Robinson, Jim Norton, and Ray Romano. The following week's lineups are posted at the end of the week, as the club ensures the best possible comedians. Come for a night show or for the Sunday brunch, which highlights laughs alongside delicious eats, including the best ham and eggs.
Weekday shows are incredibly reasonable, ranging from $10 – $17, and weekend shows run at about $22 a person. Perhaps one of the best value shows, see up to five comedians within the 90-minute show. Additionally, if you're interested in taking a comedy class and will be in Las Vegas for the duration of one, The Comedy Cellar offers classes for beginners and up.
8) Opium at The Cosmopolitan of Las Vegas
A somewhat psychedelic experience, this 85-minute variety show brought to you from Spiegelworld is themed around an adult-only space odyssey. The plot all takes place on a grade-B, 80's-style spaceship, and the characters keep the story quick and funny.
Expect acts to include creative performances using unexpected objects like bubble gum, balloons, and tennis rackets. Certainly not your average comedy show, travel to another dimension with the Opium at The Cosmopolitan of Las Vegas. Other shows by the theater company Spiegelworld include Absinthe and The Atomic Saloon Show.
9) Tape Face at Harrah's
Don't let the strange name deter you from seeing this talented comic-mime, Tape Face (Sam Willis). A family-friendly show, Tape Face made his name on Season 11 of America's Got Talent. Since then, the New Zealand native has made a home for himself in Las Vegas with his gut-wrenching humor, all without uttering a word.
Tape Face blends Vaudeville's background, traditional circus freak shows, and shock comedy to create his unique mix of humor and entertainment. Past notable performances have included performing for the Prime Minister of New Zealand, Helen Clark, and as a regular on Pulp Comedy when it aired on TV2. Whatever language you speak, Tape Face transforms borders with his one-of-a-kind show.
10) The Eddie Griffin Experience at SAHARA Las Vegas
The Eddie Griffin Experience brings raunchy laughter to the SAHARA Las Vegas. His relaxed demeanor helps create a comfortable atmosphere as he explores every-day experiences in a funny light. Eddie has been in comedy for 30 years, and he uses this experience to bring special expertise to his comedy.
Eddie has previously been ranked number 62 on Comedy Central's list of the Greatest 100 Stand-Ups of All Time. Eddie is best known for his role in Deuce Bigalow as a pimp and many other movies, including Double, Take, and Undercover Brother. Full disclaimer that he does not shy away from uncomfortable material, so leave the kids at home.
Conclusion
Entertainment is synonymous with Las Vegas, and this sizzling city does not fall short on comedy shows. From family-friendly shows to edgier comedians, come to Vegas for some laughter therapy. Check out one of the big names that play consistently or head to a hip comedy where you never know what up-and-coming-star you'll see. Whatever you choose, get ready to shed your cares, at least for a few hours, in the city that knows how to party.