There is nothing quite like the taste of fried chicken. From the crunchy outside to the soft meat on the inside, the salty treat is a beloved American dish for a good reason. If you like to eat your way through a city, then finding the best fried chicken restaurant in Vegas should be on your culinary to-eat list when you visit Las Vegas.
With many delectable options to choose from for fried chicken in Las Vegas, let your belly guide next time you visit Sin City. From hidden gems to Vegas staples, we've got you covered when it comes to discovering the best fried chicken in Las Vegas. Read on to discover all the must-visit restaurants that serve the best fried chicken in Las Vegas!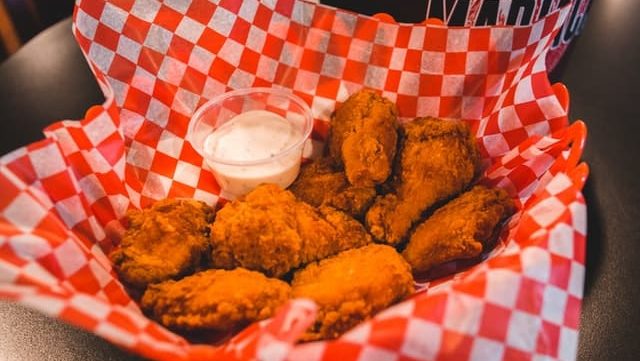 1) Yardbird Southern Table & Bar
Located in the Venetian, Yardbird Southern Table & Bar brings the best of Southern cooking to Nevada. Come for brunch, lunch, or supper and taste the raved about fried chicken, complete with sides like grits, okra, or mac & cheese. Get your fried chicken in various forms at Yardbird Southern Table & Bar, from wings to the Nashville Hot Yardbird chicken sandwich.
Or go for the big plate of 1/2 a chicken deep fried and served with honey hot sauce (Lewellyn's Fine Fried Chicken). Yardbird also has awesome nonalcoholic and alcoholic drinks that include hand-pressed juices like a Turmeric Tonic with turmeric, lemon, ginger, and black pepper.
2) Hash House A Go Go
A fun take on farm-fresh dining, Hash House A Go Go is located in The Linq Hotel. Open Sunday – Thursday from 8 am – 3 pm, and Friday & Saturday from 8 am – 10 pm. Come for brunch or a late dinner. Find the fried chicken on the brunch menu under Farm Favorites. Andy's Sage Fried Chicken & Eggs will have you singing with syrup, two eggs, bacon, sliced tomatoes, mashed potatoes, and fresh fruit.
Make it Nashville hot for a modest additional dollar. If you want to really live, opt for the Indiana Chicken and Waffles, once featured in the New York Times. You can also find the fried chicken in sandwich form.
3) Big Chicken
The name says it all with Big Chicken, which specializes in chicken sandwiches. Owned by no other than the lovable former basketball star Shaquille O'Neil, Big Chicken puts a twist on favorite classics. Try sandwiches like Shaq Attack, with pepper jack cheese, jalapeno slaw, and chipotle BBQ sauce.
Or check out the Charles Barkley, with mac & cheese, crispy onion, and roast garlic BBQ aioli, all pilled high upon fried chicken in a brioche bun. Try the sliders or go to town with sides like Lucille's Mac and Cheese or Dirty Fries, which are french fries topped with cheese, bacon, banana peppers, and BBQ ranch.
Additionally, Shaq wouldn't leave us without dessert and has curated a sweet-tooth's dream with a list of unique ice cream sandwiches such as Grandma's bread pudding, rocky road, and chocolate chip.
4) Blue Ribbon Fried Chicken
Blue Ribbon Fried Chicken, located within the Grand Bazaar, is brought to you by the Bromberg brothers, who have added a matzo coating to this Southern classic. The trademark of Blue Ribbon Fried Chicken is the tangy, approachable flavor of the crunchy outside that balances out the meat.
Currently open for take out, Blue Ribbon Fried Chicken's menu features a monthly sandwich, such as the current Chicken Gobbler, topped with mashed potatoes, stuffing, cranberries, and gravy. If you simply want The Classic, order just that. Pick your favorite pieces of chicken, with combinations that include 2-piece white or a 4-piece mix of a breast, wing, thigh, and drumstick. Blue Ribbon Fried Chicken also serves up boozy milkshakes, cocktails, and wine and beer.
5) Mochiko Chicken
Mochiko chicken is a favorite Hawaiian dish where small pieces of chicken are marinated in a sweet and salty sauce, then fried up. So it makes perfect sense to head to Mochiko Chicken to take your fried chicken palate to new horizons. Try the Crispy Fried Chicken Bowl, which gives you a base of white rice, mochiko, and a whopping twelve sauce options.
Try the staple mochiko chicken sauce or mix it up with spicy mochiko, coconut curry, Polynesian, and the list goes on. Or do the Crispy Fried Chicken A La Carte, and mix and match with other a la carte options.
Mochiko Chicken is a little unassuming in a strip mall, however, some of the best-kept food secrets happen to be in such locales as this. Currently available for pick-up and delivery, only enjoy Mochiko Chicken in the comfort of your own home.
6) Flippin' Good Chicken, Burgers, and Beer
A little take on honkey tonk in Vegas, Flippin' Good Chicken, Burgers, and Beer is just what it sounds. A fast-casual joint, Flippin' Good has a spicy chicken sandwich that tastes great with a cold brew. All of the chicken of Flippin' Good is raised cage-free and hormone-free, so you can feel good about your eating choice.
Make it Nashville Hot, try the vegan chicken tenders, or do the Dirty Bird piled high with American cheese, bacon, and a fried egg. Add a side of fresh-cut onion rings, Nashville fried pickles, hand-cut french fries, or coleslaw to make it a meal. If you still have space after, satisfy your sweet tooth with a signature shake or malt that includes mouth-watering options like a white chocolate macadamia nut concrete mixer.
7) Flock & Fowl
Flock & Fowl is a highly-rated Chinese restaurant that's "everybody's favorite rice bar." Open for brunch, lunch, and dinner, Flock & Fowl serves up beautifully curated Chinese food that includes Hainanese chicken and rice, as well as crispy chicken served in bao.
The presentation at Flock & Fowl is always colorful and done with care, and if you've got a fellow diner along who does not eat meat, Flock & Fowl is a great choice for that, too. Do note, Flock & Fowl recently moved to a new location from their previous Sahara Avenue one.
8) Carson Kitchen
Carson Kitchen does many things besides fried chicken, however it keeps popping up with the best fried chicken for one reason; crispy chicken skins. You can find the crispy chicken skins on the Social Plates section of the menu, although you may want to keep each bite for yourself.
Served with smoked honey sauce, dip in and enjoy all the goodness of this savory treat to the max. Also available for curbside, Carson Kitchen makes it easy to get your fix. With a quarterly changing menu, check out other culinary feats such as a cocoa-espresso NY strip steak, an incredible list of veggies off the Farm & Garden section of the menu, and flatbreads such as the wild mushroom flatbread with pickled red onion and Gruyere cheese.
9) Gilley's Saloon, Dance Hall & BBQ
Eat, drink, dance at Gilley's Saloon; what more could you want? Fried chicken, of course, which, thankfully, Gilley's has. Truly Southern comfort food, garb a plate of fried chicken served with cornbread, hush puppies, and cajun remoulade sauce, along with two sides. This delicious chicken dinner is available for dine-in only.
Gilley's Saloon also has live entertainment that includes the opportunity for some honky-tonk dancing. The only disclaimer I'd give on the atmosphere at Gilley's Saloon is that it comes with a country-western theme and "Gilley's Girls," who are scantily-clad women who dance and serve up food. It feels a little better than Hooters in the treatment of women, but not much.
10) U.S. Fried Chicken Halal
If eating halal is important to you, you can still find your fix at U.S. Fried Chicken Halal, which touts an explosion of flavors in their fried chicken. The extensive menu includes wings, boneless hot wings, chicken nuggets, and fried chicken breast. Open from 10 am – 10 pm every day, U.S. Fried Chicken may not be fancy, but it sure is consistent in its delivery of addictive chicken.
Other options like gyros, a Philly cheesesteak, and salads are also on the menu. U.S. Fried Chicken is currently open for take out and delivery only and makes a great choice if you're planning on feeding a family or group, with options available to accommodate party-sized groups.
Conclusion
There is no shortage of finger-licking fried chicken when you're in Las Vegas. This hot, delicious treat has several restaurants where you can get your fill, from twists like the Hawaiian mochiko to straight-up classics as served at Gilley's Saloon. Whatever your fancy, get ready to dig in when you hit Las Vegas' dining scene with this list of the best fried chicken in Las Vegas!