Las Vegas knows decadence in every variety. If you've got a sweet tooth in Las Vegas, we've got you covered.  After checking into your Vegas hotel, you may want some delicious treats! Whether you're all about rich chocolatey desserts or you want an ice cream cone, there's every kind of sweet concoction in Las Vegas you can find. Keep reading to discover the best dessert in Las Vegas of every variety that will leave your mouth watering!
From high-class dessert options to top off a special evening to a casual outing to get something sugary, you'll find it on this list of the best dessert in Las Vegas. On the Strip and off the Strip, we've dug deep to make sure no corner of Vegas delectables goes uncovered.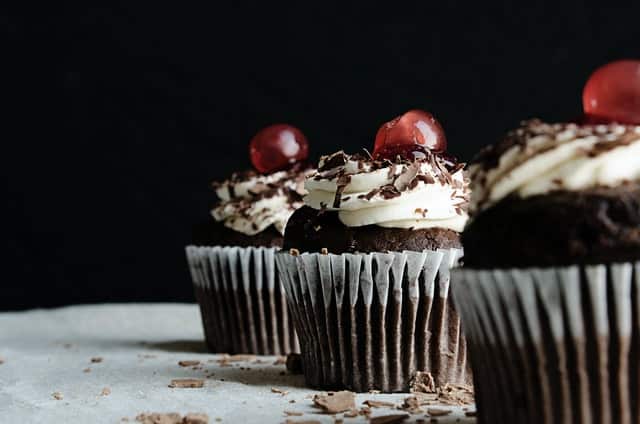 See Also: Best Restaurants in Las Vegas
1) 24-Layer Chocolate Cake at Strip House
It doesn't get much more beautiful than this when it comes to food to feast your eyes and belly on. A 24 layer—yes, 24 layer—chocolate cake layered with the smoothest chocolate cream stands tall in every slice. The whole thing is iced with a topping of chocolate ganache, sending this masterpiece over the edge. You may or may not want to know that each slice weighs 1.5 pounds of sweet loving. If you're going to go, go all out. After all, this is Vegas.
2) Tiramisu Cheesecake at Giada
Giada's a gal who knows her desserts, and there are several knock-outs on her menu. We've listed the Tiramisu Cheesecake because the presentation and taste are just heavenly. Layers of a rich sponge cake heavily soaked in coffee and Kahlua, topped with chocolate espresso cheesecake, salted caramel cheesecake, and finally, a layer of vanilla mascarpone cheesecake.
Really, it would be too much, except she's found the perfect balance. However, you can also find humbler choices such as lemon ricotta cookies, which feel like someone's Italian grandmother made them for you, in the best sense.
3) Flower Pot Cake at Jardin
This little beauty may have you doing a double-take to make sure you're not really digging into a clay pot of petunias. Fleur at Jardin has become a signature dessert at this upscale American restaurant located within The Wynn. Inside of the flower pot-look alike, discover chocolate cake layers, including raspberry jam and a chocolate mousse. Truly a work of art, make sure to Instagram your remarkable dessert before it disappears.
4) Banana Cream Pie at Emeril's New Orleans Fish House
We'd be amiss if Emeril's New Orleans' style desserts didn't make this list, and his banana cream pie tops the list. A staple since the inception of his restaurant, this banana cream pie is rich and thick, with three pounds of bananas in each pie. If one taste of Emeril's banana cream pie keeps you longing for more after you've left Vegas, check out the Food Network's website to find the recipe and try your hand at it when you get home.
5) Churro Fried Ice Cream Pops at Chica
A mash-up of the best of Mexican sweets, Churro Fried Ice Cream Pops is a little bit of everything that comprises its title. Like a fiesta in your mouth, this creative concoction will leave your taste buds in strangely familiar territory. A combination of caramel ice cream, cinnamon churro crumbs, a tiny churro, all topped with vanilla bean cream, it's a knockout on the sweet scale.
6) Flan at Jaleo
Flan is one of those classic desserts that are simple in ingredients yet difficult to execute. The flan at Jaleo pays tribute to Chef José Andrés' mother's flan, which was perfectly imperfect according to him. His take on the flan is Spanish-style and has been said to be the best in all of Las Vegas.
This is another recipe you can find online so, again, if you're feeling bold, try and recreate this beloved treat. Including the flan, Jaleo's has been said to set the bar for Spanish cooking for the last two decades, something you can't miss.
7) Sticky Toffee Pudding at Gordon Ramsay Steak
Gordon Ramsay Seak is found inside of Paris Las Vegas, with a sticky toffee pudding that is unrivaled. An English dessert comprised of sponge-like cake covered in decadent toffee sauce will leave you feeling full to the brim.
Gordon Ramsay isn't just in one locale; however, this man's got four restaurants throughout Las Vegas, all of which serve a variety of sticky toffee pudding. Try it at Gordon Ramsay Burger at Planet Hollywood Resort in a pudding push-pop form or as a pudding shake at The Linq Promenade. We like it best in its true form, but creativity always gets some style points.
8) Titanic Sundae at Carmine's
We promised at least one ice cream treat on this list, and the Titanic Sundae at Carmine's is the ice cream sundae of sundaes. Starting with a layer of chocolate torte, the sundae gets topped with six hearty scoops of ice cream, then decorated with a healthy dose of hot fudge, cherries, wafer cookies, and whipped cream.
Mind you, if you're not coming just for the Titanic Sundae, this means you've probably already got a belly of pasta in you at this NYC-style Italian joint. So, just sayin', this is probably a dessert worth sharing with a friend, or maybe the whole family!
9) Cheesecake Challenge at Guy Fieri's Vegas Kitchen & Bar
If you know anything about Guy Fieri, then you know he is a little over the top, and this, uh hum, can get reflected in his kitchen. The Cheesecake Challenge is no exception, rather a flamboyant display of his culinary prowess with this half-a-cheesecake covered in pretzels, crunchy potato chips, and chocolate sauce.
Maybe this sounds like a slice of heaven to you, or maybe it sounds like something else. You get to decide. If you can't stomach the Cheesecake Challenge, look to other desserts on his menu, including the Seven-Layer Dark Chocolate Whiskey Cake or the Strawberry Fool, with layers of strawberry ice cream and sorbet over pound cake.
10) Giant Fortune Cookie at Tao Asian Bistro
What's more fun than ending your meal with a giant fortune cookie that comes complete with an edgy fortune? Maybe we're just a sucker for a whimsical presentation, although this artistic treat is equally delicious as it is adorable.
Filled with white and chocolate mousse and topped with fresh fruit, this may as well be one of the most Instagram-worthy desserts in all of Vegas. Here's hoping your giant-sized fortune paves the way for at least a sweet few minutes as you dig into this sugary concoction.
11) Big Poppa Tart at Donut Bar
Well, pretty much anything at Donut Bar is going to send your tastebuds sailing in the direction of happiness. However, Big Poppa Tart does seem to epitomize everything Donut Bar is. A whole pop tart is stuffed inside a donut, weighing an entire pound! Colorful and inviting, Big Poppa is best served with a strong cuppa Joe. Other off-the-charts donuts to try include mud pie and a coffee latte.
12) Lobster Tails at Carlo's Bakery
Carlo's Bakery has been making lobster tails, a pastry shaped like a lobster tail and stuffed with French cream and whipped cream, for over 100 years! Tucked in the Venetian, these beautifully crafted pastries emulate the Italian sfogliatelle pastry.
The sfogliatelle dough is definitely something you couldn't replicate at home unless you are a baker extraordinaire. It's one of the most challenging doughs in a baker's repertoire, meaning you should eat your lobster tail with respect. Also, as any Italian would tell you, it's best with a strong coffee.
13) Sinatra Hat at Sinatra
Because cute does earn some points, as long as it is also delicious, the Sinatra Hat at Sinatra goes on the list. Like the one Frank wore, this adorable little chocolate fedora is filled with mousse and comes served with a milk chocolate pana cotta on the side. Also, excellent choices on the menu; check out the classic cannoli, tiramisu, or Torte di Nocciola (hazelnut torte).
14) Pineapple Carpaccio at Hell's Kitchen
Another Gordon Ramsay creation, the Pineapple Carpaccio at Hell's Kitchen, is an unusual yet impressive dessert. Be wowed by a foaming cloud of liquid nitrogen that gives way to thinly sliced pineapple served with coconut sorbet, passionfruit, and coriander.
If you're more of a traditionalist and would rather skip the food show, opt for the Coconut Three Ways, which comprises coconut sorbet, passion fruit caramel, and coconut cake.
15) Chocolate Terrarium at Rose. Rabbit. Lie.
This swanky joint delivers on all fronts, including dessert. The Chocolate Terrarium at Rose. Rabbit. Lie. is just so unique; you'll have yourself equally in awe of the presentation as you are delighting in the dessert.
Appearing as a small glass-enclosed terrarium, lift the exterior to reveal a beautifully landscaped chocolate soil, complete with chocolate pudding and chocolate buttermilk cake. All of this is topped with puffed wild rice, a chocolate tuille, and hazelnut ice cream.
Conclusion
Las Vegas has proven itself when it comes to stunning desserts that are equally beautiful as they are mouth-watering. Some of the top names in Las Vegas pull out all the stops to ensure your experience in Vegas dining is one-of-a-kind. So next time you're in Vegas, be sure to save a little extra room (or at least wear your stretchy pants), so you can really live in style and sample the best desserts in Las Vegas!