The use of cannabis in Nevada became legal on January 1, 2017, however, it is still required that it be used privately. It is legally acceptable to be in possession of one ounce of marijuana, or 1/8 ounce of cannabis concentrate. Read on to discover 420-friendly hotels in Las Vegas to get your party rolling!
Use of cannabis is also prohibited from hotels, however, there are a host of 420-friendly Airbnbs and VRBO accommodations in Las Vegas which are cool with marijuana use; some of which actually make their name based on their 420-friendly policies. There are also a number of 420-positive events that happen in the city throughout the year, including Cannabis Week, cannabis-centered cooking classes, as well as a variety of art classes such as Puff, Pass, and Paint.
If this sounds like your definition of fun, then get ready to have an "elevated" experience in this city that's known for anything-goes. So though you're welcome to get high in Las Vegas, you're not welcome to do it on casino floors or on the city streets.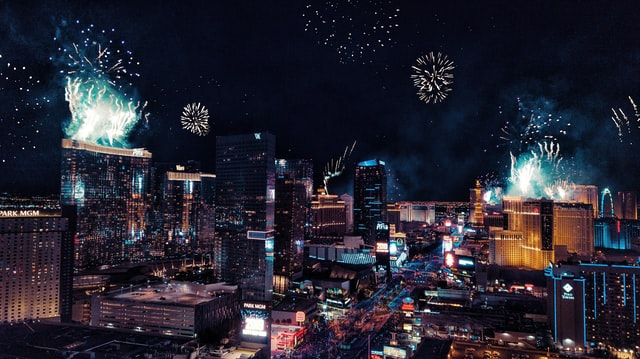 1) Airbnb: Artistic Master Suite
This studio Airbnb is a private room within a shared home, with an attached private bath. A somewhat psychedelically-decorated atmosphere will put you in the right headspace to enjoy Las Vegas to the fullest, greenery in-tow. Enjoy curious perks like an Alice in Wonderland themed backyard, and free entry into select nightclubs.
Though check out is at noon, the host, Ian, welcomes visitors to stay and hang in the common area until midnight. In addition to your room, enjoy access to the front yard, back yard, dining room, family room, loft, and kitchen. This Airbnb location has two other Airbnb rentals in it, so you may not be the only guest. Additionally, free onsite parking is included in the stay.
2) Airbnb: Cozy Casita
This private casita is perfect for those looking for both 420 and pet-friendly accommodations. Stylishly decorated, this guesthouse is great for individuals or a couple. A full-size bed, full shower and bathtub, and keyless entry make this a winning choice. 420-friendly inside or outside, take your pooch and your joint to the chained-linked backyard to get some fresh air. The backyard also comes with the ability to use the BBQ and patio area, perfect for a relaxed evening in Vegas.
Free parking and free wifi sweeten the deal, along with the hard-to-find no size restrictions on pets. Just under a five-minute drive to the airport and the Strip, this casita couldn't be more convenient. An affordable, clean, and pet-friendly, 420-friendly private guesthouse, this is a rare find.
3) Airbnb: Room Near the Strip
A convenient location, just a five-minute walk from the Strip, this 420-friendly room is for men only. Two single beds outfit this immaculate room, complete with a private bathroom. Enjoy access to the kitchen and living space, but with the ability to lock to your room for privacy and security.
Jor, the host, has received glowing reviews from past guests for graciously going above and beyond to help guests feel at home. This Airbnb also has a common pool to enjoy the best of Las Vegas weather. There are actually two separate rooms to book through this Airbnb host, so if you have a male friend who is accompanying you on your trip to Vegas, it's possible to book together.
4) Airbnb: Artistic and Cannabis Friendly Room
An additional rental of the first listing, enjoy this vibrant, welcoming room. Be within walking distance to The Cannabis Dispensary as well as 24-hour shopping. Just eight minutes from the Strip, relax and unwind in your neon-futuristic decorated room where only good vibes are allowed.
The host, Ian, is happy to enhance your trip to Las Vegas by ready conversation or pointers on where to go in the city, including passes to the hottest clubs. Shared space with the host as well as other renters includes the backyard, kitchen, and living space. Highly rated by past guests, you'll love this friendly host and green-positive Airbnb rental.
5) VRBO: Boho House
This 420-friendly house can sleep up to six and is just minutes from the Strip. A minimum two-night stay, you can rent this VRBO for up to 45 days if looking for a longer Vegas stay. This condo-rental is new to the market, so there is little previous guest history, however, an ample list of useful amenities makes this a great option when staying in Las Vegas. Enjoy the free wifi, 24/7 access to the onsite pool, spa, and gym, as well as a kitchen with coffee and espresso.
Please note that the listing says the residence is used by the owners when they are home, and that their two cats will continue to stay at the residence when it is rented. And like most 420-friendly accommodation rentals, please no hard drugs, and positive vibes only.
6) VRBO: Executive Retreat
This modern executive retreat is clean and 420-enthusiastic. Enjoy this cannabis-themed rental that comes complete with a variety of bongs and glass to use while you are at this accommodation. A private, enclosed backyard ensures you will feel comfortable lighting up outside.
The rental also includes wonderful amenities like a pool and the entire townhouse to yourself. Sleeping up to two, this is a great option for a romantic stay or for an individual. Close to the Strip, and within walking distance to the Orleans Hotel as well as multiple restaurants, you'll feel you're getting the best of all that Vegas has to offer with this executive retreat.
7) Airbnb: Colorful Casa
This two-bedroom, one-bathroom condo is 420-friendly invites you with warm colors and artistic decor throughout the apartment. Enjoy a full-kitchen, smoking area, and massage chair to really get into vacay mode. Free wifi throughout the home, an onsite pool, and a washer and dryer add to the value of this casa. Check yourself in with a door code at a private entrance. Close to the University of Las Vegas, the airport, and just ten minutes from the Strip, this is accommodation is located in a quiet and safe neighborhood. Please note, this rental is not handicap-accessible as you need to climb stairs to access the bathroom.
8) Airbnb: Vegas Mansion
This Vegas home pretty much epitomizes a party house, with a private swimming pool, billiards table, jetted indoor bathtub, seven bedrooms, and an outdoor jacuzzi. The house also has its own bar, a full kitchen, multiple flat-screen TVs, and a poker/blackjack table.
If you still need something to do, head out to the Strip, just minutes away, or take a two-minute walk to neighborhood bars. The host is happy to help with any local knowledge you may need, including access to clubs and casinos. Please, no more than 16 guests at a time. The host, Mac, also has seven other Vegas properties if this one is booked.
9) Airbnb: Private Room Near Strip
If you're looking for a budget accommodation, this private one-bedroom in a shared house is a great steal. Just 15 minutes from the Strip, relax in your private room, with a full-size bed. In a safe and walkable neighborhood, enjoy access to grocery stores, parks, and health food stores. The owners, Alex and Gina, live in the house and are happy to help you navigate your way through Las Vegas. Do note, the owners have one cat, so those with cat aversions or allergies, beware. Full access to the house, as well as the computer, makes this a welcoming stay.
10) VRBO: Longterm 420-Friendly Home
This immaculate two-bedroom, two-bath home is a stunning rental available for short-term or long-term rental. New furniture, a large living space, as well as a large office, make this a wonderful option however long you're planning on staying in Las Vegas. A charming, private outdoor patio is all yours to kick back and relax at, complete with a grill to use (do note, 420-friendly inside only).
A fully-equipped kitchen includes a coffee maker and a dining room for four. Also included in this rental is parking, and a washer and dryer. Not for children or pets, this is an adult-only 420-friendly home, new to the market.
Conclusion
Las Vegas is truly the city with it all; everything under the sun can be experienced here, now including marijuana use. Though you can't openly use pot (and do be cautious, because fines for violating this can be high), having a 420-friendly accommodation in Las Vegas while ensure you've got a home base to feel at ease to recreationally use marijuana in.
These diverse listings, from one-bedrooms in shared homes, to party-ready mansions, means that anyone coming to Las Vegas and looking for a 420-accommodation has something to fit the bill. Book one of these 420-friendly Airbnb or VRBO accommodations in Las Vegas today, and get ready for your chilled out adventure in Sin City!