Gainesville, Florida promises everyone with no dull moments and happy tummies. The area is surrounded by museums and parks, allowing you to revisit the history of the place and enjoy the scenic views. Aside from these wonderful spots, wouldn't it be nice to chow down on tasty cuisines after a long, tiring day of roaming around the place? This post is about the best restaurants in Gainesville, FL.
Gainesville is also known for its numerous restaurants that can satisfy the cravings and tastes of everyone. From international flavors, casual dining, to sweet treats, anything you might be looking for that is food-related won't be hard to find in this city.
However, with countless restaurants to choose from, determining the best ones won't be that easy. Things such as service, ambiance, serving size, and more should be considered to ensure you'll have an excellent dining experience. Fortunately, you don't have to do all of these now because, in this post, we present to you the best restaurants in Gainesville.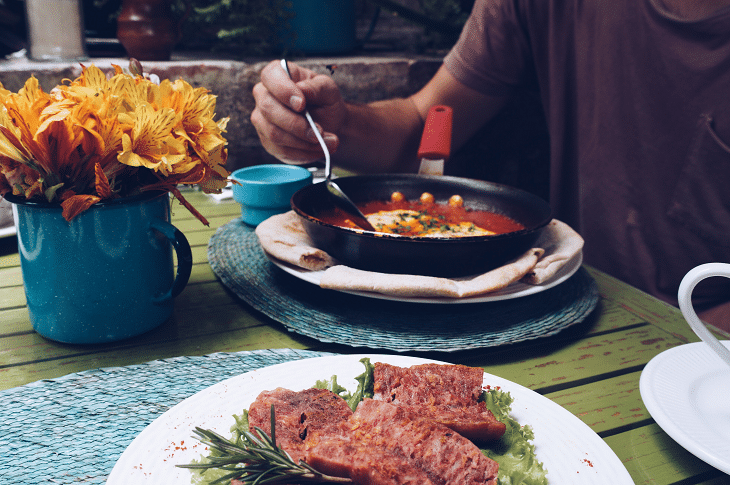 Read Also:
1: Embers Wood Grill
Earning the top spot on our list is Embers Wood Grill. This fancy restaurant has been given the certificate of excellence since 2015. Everything from food, service, prices, to atmosphere, is always enjoyed by their guests. American, grilled, and steakhouse are the main cuisines but they can also cater to those with special diets, serving both gluten-free and vegan options. The number 1 on our list of best restaurants in Gainesville.
2: Bangkok Square 
For lovers of Thai food or Asian cuisine in general, you'll be glad to find Bangkok Square in our list of best restaurants in Gainesville. Open for lunch and dinner, this family-owned restaurant will take you on a tour to Bangkok by serving authentic Thai dishes. Some of the famous options on their menu include chicken pad thai, spring rolls, drunken noodles, red curry, and so much more.  
3: Paramount Grill  
Paramount Grill is owned by chef Clif Nelson who has a knack for creating innovative and unique dishes. His restaurant is famous for serving American/Fusion cuisines with scallops, crab cakes, grilled duck and steaks as some of the best-sellers. They are open for brunch, lunch, and dinner, always ready to cater to every dining need there is, including vegetarian and gluten-free diets. 
4: Satchel's Pizza
Serving great Italian pizzas in a restaurant with attentive staff and funky atmosphere – that exactly describes Satchel's Pizza. As another receiver of the certificate of excellence since 2015, they stand out among the rest of the pizza places in Gainesville. They also have catering services, offering great food that suits the tastes and preferences of everyone, from meat lovers, vegetarians to gluten sensitives.    
5: Piesano's Stone Fired Pizza  
Looking for stone-fired pizzas in a huge variety of flavors? Piesano's Stone Fired Pizza is the right place to go to. They have everything you want in a pizza, from meatballs and ricotta, BBQ chicken, American veggies to spinach pesto. Other food options they have for you are baked bread, calzones, salads, burgers, and desserts. The restaurant is open for lunch and dinner and can also take online orders via DoorDash.
6: Metro Diner  
Metro Diner excels in providing first-class and truly appetizing American, international, and contemporary cuisines. No matter what time of day it is, the restaurant is an ideal place to go for sandwiches, chicken and waffles, hash browns, burgers, fries, and other light meals. Other great features of the restaurant include, but not limited to, free Wi-Fi connection, outdoor seating, parking spaces, and table service. 
7: Dragonfly Sushi & Sake Co Incorporated 
Dragonfly Sushi & Sake Co Incorporated is a fun place to visit if you're craving for sushi rolls and other famous Japanese food. Although this restaurant is known for serving stunning and superb sushi, they can also offer you with beef tataki, tempura, karage chicken, pork ramen, and numerous others. The best time to visit the place is during lunch, dinner, or late-night meals. 
8: Adam's Rib Company 
Find all the BBQ meats you want at Adam's Rib Company. Whether you prefer barbequed chicken, ribs, or pork, their team can serve you the best in Gainesville. Not only will you find their food amazing but also their staff. They have been commended by many customers for being polite, friendly, and attentive at all times. The portions here are also right for the prices, so you're sure of getting value for money.  
9: The Top 
Chill atmosphere, full bar, great drinks, delicious food options are just some of the things that will greet you when you enter The Top. This resto-bar offers American/Fusion cuisines that go well with their craft beers, cocktails, and all other drinks. From burgers, corn nuggets, tacos, to seafood meals, all are prepared to the highest standards. Staff is always available too, ready to accommodate all dining needs.
10: Francesca's Trattoria 
Francesca's Trattoria is best for special occasions such as birthdays, graduations, and get-together parties with friends and family. The whole place give-off a classy vibe starting from the table set-up, live jazz music, full bar, professional waiting staff, up to superb, tasty meals. They also take pride in using fresh ingredients and traditional cooking methods to provide the best dining experience to each guest. 
11: Harry's Seafood Bar & Grille 
Known for having an incredible atmosphere and food, Harry's Seafood Bar & Grille remains as one of the top spots to get delectable American meals and seafood. Their chefs are trained when it comes to infusing Creole, Cajun, and Southern flavors to their dishes to offer a unique taste and fun twist to all diners. Meanwhile, their waiting staff never ceases to provide swift, efficient service to make everyone as comfortable as they can be.   
12: Bonefish Grill 
Bonefish Grill is all about offering a creative assortment of seafood meals prepared with quality and superb taste in mind. They have a wide range of grilled fish options that you can enjoy with a grilled lemon or one of their signature sauces. Other seafood specialties they have include the Wild Arctic Cod, Dynamite-Style Shrimp, and Cold Water Lobster Tails. The ones recently gaining popularity are the Bang Bang Shrimp and coconut pies.    
13: Mojo Hogtown Bar-B-Que 
If you suddenly thought of going to an American bar that serves satisfying barbequed meals, then Mojo Hogtown Bar-B-Que is the exact place you need to visit. Aside from having a spacious bar and relaxing atmosphere, the place is well-known for its blackened catfish, BBQ beans, pulled pork, and ribs that are cooked skillfully. If you can't get enough of their incredible food, they also offer catering services for various special occasions and weddings.  
14: La Tienda Latina 
Tempted to try out Mexican, Spanish, and Latin cuisines? La Tienda Latina can serve you some of the best food that will satisfy your taste. They only use authentic, fresh Mexican products to produce authentic taste in their cooking. They have quesadillas, tacos, tortas (Mexican sandwiches), burritos, enchiladas, and a lot more. Take out food service is also available if you prefer to enjoy their food at the comforts of your own home. 
15: Civilization 
Looking for organic and healthy food options for a change? Civilization exactly offers what you're searching for. By supporting local farmers, they are able to use the freshest and the best ingredients for their vegan and vegetarian dishes. They also have various beef and seafood options as well as home-made desserts. If you want to have an even more relaxing dining experience, they can make craft beer suggestions that would go well with your chosen meal. 
16: Emiliano's Cafe 
Emiliano's Cafe is a great spot to dine in for special occasions, business meetings, and even simple get-togethers. Food, ambiance, service, and value for money are always commended by most customers, proving that this place also deserves its certificate of excellence this 2019. Emiliano's Cafe is also proud to have features like live music, outdoor seating, table service, and a full bar – all ideal for a relaxing dining experience. One of the best restaurants in Gainesville. 
17: Northwest Grille 
You can find the winning combination of comforting food and excellent service at Northwest Grille. Regardless if you opt for their scallops, shrimps, crab cakes, or salmon, each meal is of high-quality and freshly prepared. They accept reservations, take out requests, and catering jobs. Open for brunch, dinner, and lunch, this restaurant and its staff are always ready and happy to serve you. 
18: Chuy's 
Chuy's is another great option for Mexican food. Their well-managed and highly-trained staff are always attentive and efficient in ensuring that everyone's having a great time and meal. Chefs here also go above and beyond when making authentic Mexican dishes including Chicken Flautas, Steak Burrito, and fajitas, just to name a few. Their wide-ranging menu also shows how knowledgeable and expert they are when it comes to Mexican cuisine.    
19: Amelia's 
Amelia's is an Italian restaurant that has a reputation for giving off a classy yet romantic vibe, making the place ideal for intimate dinners. There are lots of options on their menu that features Italian and European cuisines, as well as vegan and vegetarian options. By also providing an incredible wine list, Amelia's can surely offer the right combination of meals and drinks that suit your taste.    
20: Gators Den Sports Grill  
Last but not least on this list of best restaurants in Gainesville, FL. Lovers of food and sports unite at Gators Den Sports Grill. This restaurant has flat-screen televisions where you can watch big games while munching on your favorite meal. Their menu features a huge selection of American food favorites including buffalo wings, fries, burgers and sandwiches, salads, and several desserts. You can also bring the kids along as the restaurant offers a special menu for them. 
Conclusion 
Now, that you've seen the best restaurants in Gainesville, it's now up to you to decide which one you'd like to visit first. It's not necessary that you stop by the restaurant that has the top spot if you're not really into grilled food. Although clearly, there's something about Embers Wood Grill that makes people sing praises. And if you happen to be fond of everything grilled, then there's no reason to delay your visit to this restaurant.   
We understand that not everyone has the same standards when it comes to food and restaurants. So what might be considered by others good may not be enough for you. Yet the restaurants above made it to the list for certain reasons. And if you're curious and hungry enough to see it yourself, trying them out won't be a terrible idea.    
Please share this post with a friend on social media!