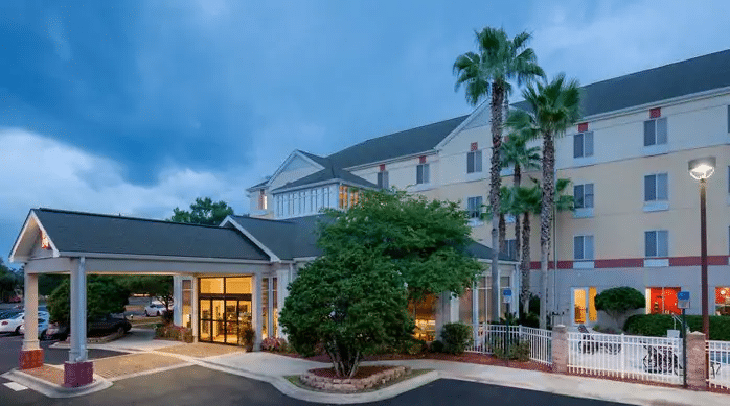 Check-in: 3:00 pm
Check-out: 12:00 pm
Room prices start from 138 – 168USD
Description
The Hilton Garden Inn Tallahassee is conveniently located just a short distance from central Tallahassee, where it features ultra-modern accommodations, furnished with an array of amenities that will crown your stay in this place. This garden hotel provides easy access to a variety of area points of interest which include the Florida State University, The state capital complex along with a variety of shopping centers and restaurants which you can check out as part of your holiday filler while staying in this amazing establishment. 
While staying at the Hilton Garden Inn Tallahassee you can enjoy dining at the Great American Grill restaurant and some finely-made breakfast, or even unwind with a glass of cocktail at the Hidden Garden Pub which boasts a wide menu of refreshments that will blow you away.  This hotel also features a 24-hour business center as well as a fitness center that you can make use of while staying here as part of your convenience while staying in this spacious establishment.
Hilton Garden Inn Tallahassee Review
This is one of the most amazing spots to enjoy a romantic getaway which comes with a superb setting to enjoy a cozy ambiance while having your stay. The Hilton Gaden Inn Tallahassee is one of the finest places you really have to try out for the most elegant stay in part of America not forgetting the house room service which is something to die for if you don't feel like leaving the room for a meal.
For a more pleasant stay, make sure you book your room prior to coming in order to get one of the best rooms with superb views. Even better, the Hilton Garden Inn Tallahassee boasts large rooms that come with fast internet and cable TV just to ensure your entertainment is paramount. If you have a pet you can bring it along to come and enjoy the luxuries of this prestigious establishment. There is also a fantastic outdoor pool and a fitness center in which you can go check out after a long touring day which is a great way to rejuvenate your body
Conclusion
If you haven't visited the Hilton Garden Inn Tallahassee, then you don't know what you're missing. This stylish hotel will offer you the perfect ambiance and serenity away from the hustles and bustles of the city but yet pretty close to the airport. You can never go wrong with a  holiday in this hotel whether it's a night's stay or a long stay, I guarantee you that this place will offer you nothing but the best of service.
Read Also:
Hilton Garden Inn
Average rating:
0 reviews